Costa Book Of The Year Award winner says tale of Holocaust survivor valuable in time of 'extreme nationalism'
'There's a scary way in which antisemitism and extreme nationalism and conspiracy theories are around in a way that they weren't 10 years ago'
Wednesday 30 January 2019 00:47 Comments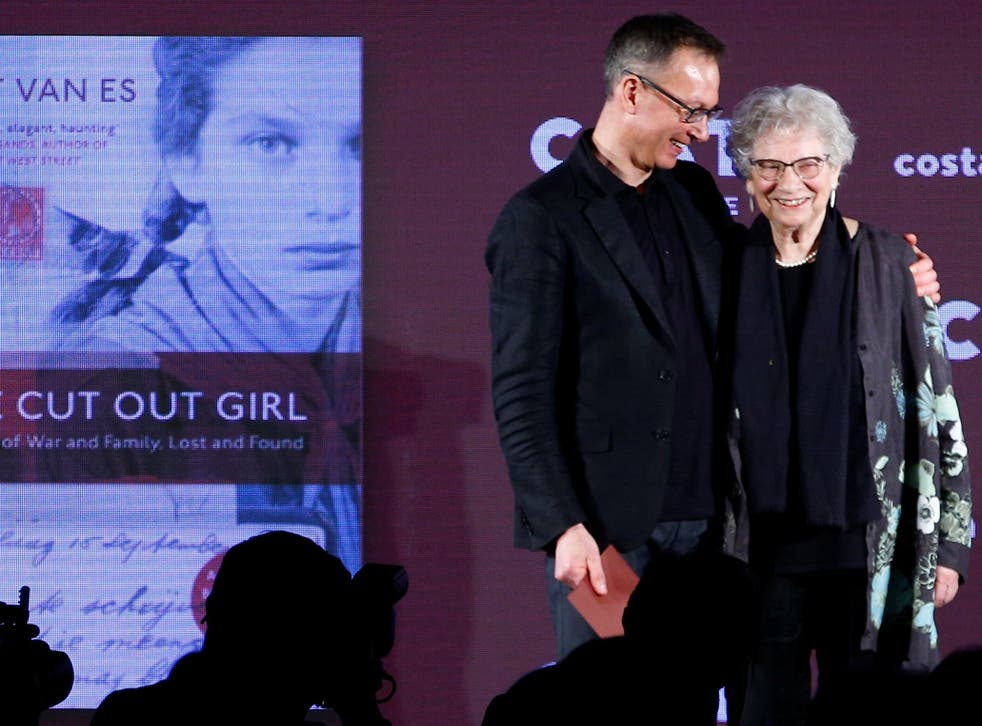 Costa Book Of The Year Award winner Bart van Es has spoken of the need for stories to give voice to victims in a time of "extreme nationalism".
Van Es won the award for The Cut Out Girl, which tells the story of Holocaust survivor Lien de Jong and gives expression to the experience of wartime Jews, and families in the aftermath of trauma.
Ms De Jong was present in London to see the annual prize presented and said she has finally been given "a story".
She was hidden with a Christian foster family in the Netherlands before her birth parents were transported and murdered, and said that during the years of fear and persecution she had "no words".
Van Es said: "There are two ways in which it could be a good book to have in the world. There's a scary way in which antisemitism and extreme nationalism and conspiracy theories are around in a way that they weren't 10 years ago. But also another way in which it is quite a healing book."
Remembering the Holocaust

Show all 16
Van Es and Ms De Jong have spoken of the power of stories and the need to give a voice to the silenced and the downtrodden, particularly to counteract "anti-Semitism and extreme nationalism".
Ms De Jong, 85, said that during the war her life story could not begin under Nazi rule, and after the war cultural silence and the death of so many witnesses prevented any account of her experiences.
She felt she was not born until 1945, when her life could finally begin.
Ms De Jong has also credited Van Es – the grandson of the foster parents who cared for her – with telling that story to the world.
The Cut Out Girl charts her incredible survival in the occupied Netherlands, and also the moving process by which Van Es and Ms De Jong became friends.
Ms De Jong said: "I never thought I had a story that would be worth writing down. He wrote it down and it was a story. There was a story, but after the war nobody spoke about it, it was not an issue, not a subject. Nobody knew about this story before the war, nobody knew about this story during the war. After the war there was no story, nobody knew anyone who was living before the war.
"I was not born until after the war. I was alive, but my feeling was I just started after the war – before that time I had no words."
Holocaust Memorial Day: three unsung heroes who helped Europe's Jews escape the Nazis
Of the 140,000 Jews in the Netherlands before the war, about 70 per cent were murdered.
Ms De Jong said it was hard to speak about what happened with so few surviving witnesses to the persecution.
Her story has now been recognised by the literary establishment, with Van Es claiming the £30,000 annual prize for the Costa Book Of The Year Award.
Van Es, an Oxford academic, feels that giving life to the stories which have so long been silenced is an important way to remember and to heal old wounds.
Support free-thinking journalism and attend Independent events
He said: "I feel I have never known someone as well as I have known Lien. It just never happens, when you hear someone's earliest memory. Lien had that incredible trust to say, 'I give you my life'. I felt like I was watching her grow up. She felt younger than me. Lien was saying things about how important stories are to your identity. That thing she said about how she didn't feel she existed before 1945.
"Without somebody to laugh and cry with you about a common story, that's what it is to live. Without that you're just a body."
Chairing the panel of judges, news presenter Sophie Raworth hailed the work as "incredibly important".
Press Association
Register for free to continue reading
Registration is a free and easy way to support our truly independent journalism
By registering, you will also enjoy limited access to Premium articles, exclusive newsletters, commenting, and virtual events with our leading journalists
Already have an account? sign in
Join our new commenting forum
Join thought-provoking conversations, follow other Independent readers and see their replies