Books of the year 2014: The best books on food
A Modern Way to Cook by Anna Jones is packed with clever, original recipes that might tempt the most full-blooded carnivore, from smoky walnut and cumin muhammara to sweet potato tortilla with almond salsa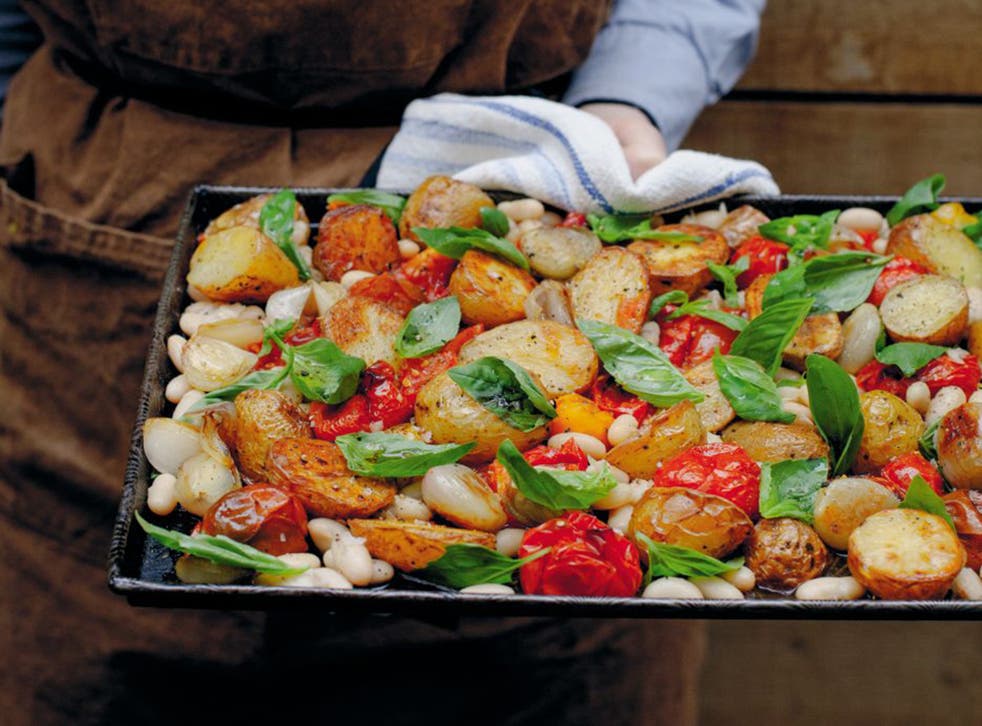 If baking books sold like hot cakes last year, 2014 is the year of the vegetable.
A Modern Way to Cook (Fourth Estate, £25) by Anna Jones is packed with clever, original recipes (and notably alluring photos) that might tempt the most full-blooded carnivore, from smoky walnut and cumin muhammara (a dip for charred flatbread) to sweet potato tortilla with almond salsa. Plenty More (Ebury, £27), a beautifully produced vegetarian cookbook from the endlessly inventive Yotam Ottolenghi indicates that his food palette is broadening (an American recipe for sweet potatoes with orange bitters, Thai red lentil soup). And so is ours. I had his cauliflower cake in a Whitby café last week.
Thug Kitchen (Sphere, £14.99) is not the first cookbook with added swear words (that distinction goes to Anthony Bourdain) but it is the most wholehearted. Fourteen-year-olds will love it. The odd thing is that the vegetarian cuisine of these LA hard nuts would be ideal for the proverbial vicar's tea-party. "Have you motherfuckers tried my blueberry, walnut and lavender scones?" Let's Eat Meat (Pavilion, £25) by Tom Parker Bowles is not about vegetables, though even here we find a chapter of "meat-free beauties" (Sichuan smacked cucumber salad), while another is devoted to "meat as seasoning" (chicken stock in the case of risotto primavera). More sanguinary treats include fried aubergine with pork from Laos and chicken and lime soup from the Yucatan. Closer to home, his mum's "rich, boozy" chicken liver paté will be on our table this Christmas.
There's a new mandatory manual for fans of Middle Eastern cuisine. Honey & Co (Saltyard, £25) by London restaurateurs Sarit Packer and Itamar Srulovich spills the beans about mishmishiya, matbucha and za'atar fatoush. But the results may be unexpected. Cured sea bream with pomegranate juice and cumin transformed one customer into their restaurant manager. Another booming food region has gained its bible in Margarita Carillio Arronte's Mexico: The Cookbook (Phaidon, £29.95). Though the 600 recipes lack background and some ingredients are a little tricky ("1lb/580g grasshoppers, rinsed"), the instructions are lucid and the scope is phenomenal. Who could resist drowned sandwiches or divorced eggs?
What is it about men and fire? I adored the blazes in On Fire (Artisan, £27.99) by Argentinian barbecue king Francis Mallmann, though my neighbours in suburbia may feel different. Some of the recipes are practical – griddled cheese with red onion – but I want to be out on the pampas sizzling "2-inch-thick bone-in rib-eye steak".
Finally, two welcome re-issues. The third edition of Alan Davidson's Oxford Companion to Food (OUP, £40) has been expanded by Tom Jaine with 30-odd entries, including drugs and food, etiquette and umami, that maintain the book's delicious erudition and wit. There are no recipes (thank goodness) but every food-lover should have a copy. Nigella Christmas (Chatto, £20) by Nigella Lawson is the go-to book for the big bash. Devotees of her legendary ham cooked in Coke should note that she utilises ginger ale in this new edition.
Join our new commenting forum
Join thought-provoking conversations, follow other Independent readers and see their replies