Children's summer reading: Treats for the very young
Here Nicholas Tucker picks out the best volumes for the weeks ahead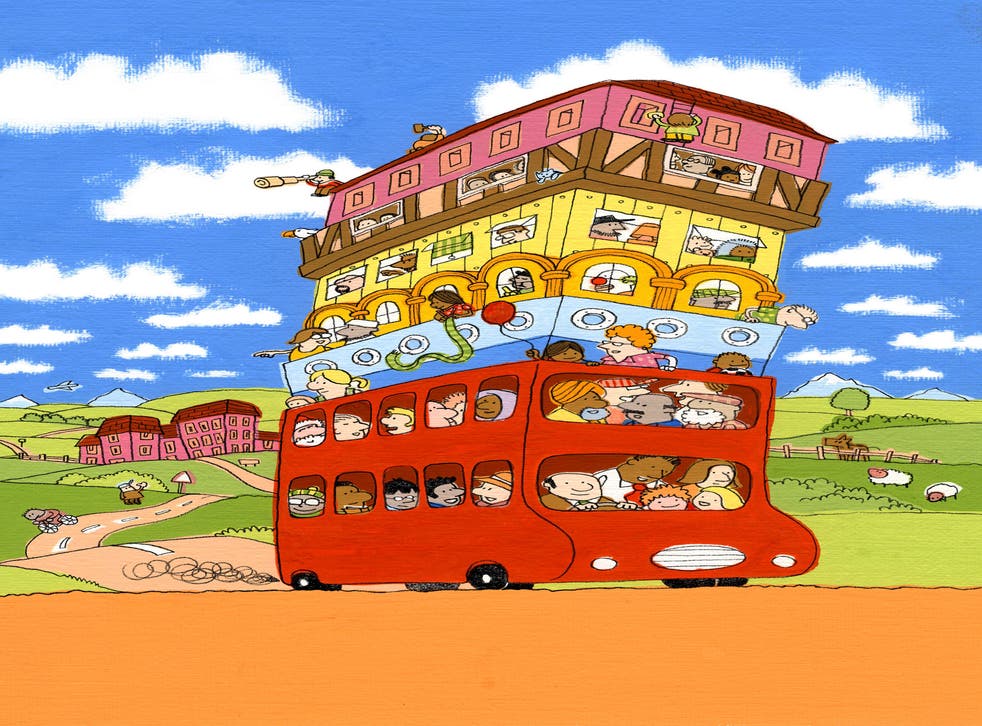 The award-winning Czech artist Petr Horáek offers his own brand of flip-flap fun (each page overlapping the next) in Time for Bed (Walker, £4.99). A minimal board book designed to be baby-proof, it's ideal for short attention spans. There's more to Ken Wilson-Max's Lenny Goes to Nursery School (Frances Lincoln, £9.99), with its jolly little hero successfully making it through his first full day away from home. A multi-coloured cast of characters have an equally good time in this picture book, also sturdily produced. Jane Blatt's Books Always Everywhere (Nosy Crow, £10.99) in just a few words describes different types and uses of books from "Books Big" to "Book Share". Sarah Massini's bright and funny illustrations accompany.
Truly beautiful picture books seem increasingly to be losing out these days to their more jokey cousins. So, a warm welcome to Komako Sakai's radiant Hannah's Night (Gecko Press, £11.99). Hugely popular in her own country, this Japanese illustrator deserves to be better known over here. Swirling, atmospheric illustrations in oil paints show Hannah enjoying a series of domestic nocturnal adventures while her older sister sleeps on.
A more recent Japanese illustrator, Noriko Matsubara, makes her debut with Bocchi + Pocchi (Troika Books, £6.99). Subtitled "A tale of two socks", it follows the adventures of a pair of woolly friends who become separated after one of them develops a hole. However, these close companions finally meet up again following some nifty mending. The humble sock will never seem the same after finishing this eye-catching picture book.
For action so hectic it almost threatens to spill off the page, go to Caryl Hart's Catch That Rat! (Simon and Schuster, £6.99.) Told in verse and comically illustrated by Tom McLaughlin, it features a chase after a cheeky white whiskered rat that eventually extends into Outer Space before she is finally caught. But, after that, she is safely adopted by the little girl who started the pursuit in the first place, leaving everyone happy.
Sharon Rentta's A Day with the Animal Builders (Alison Green Books, £12.99, £6.99) is more prosaic, but ideal for infants with a practical bent. Mixing hard facts about house building with constant humour as an apprentice donkey keeps getting everything wrong, this charming and witty book is a triumph of good humoured invention. For handy advice about plumbing, meanwhile, go to Tor Freeman's The Toucan Brothers (Macmillan, £6.99). These respected siblings, normally responsible for looking after the small town of Tapton's plumbing needs, are sidelined after the arrival of Flash Rover, a plumbing dog unreliable enough to feature on any TV consumer protection programme. Told in verse with excellent visual jokes on every page, it is only a matter of time before the toucans make their comeback as badly mended pipes burst and Tapton threatens to turn into another Venice.
Jennifer Castles' Go Jojo Go! (Allen & Unwin, £12.99) is illustrated by Tessa Bickford's astonishing photographs of penguins on Macquarie Island, a World Heritage Site which is part of Australia. Sub-titled "A little penguin on a big swim" it follows Jojo from birth to her first proper hunting trip underwater before returning to home and safety. The photo of a sleeping elephant seal, one of Jojo's neighbours, is worth the price of this delightful book alone.
In a more domestic setting, Lesley White's The House Rabbit (David Fickling Books, £11.99) shows what happens one night when an otherwise well-trained rabbit convinces first himself and then various other pets that the house where they all live is about to fall down. A wise and kindly moth finally puts a stop to the ensuing panic. Illustrated in pastel colours best suited to picturing events happening in the half-light, there is much to enjoy.
Brian Patten's Can I Come Too? (Andersen, £11.99) tells of a mouse curious to find the biggest creature in the world. Gathering other animals on its journey of discovery, the mouse finally happens upon a giant whale after which everyone can go home. Dreamily illustrated by Nicola Bayley, this is a truly lovely book.
Mike Smith's The Hundred Decker Bus (Macmillan, £6.99 pbk) concentrates instead on zany humour. Starting out with an ordinary bus journey, things gradually get out of hand as the double decker involved keeps acquiring extra storeys including a swimming pool, a windmill and a merry-go-round. A final big fold-out page brings this endearingly ridiculous tale to an end. Equally anarchic, Julie Rhodes's The Very Noisy House (Frances Lincoln, £11.99) describes a high-rise building whose every occupant creates as much commotion as possible. Crazily illustrated by the great Korky Paul, but with attractive front and back endpapers provided by primary school pupils, this book crackles with riot and energy all the way through. Not to enjoy it must be a near impossibility.
Join our new commenting forum
Join thought-provoking conversations, follow other Independent readers and see their replies