David Peace: Occupied City
In his latest novel, the author of 'The Damned United' explores serial killers in dysfunctional societies, but David Peace tells Claire Allfree he's keen to return to the sporting life for his next project
Wednesday 05 August 2009 00:00 BST
Comments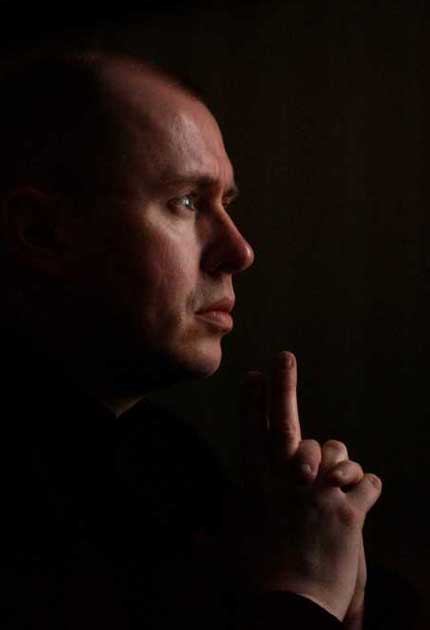 David Peace looks a bit out of place in the white cool upper-story office at Faber in London. Dressed in casual black, with a pair of almost comically large black specs perched on his pale shaved head, he looks more like a nervy, etiolated physics student rather than a cult literary phenomenon. And yet the self-effacing author of the blood-soaked Red Riding Quartet (which recently produced a landmark piece of TV) and The Damned United, about Brian Clough's 44-day reign at Leeds United, is friendliness incarnate, eager to talk even though it's quite clear he finds fame both humbling and cumbersome.
If the 42-year-old Peace has the slight air of a small animal blinking in the sunlight that's partly because his leap in profile has almost happened without him. He's just returned with his wife and two children to the Yorkshire town of Ossett where he grew up (and the loose setting for his Yorkshire Ripper novels), after 15 years in Tokyo. "No one knew me at all when I went out," he grins, his Yorkshire heritage clearly audible in his soft, flat vowels. "Now people stop me in the street." There's a touch of anxiety about this: being in Japan allowed him to get on with the job of writing. And as you might guess from the intensely imagined interior worlds summoned in his compulsively violent novels, writing isn't just something Peace does for a living, it's something that inhabits his very being.
There's a hint of this in his new novel Occupied City, the second in a trilogy based in distraught, burnt-out post-war Tokyo, and like the Ripper novels, based on a true crime. The first, Tokyo Ground Zero, was about the serial killer Kodaira Yoshio, who in 1946 murdered several prostitutes. Set among the same shattered, wounded streets, Occupied City pieces together the investigation into the 1948 Teikoku Bank massacre, in which a man posing as a doctor from the occupying forces pretended to administer a dysentery vaccine to 16 bank employees, and instead poisoned them with cyanide, killing 12 instantly. Hirasawa Sadamichi was convicted of the killings but many in Japan believe he was innocent (he died on death row of natural causes in 1987). Once again, Peace lends his account the now customary, brilliantly rendered quality of a sweat-soaked nightmare, using savagely broken, staccato prose that has the insistent monochrome of a migraine. But this time, in reference to Akutagawa's short story "In a Grove", the novel frames the narrative voices of 12 characters (including two detectives, a survivor, an American scientist, Hirasawa, and a writer obsessed with solving the crime) within an old Shinto ghost-storytelling framework in which "the writer" uses a medium to raise the anguished voices of the dead. It's part lament, part exorcism, and part febrile investigation into a writer's relationship with his story.
Peace took two years to research the novel, including ploughing relentlessly through the gut-churning transcripts published by the Soviet Union relating to Unit 731 and Japan's lethal human experimentation with biological and chemical weapons in China, which forms part of a conspiracy theory surrounding the murders. "I found it almost overwhelming," he admits. Yet he dismisses the idea that the overwhelmed writer in Occupied City is meant to represent himself. "I was more interested in the different ways people and cities can be occupied, and that included the way a writer can be occupied by a story as well as the other way round." But it's clear that he too is haunted by the occult presence of history that sits just beneath the skin of a city.
For a start, he is chuffed when people compare the fragmented, incantatory language of his novels with that of T S Eliot's elegiac, radical, post-First World War masterpiece, The Wasteland, a work that, like much of Peace's writing, is thematically concerned with ruin and redemption. "Eliot was a massive influence on me when I was younger," he says. "What's struck me now is that Eliot was obsessed with Noh drama. When he was writing the play Sweeney Agonistes he wanted to somehow combine music hall with the drum beat of Noh theatre. And that was something I was thinking through the writing of both my Japan books – the drum beat that sounds like a death ritual, a funeral rite."
More literally, Tokyo's own recent, turbulent bloody history has affected Peace deeply. "The eastern side of Tokyo, where I lived, was bombed particularly heavily in 1945," he says. 'They filled the canals with the ashes of the dead, and then they turned the canals into roads. And my house overlooks the Sumida River near where many people were burned during the 1923 earthquake. Maybe it's just me but when I walk down the street or along the river in Tokyo I can't forget what I'm walking on."
Peace's gravitational pull to the darker recesses of history, humanity and suffering has been well documented. He has often spoken of going to bed as a child in Yorkshire when the Ripper hysteria was at its height worrying that his mother might be next. Crimes that stalk the dreams of a community are what draw him, but it's the condition of that community that really interests him. "You could compare Peter Sutcliffe with Kodaira in the sense that both sets of murders occurred in spaces that allowed these things to happen," he says slowly. "For example, the industrial decline and huge recession in the 1970s in the North of England created a lot of wasteland. When people chose not to read social, political, economic reasons into crime, I would ask them to look at the spaces in which Peter Sutcliffe killed his victims. Similarly, with Kodaira: the economic and social conditions of post-war Japan allowed him to kill these women. Both – to a greater or lesser degree – were inhabiting landscapes that had been defeated. And I know there's a desire to move on, in Yorkshire and certainly in Tokyo, to leave these narratives of defeat behind. And I can understand that, and I might not have written these stories if I felt that there had been a proper informed discussion in the first place; but there never is. It just doesn't suit the powers that be to have these discussions.'
In that respect, Peace is unquestionably a political writer, even if he has only written ostensibly about politics in GB84, his multi-narrative factional novel about the 1984 miners' strike. He always writes about real events because he is interested in the version of history that sits just beneath the ostensibly "true" one; the alternative founding narratives built from myth and memory. Sometimes this can backfire. He was recently embroiled in what he describes as legal shenanigans over the footballer John Giles, who took legal action against Faber over Peace's depiction of him in The Damned United. "I know he and the Clough family don't care for the book," is all Peace will say about this (although interestingly he implies he himself doesn't care for Peter Morgan's film starring Michael Sheen – he's only watched it on a laptop. By contrast, he worked closely with the producers of Red Riding and pays tribute to the way they leavened the extraordinary violence by digging out a sadness buried deep in the original novels).
More fundamentally, he is interested in the relationship between history and power. "I deliberately left Tokyo out of the title of this new book in order to make it a book about occupation on all sorts of levels," he says. "It's part of our condition as individuals to be occupied by memories and dreams, some of which are true and some of which are not. But we are also occupied on a more political level; by capitalism and the manifestation of capitalism. Advertising is the most obvious example. I also think our whole relationship with history is shifting very quickly. Much of popular culture is predicated on the erasure of history. Perhaps we can't cope with it. I also think we're becoming desensitised to it. But then to get back onto my capitalist conspiracies: it wouldn't be good for us to be contemplating this stuff when we could be out shopping."
He doesn't think, once he has completed the final novel in the Tokyo series, that he will write another true- crime novel. When asked if writing about serial killers and massacres has changed him in someway, he replies, with a typical refusal to self-dramatise, that it does occasionally get him a bit down. Instead, he wants to write next about Geoffrey Boycott. He moved back to Yorkshire because he wanted to be closer to his parents (his mother was seriously ill last year), but looks faintly astonished when I ask him whether it feels good to be home. "I wouldn't say I felt at ease but then I didn't before and I didn't in Tokyo."
This echoes the condition of many characters in Peace's novels: you could argue his grand subject is alienation, coupled with profound psychological, social and cultural damage. "Yes, I do feel alienated from where I am living, but I would say that we are all alienated whether we admit it or not. That's what we've become because of the landscapes we live in. I wouldn't say it troubles me..." He looks suddenly deeply pained and uncomfortable. "I don't know."
'Occupied City' is published tomorrow by Faber & Faber
Well red: From Yorkshire Ripper to Year Zero
Nineteen Seventy-Seven (2000)
This fictionalisation of the Yorkshire Ripper case in the Jubilee year of 1977 is the second in the Red Riding Quartet that documents a decade of fear in Yorkshire. Swaying between themes of morality and corruption, this is a world in which the heroes, including a copper and a burnt-out hack, are indistinguishable from the villains.
Nineteen Eighty-Three (2002)
The last in the Red Riding Quartet, Peace's Yorkshire crime fiction traces characters' lives once the case of the Yorkshire Ripper has been solved. It is interspersed with retrospective narratives unfolding police corruption and shocking truths in the North of England. The three prior novels are intertwined, with catastrophic noir force.
GB84 (2004)
A bleak and extremely well-researched narrative of the miners' strike in 1984, which has been criticised for its obscure use of language and complex plot-lines. Using a variety of tools, including newspaper reports, it portrays the personal effects of decisions made beyond the control of the workers, under the Tory government.
The Damned United (2006)
Brian Clough, manager of Leeds United in 1974, is the protagonist in this highly crafted book, which is a fictionalised version of his 44-day stint. Hubris and ego lead to discord mapped by the character's self-awareness. The internal workings of Clough's mind substantiate much of the text, simultaneously humanising and rewriting his life.
Tokyo Year Zero (2007)
The first in the post-war Tokyo trilogy is a sharp departure from prior Yorkshire-set tales. It describes the moral collapse of a society through crime and deprivation. In 1946, detective and protagonist Minami is trying to unravel the mystery of the murder of prostitutes in demoralised imperial Japan. Ruth Gillbe
Join our commenting forum
Join thought-provoking conversations, follow other Independent readers and see their replies