Eve Harris: Tension of a life without certainty
Her fiction debut is witty and compassionate, but Danuta Kean finds the author searching for solid ground
Danuta Kean
Saturday 24 August 2013 20:59 Comments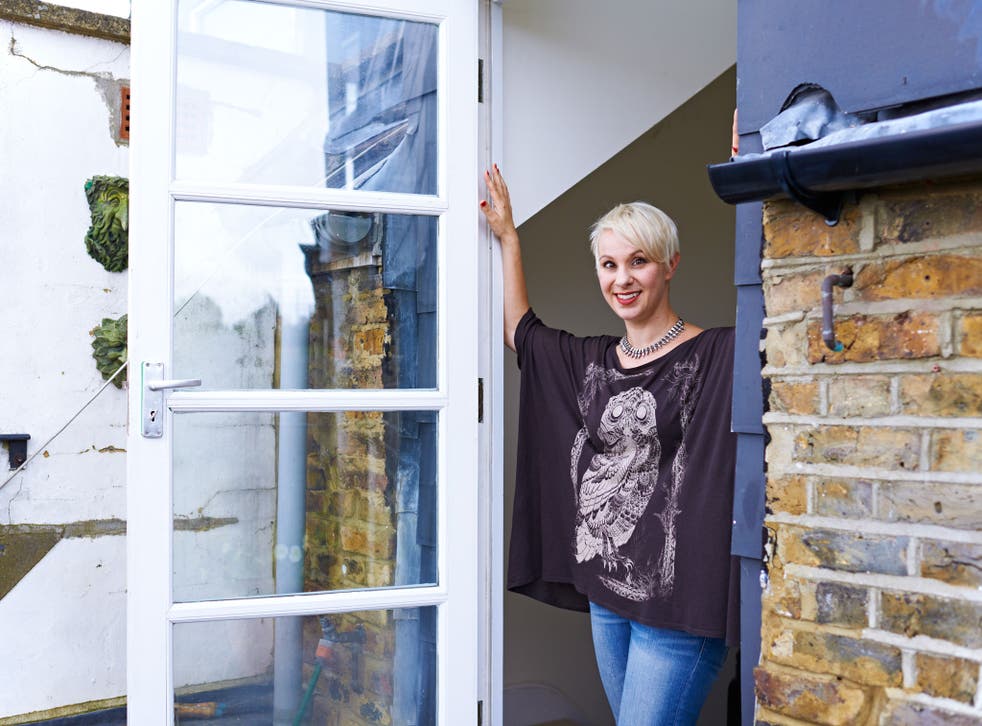 I can tell when an interview is not going well. I feel like I am walking on ice in ballet pumps. No matter how hard I try, I slip around, unable to gain purchase and I start to ramble in a feeble effort to dispel the tension. I am getting that feeling today as I interview Eve Harris.
The author, whose compassionate and witty debut The Marrying of Chani Kaufman has been long-listed for the Man Booker Prize, is being defensive, and I don't understand why. I ask how ultra-Orthodox Jewish friends helped with the novel and she stabs back: "I'm not going to tell you their names." I hadn't asked for them. Then she exclaims: "You have to remember that my father was a Holocaust refugee. This is what you need to write about." It is the third time she has told me what I should write about. The hostility isn't entirely one-sided.
It's not that my questions are inappropriate. I started by asking about the ultra Orthodox private Jewish school where Harris taught English and drama for a year. She informs me she has already been interviewed about the school and doesn't want to repeat herself: "If you want something different, you shouldn't ask about that." It is meant to be friendly, but it feels like a slap.
This is awkward, because the school inspired the novel. I know this because all the book publicity says so. It was where Harris, who describes herself as a secular Jew, observed the Charedi community at close quarters. Its rhythms, its language, its warmth, its humour, its restrictions and expectations flow through the book like the River Jordan into the Dead Sea.
The book opens as 19-year-old Chani (say "Honey" breathily to get it right), is waiting to marry 20-year-old Baruch Levy. She is in a Bedeken room, where Baruck will look to see she is the girl he chose. Throughout the book Chani chafes at the restrictions placed upon her, especially regarding sex. Not that she wants it, she just wants to know what it involves. By the time she and Baruch are left alone, she is terrified.
Harris admits Chani is "an amalgamation of all the naughtier girls I have taught", though she adds, "with a bit of me thrown in". The girl's life is strictly controlled. At school the rude bits in art books are covered by stickers and everyone covers up, as happened where Harris taught. "I had to make sure that my elbows were covered, my knees were covered and my collarbone," she recalls. Seated in the breezy sitting room of her Hampstead flat, it is hard to imagine Harris covering her bleached blonde crop with a wig, as required of married Charedi women, or ditching jeans for a long skirt.
Direct inspiration also came from a story told by a former colleague about a pupil-turned-teaching assistant who asked frum (religious) staff what would happen on her wedding night. They provided such graphic detail the girl ran from the room crying. Harris's voice drops: "They are lambs to the slaughter."
How can I not ask about the school? Because The Marrying Of Chani Kaufman is about more than an innocent girl in a rigorously controlled community hoping for a soul mate while being paraded before husband material (Jane Austen has done that already). At the heart of the book is the theme of identity and the glue that fastens us to communities, be they religious, racial or social.
In a narrative that weaves the viewpoints of the bride and groom, it is the third story which provides the emotional and thematic complexity needed to raise the story to a Booker contender.
It is the story of Rivka, a rebbetzin, whose ambitious husband, Chaim, marries the couple. Rivka's narrative clouds the love story – a late miscarriage is covered in harrowing detail, a reminder of Chani's purpose in life post-marriage, her doubts fed by loss, longing and loneliness. Child of Holocaust survivors, whose experience has shredded their faith, she had little understanding of what her Judaism means until she met Chaim.
There are parallels in Harris's life, especially her parents' rejection of God. "My father had memories of Hassidim being made to scrub the pavements with toothbrushes on their knees while being spat at, and of being forced to smoke by Nazi soldiers when he was seven years old." Her voice is tense with rage as she explains his rejection of religion.
A Polish Catholic family took her father and his family in. An English public school girl in prosperous Chiswick, far from the Jewish communities of north-west London, Harris listened as her father spoke of a childhood blighted by fear. As she speaks I am reminded of the small things that delineate our freedom. Her father could not use urinals in case someone noticed he was circumcised. "I grew up thinking that all other Jewish teenagers had fathers who had been through the Holocaust and that was the norm," she says flatly. Suffering defined her Jewishness for teenage Harris. She felt lonely and she longed for the company of other Jews.
For the young Rivka this isolation and longing makes the Charedi seductive. Harris admits to being beguiled too, but the rigidity of ultra Orthodox life also repels her. "I am spiritual, rather than religious," she insists, whatever that means. And that strikes me as Harris's problem. Like me she wants to walk on solid ground. The charm of the Charedi is their certainty. "Everyone has a place in it and is included." Her words tumble out. "Their world is rich in meaning and tradition and depth in a way that we don't have." She looks crestfallen and I realise I am not the origin of the tension in the room, it is life in all its uncertainty that makes her tense.
Danuta Kean is Books Editor of Mslexia, the magazine for women who write
Extract: The Marrying of Chani Kaufman, By Eve Harris
Sandstone Press £8.99
"Her mother had become a machine whose parts were grinding and worn. Once she had been a slender and supple young woman, joyful and quick in her movements. Over the year's Chani had watched her mother's stomach inflate and deflate like a bullfrog's throat. She had never known her mother not nursing a child. Now, when she looked in her mother's eyes, she saw the light had gone out."
Register for free to continue reading
Registration is a free and easy way to support our truly independent journalism
By registering, you will also enjoy limited access to Premium articles, exclusive newsletters, commenting, and virtual events with our leading journalists
Already have an account? sign in
Join our new commenting forum
Join thought-provoking conversations, follow other Independent readers and see their replies