Is popular teen fiction like The Fault in our Stars wasted on young readers?
The Fault in our Stars is the bestselling book of the year so far, proving that Young Adult fiction is also read by those old enough to know better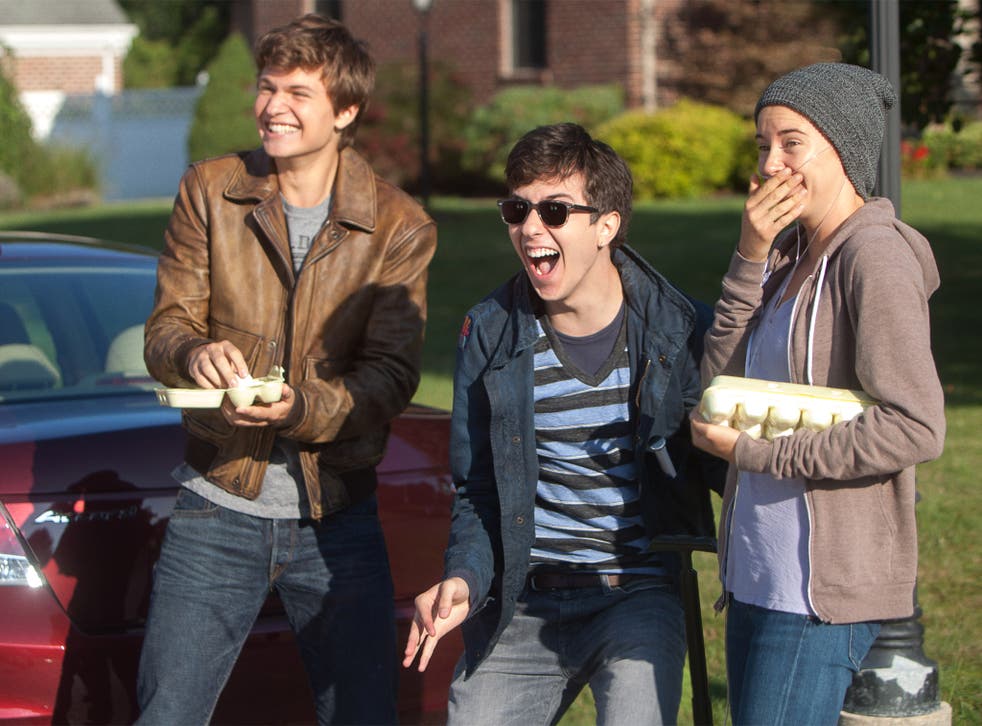 It might not be your typical summer blockbuster fare, but The Fault in our Stars, a film adaptation of the John Green book about two cancer-stricken teenagers, flew to the top of the US box office last weekend. Taking $48.2m (£28.4m), the sniffle-fest trounced the competition, namely sci-fi flick Edge of Tomorrow, despite the latter boasting a budget 15 times the size and some bloke called Tom Cruise.
Released in the UK today, where it is again expected to attract astonishing levels of hankie-clutching cinemagoers, what can explain its extraordinary success? In short, the film is based on a publishing phenomenon. A Young Adult book (aimed at 12-17 years), The Fault in Our Stars has sold more than 10 million copies worldwide and this week became the bestselling book so far this year in the UK, despite it being published at the beginning of 2012.
But it would seem that it is not only teenagers who are passing around dog-eared paperbacks in the lunchroom. Adults are also falling for the love story between high schoolers Hazel and Augustus. While Penguin does not have official figures for how many over-18s have bought the novel, a spokesperson said: "You don't get those kinds of numbers unless a book has hugely crossed over into the adult market."
A 2012 survey found that 55 per cent of all YA fiction was being bought by over-18s, of whom 78 per cent were buying the book for themselves. The largest group of buyers in that survey, accounting for 28 per cent of YA sales, were between 30 and 44.
But the popularity of teen literature among adults also inspired a damning (and much shared) piece on Slate.com last week entitled "Against YA", in which the writer Ruth Graham states: "Adults should feel embarrassed about reading literature written for children." Throughout the piece, Graham insists that no matter how well-written the book, YA offers a simple world view designed for adolescents.
The piece inspired a spirited response from the YA community, with a number of authors tweeting and blogging their indignation. All insisted there was no reason that their novels could not be enjoyed by everyone.
"The article made it sound as though YA fiction is one big easy-read, identikit, feel-good genre. It isn't," says Candy Gourlay, YA author of Tall Story and Shine. "It's as diverse and multi-faceted as the whole of fiction itself."
Others had an issue with the way it was insinuated that only teens could take something away from the literature. "YA in itself is not actually a genre. It's just a trendy marketing term for a book which has always existed and adults have always read, which is the coming-of-age novel," says Laura Powell, YA author of Burn Mark and Goddess. "What is quite funny is that because it has become so trendy, people forget that it has always been around. If To Kill a Mockingbird was published today it would very likely be published as YA. The same applies to Jane Eyre and David Copperfield."

YA is currently big business in the UK. A 2012 report showed that sales of the genre had jumped 150 per cent in six years. And despite many of the big names being stateside, including Suzanne Collins (The Hunger Games) and Stephenie Meyer (Twilight), British authors are increasingly becoming power players. The bestselling YA debut this year is Half Bad by Lancashire-born Sally Green, which also set a record for the most translated book by a debut author, pre-publication. Naturally, the film rights have already been sold.
And next month the UK's first Young Adult Literature Convention will take place at Earls Court in London and will be hosted by Malorie Blackman, the Children's Laureate and one of the country's most popular YA novelists.
So whatever your opinion about the genre, it only looks set to grow. Expect YA fiction to be chatted about in schools – and around the water cooler – for some time to come.
Register for free to continue reading
Registration is a free and easy way to support our truly independent journalism
By registering, you will also enjoy limited access to Premium articles, exclusive newsletters, commenting, and virtual events with our leading journalists
Already have an account? sign in
Register for free to continue reading
Registration is a free and easy way to support our truly independent journalism
By registering, you will also enjoy limited access to Premium articles, exclusive newsletters, commenting, and virtual events with our leading journalists
Already have an account? sign in
Join our new commenting forum
Join thought-provoking conversations, follow other Independent readers and see their replies