Gossip girl: How Jessica Simpson reinvigorated the celebrity memoir
In her Noughties heyday, the pop star was never far from tabloid scandal but her bestselling tell-all 'Open Book' sets the record straight, especially about boyband wrong'uns. Perhaps gossip can be used for good, says Annie Lord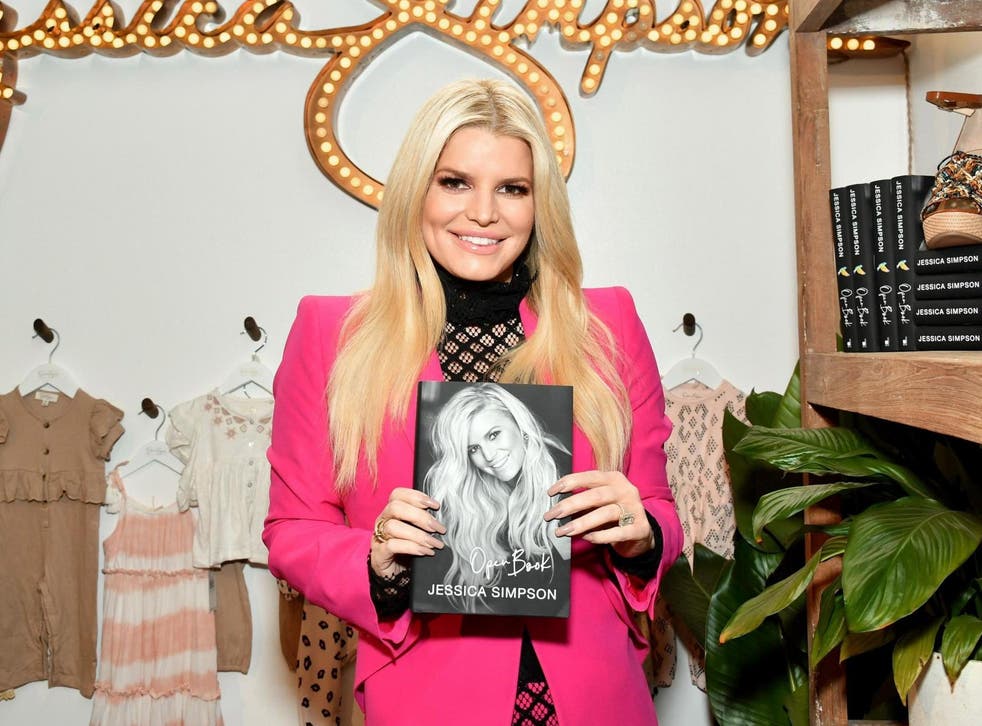 Reading Jessica Simpson's new memoir Open Book is a bit like scrolling through a leaked celebrity WhatsApp chat: it's juicier than a Tropicana and often X-rated. The teen pop singer, reality TV star and actor spent most of the Noughties splashed across the covers of US Weekly and People, having every inch of her love life and waist size pored over. But now she's turned her tales of tabloid hell into a New York Times bestseller, winning acclaim among the sort of crowd who normally read Olivia Laing and Ben Lerner, with her candid stories about sex and sexism, cheating and addiction, with a cast of 2,000-and-something stars and s***ty men.
If it appears unlikely that Simpson has turfed out an acclaimed book, that's because she was never really afforded much depth when she was breaking through. Following the example set by Britney Spears and Christina Aguilera, her 1999 debut album Sweet Kisses was marketed as purity ring pop. Then the ring went on and she tied the knot with former boybander, now Love Is Blind host, Nick Lachey, whose short-lived marriage was documented in MTV reality show Newlyweds. Largely forgotten now, Simpson was immortalised in one oft-memed sequence in which she asks of a can of Chicken of the Sea-branded tuna whether it is in fact chicken. It is only now with Open Book that Simpson is finally able to talk about how painful it was to be treated like a punchline.
Celebrity memoirs have become much less popular than they used to be. In 2001, Billy Connolly's biography sold more than a million copies, beginning a publishing boom which peaked in ludicrousness when Katie Price released six autobiographies by the age of 33. But after a series of poorly written, reputation-obsessed releases, the celebrity memoir suffered a rapid drop in sales with Pippa Middleton's 2012 party planning book only selling a humiliating 2,000 copies (she received a staggering £400,000 advance for it). Then came Kelly Brook's 2014 memoir Close Up, with a similarly disappointing 6,000 sales. Last year, publishing director of 4th Estate Helen Garnons-Williams blamed the incessant chatter of social media for muting the need for A-list confessionals: "In the past if you wanted to know what they wore, what they ate, who their mates were, where they went on holiday, you'd buy their book," she said. "Now they put it out there all the time on Twitter and Instagram".
Nowadays, the only way celebrities can bypass the issue of internet over saturation is to offer the sort of deep personal exploration that cannot be condensed into an Instagram post, even one of Caroline Calloway's. Demi Lovato's Falling With Wings talks of her struggles with substance abuse and Lily Allen's My Thoughts Exactly tells of self-loathing and allegedly shagging Liam Gallagher while growing up in the limelight. Gossip is often levelled nastily at celebrities, but these books are a way to reclaim the power, and Simpson is a master of the form: in 400 guzzlable pages, she explains how the musician John Mayer dumped her by email, how Ryan Gosling and Justin Timberlake put on a bet to see who could kiss her first, and how Sony label exec Tommy Mottola told her 17-year-old self to lose 15 pounds to get "Janet Jackson abs".
While the tabloids once laughed at Simpson's "mom jeans" or the way she ran off stage during a performance with Dolly Parton after failing to remember the lyrics to "9 to 5", now she is the auteur of her own dirt dishing. Rather than tut-tutting at the pitfalls of others, in Open Book she uses gossip for good: to hold those who have done wrong accountable. She is, like many before her, reclaiming her narrative on her own terms. In 1979, it was Peggy Guggenheim updating her 1946 memoir by naming all the lovers whose identities she had at first obscured. And in 2020, Simpson is using her honesty as a way of welcoming people into her world, to show that there's something human sitting behind the headlines.
Throughout Open Book, Simpson exposes the sexism and the often abusive behavioural patterns of men in Hollywood that have continued to hamper her confidence. Simpson has kept receipts her whole life and now she's asking for a refund. She was so desperate to achieve the tiny waistline Mottola prescribed for her that she used eyeliner to pencil in abs into her stomach. She talks of how Lachey demanded a phenomenal alimony sum when they were divorcing, which she eventually paid, but only after sleeping with him one last time. Never one to play the victim, Simpson continues to explore how her own narcissism and vulnerability enables the actions other's take against her. She kisses and tells, but more on herself than anyone else.
Though complicit in some regards, Simpson endures enough bad men for you to get stressed reading about them. One boyfriend, NFL player Tony Romo, wouldn't let her take any movie roles that required on-screen kissing. The musician John Mayer, whom she breaks up and reconciles with a wild nine times, comes across as a self-important manipulator who likes making Simpson feel dumb in order to make himself feel smarter. Here, gossip is as greasy and indulgent as ever, but you never feel gross about it because Simpson's always punching upwards. "How many times are women made to feel responsible for the actions of men?" Simpson writes of a post-divorce run-in with Lachey. "I know now that I wasn't, but back then, it felt like I needed to fix him.
There is a darkness in these pages, too, as Simpson shines a light on childhood sexual abuse, pushy parents, pouring tumblers of vodka and flavoured Perrier at 7am and taking Ambien at night because she doesn't feel safe enough to sleep. Other times her stories are less sad, just funny, such as when martial arts legend Chuck Norris taped down her eyebrows because her acting was too expressive. And there is just cringe: a young Justin Timberlake so attention-seeking at Disney's Mickey Mouse club tryouts that he starts running around the pool doing backflips while everyone else just relaxes and gets to know each other.
There's so much tea-spilling in Open Book to make even Colleen Rooney pause for thought, but that's not the only thing that has made it a bestseller. Simpson revives the format of the celebrity memoir by providing the sort of deep personal revelations that are so addictive you won't even think to load up the home feed. She grows up, she learns to love her curves, she picks men that have a positive impact on her life rather than a negative one, and finds within herself the ability to forgive others and herself. Gossip shouldn't necessitate being mean: Simpson shows us a way we can satisfy that need without anyone who didn't deserve it getting hurt. Like Eve, we reach up and pick the forbidden apple from the tree, this time laughing as the juice rolls sticky down our chin.
Register for free to continue reading
Registration is a free and easy way to support our truly independent journalism
By registering, you will also enjoy limited access to Premium articles, exclusive newsletters, commenting, and virtual events with our leading journalists
Already have an account? sign in
Register for free to continue reading
Registration is a free and easy way to support our truly independent journalism
By registering, you will also enjoy limited access to Premium articles, exclusive newsletters, commenting, and virtual events with our leading journalists
Already have an account? sign in
Join our new commenting forum
Join thought-provoking conversations, follow other Independent readers and see their replies