Karim Miské: 'The Charlie Hebdo terror echoed my book Arab Jazz'
The more Karim Miské read about the men who terrorised Paris, the more they seemed like characters from his new book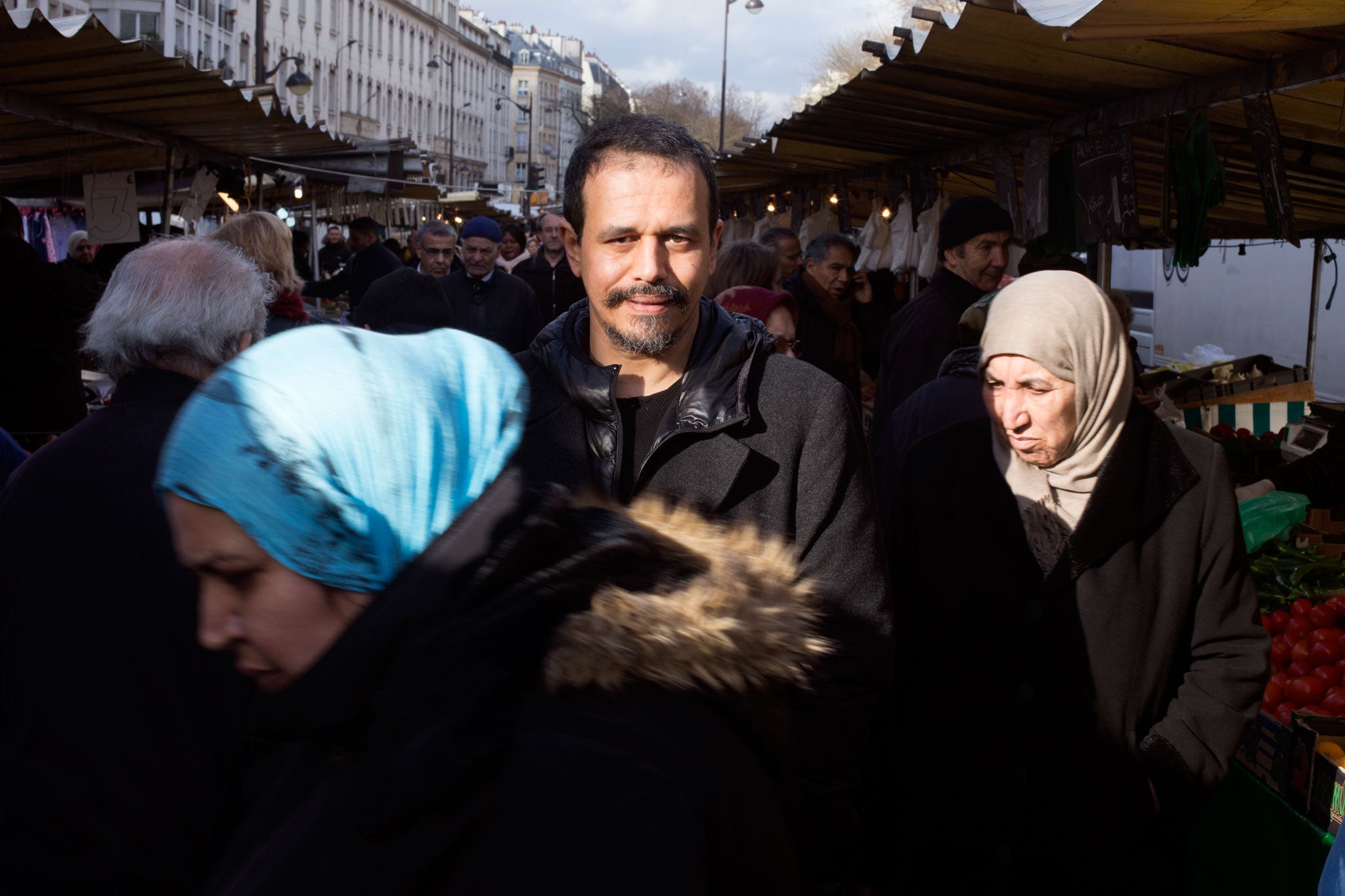 Karim Miské is a film-maker and thriller writer, who owns part of a restaurant in the 11th arrondissement of Paris. His book "Arab Jazz", a multiple prize-winner in France which will appear in Britain next month, is set in the 19th arrondissement just to the north.
It was in the 11th and the the 19th that the Charlie Hebdo killers, Saïd and Chérif Kouachi ,lived as boys. It was in the 19th arrondissement that, at the age of 12 and 10, they discovered the body of their mother. |She had become a prostitute after she had been abandoned by their father. She committed suicide in 1992 when she became pregnant for a sixth time.
It was also in the 19th arrondissment, a decade later, that the Kouachi brothers joined a jihadist network, run by a radical preacher who has since repented and trained as an auxilliary nurse. It was just down the road in the 11th arrondissement, that the Kouachi brothers murdered 12 people in their assault on Charlie Hebdo.
It was into the 19th arrondissement that the Kouachi brothers fled after the Charlie Hebdo killings. It was there that they crashed their car and hijacked another one. "When I heard about the attack on Charlie Hebdo, I was deeply disturbed like most people," Miské told the Independent. "Then I heard how the killers crashed their car at Place du Colonel Fabien and that they had hijacked another car and driven down the Rue Petit – all places which appear in "Arab Jazz" - I thought what is happening? Why have these people invaded my book?"
The answer is that the Kouachi brothers, rather than crashing into Karim Miské's book, might easily have crashed out of it pages. Although its own lurid plot-line follows a different trajectory, "Arab Jazz" breathes the same fetid air; it grows in the same tortured urban soil which nurtured Saïd and Chérif Kouachi.
Radical islam; radical judaism; fundamentalist Christianity; drug-dealing; ritualised violence; corrupt police versus anguished police; a tangle of friendships and hatreds across cultural boundaries; misery; desperation; hope; a kaleidoscope of smells, tastes and sounds; all tumbled together in the crooked old streets and dilapidated tower blocks of one of the last ungentrified parts of Paris.
Long before he put aside the film camera (temporarily) to become a thriller writer, Karim Miské was a voracious thriller reader. In that respect he resembles Ahmed, the spaced out, deracinated hero of his book, who is jolted out of thriller-addicted depression by the atrocious murder of a white flight attendant living upstairs.
The parallels between his book (written in stages between 2005 and 2010) and this month's global headlines are unsettling. Charlie Hebdo and the anti-semitic black comedian Dieudonné are mentioned in passing. A jihadist preacher in the book was directly inspired by the preacher who once led the Kouachi brothers.
Did Karim Miské, the documentary film-maker, set out to write a thriller; or a social commentary in thriller form? To Miské, this is false distinction..
"For me, crime writing is the best way to put society - the world – in front of a mirror," he said. "A crime has been committed. It has to be solved. In the process, the book uncovers the complexity and cruelty of the world which produced the crime. The investigators expose, layer by layer, a deeper truth."
We were talking in the Senegalese restaurant that Karim partly owns close to the multi-racial frontier between the 11th and 19th arrondissements. Outside, boulangeries-patisseries stand next to shops selling muslim robes.
On the corner of the street, three young women are chatting – one black, one white, one Arab. They might be the multi-racial group of girls whose friendship provides one of the fragile strands of hope in "Arab Jazz" (first published in France in 2012).
"It was inevitable that, if I was going to write a book, it would be a thriller", Miské said. "All the same, I think that the barrier which exists in some people's minds between the 'thriller' and 'literature' is false. In French 19th century novels, in Balzac for example, the plot often turns on the solution of a crime."
"While I was writing "Arab Jazz" , yes, I was influenced inevitably by thriller writers I had read – but also by novel writers in English such Salman Rushdie, Hanif Kureishi amd Zadie Smith. I was also inspired, in my capacity as a documentary film-maker, by Quentin Tarantino. He has the ability take the pulp format and make it into something else. I wanted to try to do that."
Karim Miské was born in the Ivory Coast 51 years ago. His father was Mauritanian and his mother French. He has made a series of acclaimed documentary films for television on subjects ranging from the legacy of colonialism to bio-ethics. His book was inspired by a film series that he made for Arte on the parallels between fundamentalism in Islam and Judaism.
"If my book is about anything , it about evil," he said. "It is about the presence of evil in the extreme, radical forms of all religions – Islam, Judaism and Christianity- but also in institutions like the police. I wanted to show what drives some of the leaders of fundamentalist sects. For many, maybe not all of them, it is a lust for power. It is also a desire for riches and even lust to possess women."
Karim Miské was one of the 1,500,000 people who marched through Paris in protest against the Charlie Hebdo and jewish supermarket killings. He shared the sense of joy and hope that France – or most of France – had come together en masse to celebrate democratic values. He was a fan of Cabu, one of the cartoonists murdered by the Kouachi brothers.
All the same , he suggests that Charlie Hebdo in recent years has become blinded by a sort of anarchist-atheistic fundamentalism of its own. "In the 1990's I loved Charlie Hebdo," he said. "I loved it's mockery of everything and everyone. It was often very funny. Some time about the turn of the century, it started to attack radical islam in a way which disturbed me – not because I supported radical Islam but because I knew that it would be seen by many muslims as an attack on Islam itself.
"I think that the Charlie Hebdo people – although people of the Left – failed to realise the importance of France's colonial past. They failed to realise that attacks on radical Islam in the name of 'French secular values' – even by people of the Left - would remind many muslims of the time when French values were imposed on them at the end of a gun barrel."
The same is true he says of those young muslim kids in the multi-racial suburbs who have refused to declare "Je suis Charlie" and have espoused the anti-semitic conspiracy theories of controversial French comedian, Dieudonné and others.
"The probem is that nothing has changed since the banlieues (suburban) riots in 2005," Miské said. "If your address is La Courneuve (one of the toughest estates north of Paris), your chance of getting a job if you are a young man is very limited. That is true if your name is Mohamed. It is probably also true if your name is Michel."
"For young women it is different, They have a better chance. That is why the group of young women in my book are so different from their brothers. But if you go to the young men aged 17 to 21, many of them will throw 'French values' in your face. They associate that kind of talk with the 'system' - an entrenched prejudice which they think makes it impossible for them to succeed."
Ahmed in "Arab Jazz" is shaken from his self-destructive depression by the murder of the white woman upstairs. Could the Charlie Hebdo massacre put France on a more constructive path?
"Redemption is always possible," said Karim. "But it must come, partly, in the form of opportunities, of jobs in the poorest suburbs. It must be economic redemption."
Karim Miské's novel, 'Arab Jazz', translated by Sam Gordon, is published by MacLehose Press (£17.99). Order at £14.99 inc p&p from the Independent Bookshop. He will be in conversation at Blackwell's, Oxford at 7pm on 9 February
Join our commenting forum
Join thought-provoking conversations, follow other Independent readers and see their replies