Kate Beaton on refusing to let women be forgotten and increasing audience diversity of a comic convention
Best-selling Canadian comic-book artist Kate Beaton talks to Laura Sneddon  about honouring fabulous forgotten women
Laura Sneddon
Sunday 01 November 2015 13:01 Comments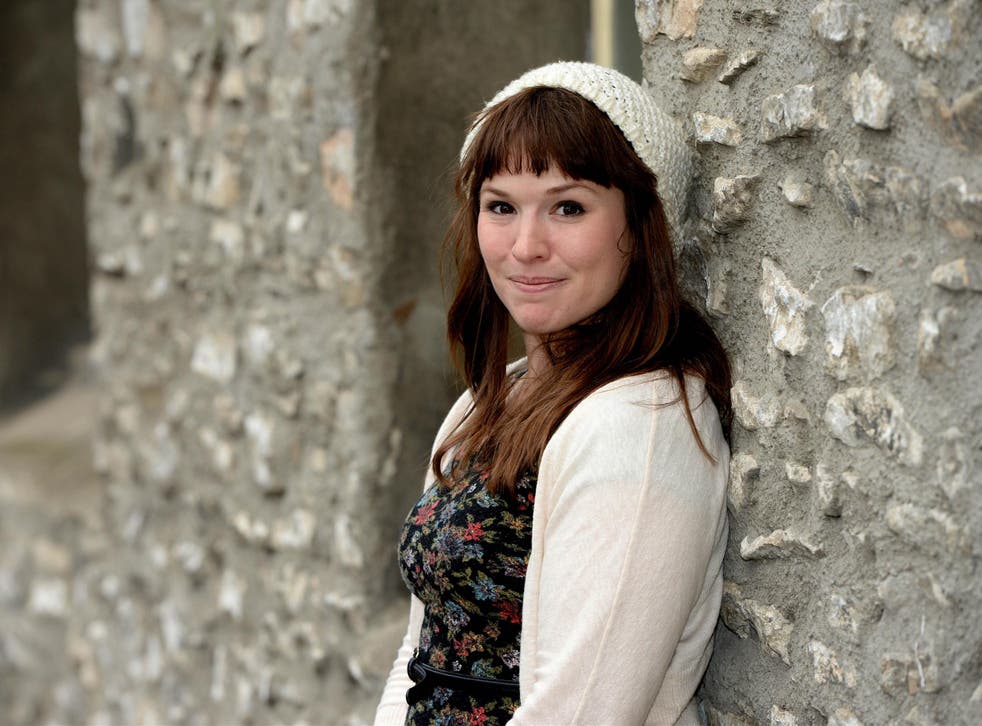 In a bustling weekend in October, great crowds wound through the heart of Kendal, Cumbria, enticing more curious souls to the festivities within. At the Lakes International Comic Art Festival, in its fourth year, the Canadian Comics Lodge boasted the longest queue, with fans travelling across the country to see Canuck creators such as Bach, Darwyn Cooke, and Michael DeForge discuss their art.
One name perhaps holds greater recognition for the general public – Kate Beaton, the star creator of the webcomic Hark! A Vagrant, a comedic look back at history and literature in a highly successful and accessible format. A collected edition of the same name won bountiful praise in 2011, shooting Beaton to fame in both the comics and literary worlds.
In an effort to find some small space not colonised by comic creators and their fans, we hunker down in a storage room among boxes and beanbags. The New York Times bestselling creator may not be used to being interviewed in a cupboard, but she laughs as she arranges our chairs and talks about her fame.
"I'm pretty well adjusted to what it is, but it was a real steep learning curve at the beginning," Beaton smiles. "I came out the gate and began getting recognised immediately. And I don't even really know why, but it was a bit of luck and a bit of timing and being at the right place at the right time.
"Webcomics were starting to have a broader appeal and if you came out with something different people really noticed. So I was lucky to hitch on at that time. The audience just sort of formed immediately … it was, not hard but I had to get used to a lot of things, like putting yourself out online and how much you want to give, how to talk to people, how to take compliments, that kind of thing. Learning how to be a public figure was probably the most difficult part."
Beaton's style is very distinctive, a deceptively loose and light touch upon the page, reminiscent perhaps of Sir Quentin Blake – who, Beaton reminds me, found fame after one day showing his rough sketches instead of his more polished, finished work. "I think it's intuitive," Beaton tells me. "I'm always pursuing the energy of the first sketch lines which I think hold the most energy and character and that's the strength of my work. The off-the-cuff [style] is definitely on purpose because I want it to have that kind of motion and feeling. And when I really labour on something it doesn't look as good."
Her first picture book for children, The Princess and the Pony, came out in June and starred young Princess Pinecone who didn't quite get the warrior horse of her dreams. And one major difference in the creative process was the addition of editors.
"I actually drew it about eight times before we were really satisfied with the story," Beaton says. "I'd never had editors before and whatever they suggested I tended to go along with until the heart had dropped out of the story. Then we had to go back and I had thrown the baby out with the bathwater. I didn't trust my storytelling instincts as much as I did in comics because you don't have the audience at the ready – you don't get the audience until the book comes out so there was no real reassurance. When I make a comic I put it up, it's there right away and then immediately people are like, 'lol', and I'm like, 'oh good I didn't fail!'." On the other hand, she concedes, children are very honest in their feedback.
In pictures: Quentin Blake's illustrations from 'The Witches' to wallpaper

Show all 9
In recent years there has been much talk about the increasing diversity of the audience at a typical comic convention, some of which overlooks how many women have been attending for decades, but Beaton's audience is a true hodgepodge of backgrounds and tastes. "Because my work is online, anybody can … find it so it gets around to a real diverse crowd," says Beaton. "I think that my readers are generally super nice. I always get that compliment and I'm really proud of it because I think that I've built a relationship with them that is [based on] mutual respect."
In revealing a broader take on events than history books often manage, Beaton has become well known for the feminist lens that her comics often use. "They're not really inflammatory," Beaton laughs. "They have something to say but they're not too in your face or argumentative. I try to make it a foolproof statement. I really don't get much pushback at all."
With a fierce velocipedestrienne glaring from the cover of her new collection, Step Aside, Pops, that feminist thread has become more overt, and the book is packed with comics about the fabulous and forgotten women of history.
"I think that honestly it's a response to the larger conversation that we're all having about women's roles in pop culture and media, and in the workforce and in life," muses Beaton. "There's a lot more discussion these days. I use the example, a movie like Mad Max comes out and we all read the think pieces on how Charlize Theron's character is treated and what that means to people and what people want and I think that women's voices are being heard more. A few years ago I don't think that Mad Max would have been made, not in the same way."
Of course shining a light on these women of history isn't always an easy task in a comedy book, but Beaton manages it masterfully in Step Aside, Pops with a series of comics focusing on the journalist and suffragist Ida Wells, who was an early leader in the Civil Rights Movement. "Yes she's wonderful, and she was here!" Beaton exclaims. "You read about her coming over to the UK because there was a lot more sympathy for her cause here and she did anything that she could to fight for justice with people who didn't want to hear it. She's amazing.
"You don't want to make fun of people who were genuine heroes, whose life was hard, who struggled against injustice … so you construct a punchline that skewers the society that failed them. But for a while I left those types of figures out because I didn't want to be seen to be making fun … but then you're only making comics about the powerful white guys and that's just another example of leaving out stories. I didn't want that either. And my comics, they're not amazing history books, they're not legit in the same way but I wanted to include more diverse stories."
Beaton may not think of her history comics as being "legit", but it's not unusual for younger readers to go away and learn more about her subjects.
"Anybody who learns about somebody like Ida Wells through my work, well that's just icing on the cake, that's amazing!" Beaton marvels.
'Step Aside, Pops', by Kate Beaton, is published by Jonathan Cape (£12.99)
Register for free to continue reading
Registration is a free and easy way to support our truly independent journalism
By registering, you will also enjoy limited access to Premium articles, exclusive newsletters, commenting, and virtual events with our leading journalists
Already have an account? sign in
Join our new commenting forum
Join thought-provoking conversations, follow other Independent readers and see their replies