Middle East conflict: Three brutal takes on the 'open-air prison' of Gaza
From Mohammed Omer's Shell-Shocked to Jean-Pierre Filiu's Gaza: A History
George Arney
Thursday 23 July 2015 15:32 Comments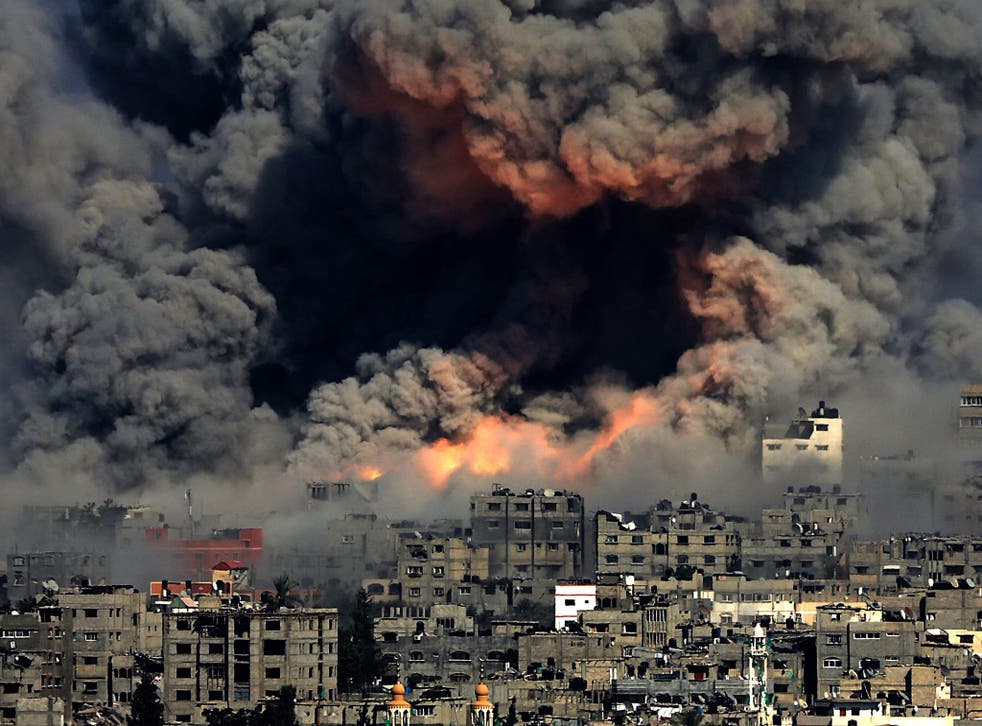 Last summer, Israel launched yet another fierce assault on Gaza. More than 2,000 people died, mainly civilians, while tens of thousands were displaced. Now come three books telling the story of "Operation Protective Edge" from the Palestinian point of view.
Mohammed Omer's Shell-Shocked (OR Books, £14) is a vivid series of despatches from what in other conflicts would be called the front line. In the open-air prison of Gaza, though, everywhere is the front line. Or as he puts it, "everyone is running everywhere and nowhere, because there is nowhere to hide".
Following ambulance drivers, farmers and refugees, his tales are liberally spattered with body parts and scenes of hopeless vulnerability, like the fathers who send family members into different rooms in the hope that some at least may survive a missile strike. It's a catalogue of horror. But with little sense of perspective beyond that of the victims, it can become repetitive – a fault accentuated by the format. These are news agency-style features, punctuated by formulaic explanations and regular updates on the toll of dead and wounded. Invaluable when filed as individual reports, but less illuminating en masse.
To really understand what happened, read Max Blumenthal's The 51 Day War: Ruin and Resistance in Gaza (Verso, £14.99). His concision and clarity are established in the introduction, where he takes just five pages to scan 70 years and argue persuasively why recurrent conflicts over Gaza have become inevitable. Equally clearly explained is the immediate run-up to the conflict, including the shockingly cynical manoeuvrings of the Israeli government.
Unlike Omer, who lives in Gaza, Blumenthal only reported from the enclave during the latter stages of the war, and although there is some overlap – overflowing morgues, summary executions, civilians used as human shields – Blumenthal's book lacks Omer's wealth of detail. But it compensates through its wider angle lens, bringing into view the role of Hamas fighters, Israeli politics and military tactics and how the seeds of the next conflict may have already been sown.
Gaza's al-Shifa hospital features prominently in both preceding books, and Norwegian doctor Mads Gilbert was volunteering there at the time. His Night in Gaza (Skyscraper, £16) is the kind of coffee table book you probably wouldn't want on your coffee table. It's filled with photos of maimed and wounded patients, and flicking through them is an uncomfortable experience. But the intensely personal accompanying text engages your full attention and brings both patients and Dr Gilbert's Palestinian colleagues to life. He openly admits he has "taken sides", and is frequently incredulous that Israel is allowed to get away with the atrocities with whose fallout he has to deal. But the biggest thing you take away is a sense of his own humanity, as well as the humour, resilience and dignity of the Palestinians he encounters.
There is no taking of sides in Jean-Pierre Filiu's Gaza: A History (Hurst, £14.99), out in paperback. Although it ranges from biblical times to the present, it focuses on the post-1948 period, when Gaza's population tripled because of Arab refugees fleeing from the forces of the nascent Israeli state. It's a dispassionate historian's account, and often rather dry, notably when recounting the endless catalogue of attacks and reprisals launched over the decades by the Israeli army and Palestinian resistance. The story of internecine Palestinian politics also makes for some heavy reading: get ready to differentiate between your PLO, PLA, PFLP, PFLP-GC, DFLP and PIJ. (To help with this, Filiu provides in his extensive end-notes a list of different organisations, which runs to five double-columned pages.) Israel is not the only villain here: the spoiling role of Hamas in successive peace initiatives emerges clearly.
Register for free to continue reading
Registration is a free and easy way to support our truly independent journalism
By registering, you will also enjoy limited access to Premium articles, exclusive newsletters, commenting, and virtual events with our leading journalists
Already have an account? sign in
Join our new commenting forum
Join thought-provoking conversations, follow other Independent readers and see their replies