Neil Gaiman interview: The year of living crazily
The author is enjoying a good 2013, and the publication of his new novel is a high point. David Barnett meets a happy man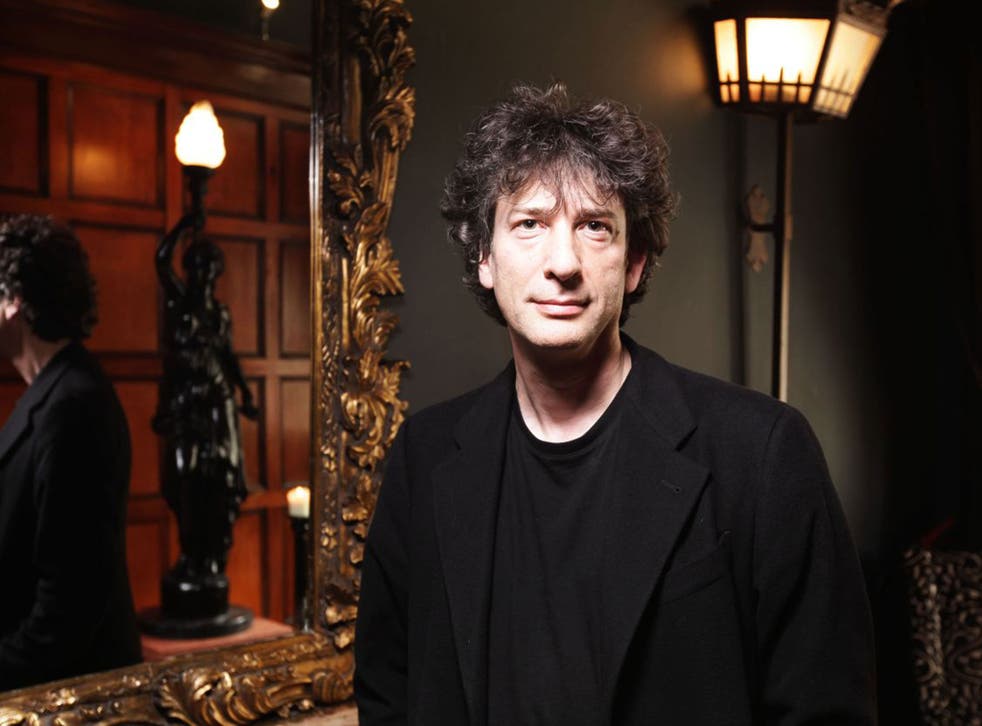 "It's the craziest year," says Neil Gaiman. "I've never had a year like it." The craziness kicked off in February with his picture book (with Adam Rex) for very small children, Chu's Day; continued in March with the star-studded BBC radio adaptation of his novel Neverwhere; and in April he gave the keynote speech at the Digital Minds Conference strand of the London Book Fair, in which he urged publishers to "make mistakes" and try everything in the brave new digital world.
Last month, saw the broadcast of his Doctor Who episode, "Nightmare in Silver", in which he ably fulfilled the brief to "make the Cybermen scary again", followed a few days later by the publication of a speech he gave to Philadelphia's University of the Arts last year, entitled Make Good Art, packaged up into a volume beautifully designed by Chip Kidd.
September sees his children's book with the artist Chris Riddell, Fortunately, The Milk, published, followed by the 10th anniversary edition of his now-classic Coraline, and at some point a new story to mark the 25th anniversary of the DC/Vertigo comic that arguably launched his career, The Sandman.
But the main event, for many, is this month's release of Gaiman's first adult novel since 2005's Anansi Boys, the stunning Ocean At The End Of The Lane. It's possibly Gaiman's most lyrical, scary and beautiful work yet. It's a tale about childhood for grown-ups, a fantasy rooted in the darkest corners of reality. It is a story he's been waiting all his life to tell.
"I don't think I would have had the chops to do this as a younger writer," he says. Gaiman is 52, but has a sort of timeless quality about him. "It's taken 30 years of figuring out this stuff."
Gaiman's novels Coraline and The Graveyard Book, though dark in themselves, are nevertheless for young readers. The bulk of Ocean is narrated by a seven-year-old but it is definitely not a children's book.
"Those are books about hope and resilience," he says. "I now get young women in their 20s coming up to me who read Coraline when they were young and they say it got them through horrible times – sexual abuse, even. And they said to themselves, what would Coraline do in this situation?
"But Ocean is more about ... powerlessness and hopelessness. When we're very small we can't actually do anything – we have no say in what happens, we have no money or resources, we sometimes have no idea what's going on."
There are very adult themes in Ocean, which are obvious to the reader but which go over the head of the main character. Given his reputation as a children's author, is he at all concerned that younger readers might want to give Ocean a go?
"It isn't a children's book but some younger readers might think they're ready for it. That's why I started the book off with a couple of really dry chapters. It's like, if you've made it this far, then you might be ready for the rest of it." He smiles and holds a hand up high, palm downwards. "You have to be this tall to go on this ride."
Gaiman was born in Hampshire and grew up in Sussex but moved to America 20 years ago with his then-wife Mary (they separated in 2004 and later divorced) with whom he has three children. He now lives pretty much full time in Cambridge, Massachusetts, with Amanda Palmer, the musician whom he married two years ago. He's something of a Twitter phenomenon, too, with 1.8 million followers hanging on his every word. He can pretty much write what he likes. So, does he ever wake up in the morning and think, "Fuck me, I'm Neil Gaiman?"
"No," he says. "But I do wake up and think, 'Fuck me, I'm married to Amanda Palmer'."
It was for Amanda that Gaiman started to write Ocean, initially as a short story to send to her while their careers kept them apart. He says: "Then I kept writing, and I looked at it and realised I was writing a novelette. Then a month after that I said to my agent, 'It looks like I'm writing a novella'. Then I finished it in handwriting and typed it up, did a word count and ... it was a novel. I was very apologetic to my agent and my publishers. I said, I know you're not expecting a novel from me, but ..."
Unsurprisingly, they didn't object. Nor did Palmer seem to mind the very personal short story Gaiman started writing for her growing into an unexpected novel. While he doesn't go as far as to call her his muse, you get the sense that she, in some way, completes him.
Gaiman says: "When I was 31 or 32 and had just moved to America and things were just starting off for me, I met Stephen King and he said, 'You've got to enjoy this'. But I didn't enjoy it. There's a word or emotion that's somewhere between worried and harassed and anxious and that was me. It wasn't until I met Amanda that I felt that yes, I was able to enjoy it all."
And part of enjoying it is maintaining his creative freedom. He says: "I am lucky in my career in that I can do what I want." But his Midas touch also makes him a target for publishers who occasionally try to lure him away. He tells a story of how one particular publisher, in the wake of his massive 2001 urban fantasy American Gods, offered him pots and pots of money to sign with them.
"The only proviso was that I had to write every book as another version of American Gods, because that was what they perceived as what I did. But at the time I wanted to write Coraline, and although they were offering so much money, that would just have made me miserable." He pauses, perhaps pondering an alternate universe where he was churning out endless repetitions of the same thing, a universe with no Coraline, no Ocean At The End Of The Lane. No crazy years. "I said no, and I'm so glad I did. It might have made me very rich, but I can't see the point of being rich and miserable."
The Ocean at the End of the Lane, By Neil Gaiman
Headline £16.99
"... in the end it took me and Gran to do it, and she did most of the heavy lifting. It wasn't going to argue with her, but it didn't help, and it's not easy ..."
"What?" I asked. "What are you talking about?"
She put the metal bucket down on the grass beside me without spilling a drop. "The ocean," she said.
Join our new commenting forum
Join thought-provoking conversations, follow other Independent readers and see their replies