Polly Courtney interview: The voice of the recession generation
The protagonists in her new novel are poor, abandoned and fighting back. Katy Guest met their champion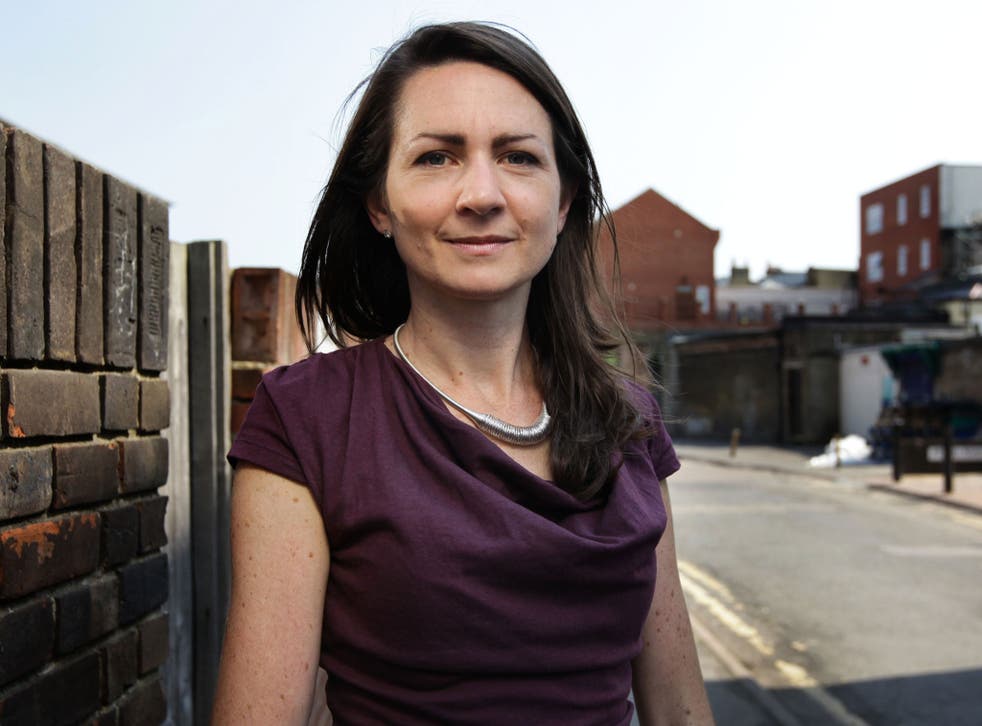 As I wait to meet Polly Courtney in Peckham, south London, where her new novel is set, a young homeless man is settling down to beg outside the station while I read a report in The Independent about the still-toxic world of banking. Both are arenas that Courtney recognises. As a bright young engineering graduate in the early 2000s she worked for a year as a "high-flying" analyst at Merrill Lynch, before she quit in disgust to write a novel based on the experience. Six books later, she is about to publish Feral Youth, which focuses on the 2011 London riots. There could be no one better placed to understand how the two things are connected.
"I live in Ealing", she explains, "and [in the summer of 2011] I was lying in bed thinking, 'Oh my god I can smell cars burning'. This was happening in our quiet, leafy Ealing, in our city, and like a lot of people I was thinking, 'Why ... ?' I assumed that over the next few weeks and months we'd start hearing more about the causes – the long-term stuff – and it felt like no one was doing that. Politicians were very quick to say, 'It's gangs, it's bad parenting', and I just thought, 'You know, that is not an answer!'"
Courtney read the early reports about the riots, went to events, and also started mentoring a child. Now, she has spent two years talking and listening to young people growing up in the crucible in which the riots were ignited, and the resulting novel is an unsentimental and shocking account of Generation Recession.
This is a very different novel for Courtney, whose previous books include well-written commercial fiction such as the "City" novel, Golden Handcuffs, and It's A Man's World, set at a struggling lads' mag. Feral Youth deserves to be her breakthrough book, the one that marks her out as a serious writer. In fact, one agent wondered if it was "too literary". ("That's not a problem for me!" she laughs. "What does it mean? It's too good?")
The book begins as its unlikely heroine, 15-year-old Alesha, is expelled from school for attacking an affiliate of a rival gang. She's just learnt that her 17-year-old friend has been "shanked" (stabbed) when her teacher asks her a question about Steinbeck's Of Mice and Men. "Truth is, I don't see how this book is gonna help me live my life … Reggie Bell's lying dead on a slab right now, bled dry through a slit in his neck. Knowing why George shot Lennie ain't top of my priority list."
Courtney, a well-spoken Cambridge graduate, had help with the slang from friends, youth workers, and schoolchildren. There is a glossary for the uninitiated at the front of the book. But in finding out how Alesha would speak, she learnt more than she bargained for from young south Londoners. "I went into a couple of schools," she recalls. "I got them to write, and explained that we were going to write in a fairly phonetic way. They'd never done that, and they were surprised that they were allowed to. Actually, they wrote way more interesting and involved things than I expected. They wrote about things like stop-and-search and being accused by security guards. The anger came out."
The riots, and Alesha's part in them, take up only a few pages in the middle of the book, and by the time they come they seem inevitable. "Why not? I think to myself. This is our riot. We deserve this. We spend all our lives looking through shop windows at shiny things we can't afford ... All you see is the rich getting richer and the poor getting poorer. This is it. Just for one day, the poor is getting richer." Alesha is no 21st-century Oliver Twist – she swears more, for starters – but she's compelling, even loveable. In the choices she has to make, she raises some uncomfortable questions about this abandoned generation of poor, semi-literate, "feral" youth.
The book is self-published using the services of a publishing house called Troubadour, which is an unusual route for a successful author. After Poles Apart, Courtney secured a contract with HarperCollins, who published her novels The Day I Died (2009), The Fame Factor (2010) and It's A Man's World (2011). But at the launch party for the last of these, she parted company with the publisher, citing the "condescending and fluffy" covers in which they wrapped her books.
"With hindsight," she says now, "alarm bells definitely should have started ringing earlier. [When we discussed my next book] I was saying, 'What about homelessness, what about inequality?' They would throw back at me, 'Hmm, something mystical and magical?' And I was like, 'Whoah, we're quite far apart here!' The Amazon reviews for all those three books, there's quite a few people saying, 'Beware, this wasn't what I expected'. Especially It's A Man's World. People are saying, 'This is a feminist rant!' And I'm thinking 'Well I hope it's not a rant, but yeah, I can see that it's not pure beach-read chick-lit, so I'm sorry that you thought it was!'" She compares sexism in the City ("very clever and very ingrained") with sexism in publishing ("where it's almost as though it's accepted") and reluctantly accepts that "there is a parallel".
Walking out on a major publishing deal seems brave – though maybe not for someone who walked out on a big-money graduate job. I ask her about the "toxic" world of banking now, and she says: "Oh, I'd agree with that! It's a grotesque culture. It does reward greed. And it hasn't changed: I think it's just got cleverer, it's masked better, it's a more sophisticated greed and sexism."
For the second time in our conversation, she adds: "I don't know what the answer is." All she's saying in her books, she says, is "here are the problems, and it's a very tangled web of problems". It's rare to find an author who gives them such a compelling voice.
Feral Youth, By Polly Courtney
Matador £8.99
"The truth is, it ain't just a race thing. They talk like it is, but really and truly it's black against white, young against old, authorities against the rest. It's countless of things. There's bare reasons for feeling vexed right now."
Join our new commenting forum
Join thought-provoking conversations, follow other Independent readers and see their replies