Roddy Doyle on his new novel, Roy Keane, and writing about ordinary people's lives
Roddy Doyle's new book 'Dead Man Talking', costs just £1. Aimed at people with poor literacy, it is inspired by a death in his own family, the Booker winner tells Arifa Akbar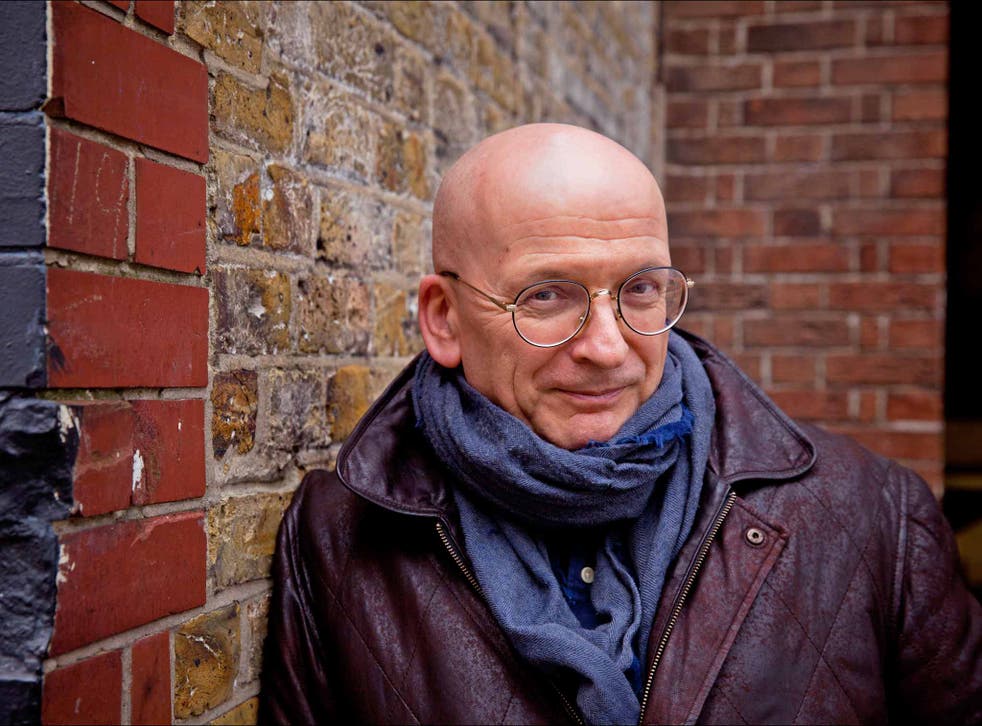 Roddy Doyle has spent the past five hours talking to inmates at Brixton prison. Not about the recent – triumphant – overturning of the government ban on the number of books prisoners can receive, though Doyle seems happy enough about that – "that just made no sense at all" – but a ghost story he's written, partly for them, which sees the same tormented segment of life repeating over and over for his narrator.
It's a purgatory not too far removed from the limbo of prison life, he thinks, now back at his publisher's upmarket office with a faint air of fatigue creeping out from beneath his smile as he sees me, and the corporate coffee trolley, coming.
"There was a young man [at Brixton] wondering if the narrator will ever escape from this loop he's in, and I was saying 'No, probably not.' I looked at his face and said, 'It's probably quite similar to being in here' and he just nodded. He saw an affinity between the little hell this man is in, and the hell that they are in."
The prison visit was strangely satisfying, he reflects. At Brixton, they asked him fascinating questions, more refreshing than the same old chestnuts journalists put to him: "I always find questions from the public more interesting, less predictable – I don't wish to be mean – and these guys are members of the public, even though right now they are withdrawn from it."
Books highlights of 2015

Show all 6
If it's a dig, it is a courteously worded one. Maybe he has reason to be weary. He is arguably Ireland's biggest literary export among his contemporaries, with a backlist stretching across almost three decades and a Booker Prize long under his belt for Paddy Clarke Ha Ha Ha (1993). He later tells me that following the publicity around this fourth novel, he felt like public property and wanted to leave the whole hullabaloo behind.
He's still in demand, 17 years on. Roy Keane hired him as the ghost-writer for his bestselling memoir, The Second Half (2014); his Barrytown trilogy – The Commitments, The Snapper, The Van – which is set around the Rabbitte family, refuses to fade from popular culture, returning in film adaptations, stage plays and West End musicals (The Commitments is currently playing at the Palace Theatre). And with that, perhaps, come the same old questions.
And yet, the initial reserve turns into – or turns out to be – earnestness as he begins talking about writing Dead Man Talking. Written for the Quick Reads series for adults with lower literacy, it will surprise everyone, whatever their literacy, with its twisted reality and its sinister sense of life on repeat.
Although it animates an afterlife that Doyle's atheism doesn't accommodate, it does relate to the end of a life – that of Doyle's father's, at the aged of 90.
"One of the reasons I wrote about the shadow-land between life and death is because my father died while I was starting the book. I had seen dead people before but I hadn't seen anyone die. I was watching my father die, the whole family was in the room, and actually, there was a long period where we were wondering 'is he dead?' because it's a very, very slow withdrawal from the world. It's fascinating in its way, that life withdraws so, so slowly, so I worked with the idea of this withdrawal, the idea that the story would be in this zone between life and death."
Adding to this "grey zone" was the ghostwriting for Keane's memoir – transcribing the recorded interviews that was its own kind of repeated reality, and shuttling between the footballer's home in Manchester and Doyle's own in Dublin to meet the deadline: "I found myself in a work loop, travelling to Manchester and back, and the loop of listening to Keane's [recordings]."
He wrote part of the draft at the two airports, standing up against a wall at times while waiting for flights, tidying it all up when he got home. Some of the story's urgency might come from those snatched moments, he reflects. The ghost-writing sounds harrowing in its own right. Why did he take on the job with Keane in the first place – an unlikely engagement for an anointed Booker winner, and an avowed Chelsea fan too?
"In Ireland, Roy's status is so unique. He is a phenomenon. When he left the World Cup squad in 2002, it divided the country in a way that hadn't happened since the civil war in 1921, people shouting at each other, roaring at each other. But then when he was doing the football punditry, he was really precise and always interesting to listen to. I knew there'd be plenty to write about.
"We met in Dublin. He said later he wasn't interested in the book, and I was hedging my bets, I wasn't altogether sure I was up to it. But we talked each other into it."
At the same, he'd never do it again. Although, aged 56, he finds himself increasingly accepting quirky "one-off" projects that he might never have considered as a younger man. Alongside writing his next novel (he normally has one under way while finishing the last), he is working on an English libretto for Mozart's Don Giovanni.
Few, though, could accuse Doyle for confining his writing to one particular form. He has written screenplays including adaptations of his own books, stage plays, short stories, children's books and memoirs as well as 10 novels. A certain generation may, in fact, better know books such as The Commitments through the adaptations themselves. He doesn't seem concerned by that, nor by the doomy surveys that warn that we are becoming a nation of television watchers rather than readers: "The death of the book was announced a while ago but sales were good last year; vinyl is the coolest thing again; things that are announced as dead are not."
He doesn't worry if we are watching his stories rather than reading them. What's important is the story itself, he thinks, in whichever medium it is consumed. Neither does he feel particularly proprietorial over the adaptations (though he has written screenplays for several). In fact, he was involved in the latest West End adaptation of The Commitments and was determined it should be a very different animal to the film and the book.
Doyle began writing while working as a secondary school teacher in Dublin, "teaching English with a bit of geography in the good years, and a bit of English with geography in the bad ones". In 1982, at the age of 24, he took the extraordinary step of booking himself a ticket to London for the school holidays and renting a bedsit in Wood Green, north London, to devote the summer to writing fiction.
"It seems like a bizarre thing to come away to London to avoid distractions, and by that, I would say friends – and pints – frankly." It worked. By the end of three months, he had enough material for a novel, and although it ended up "being a really, really bad novel", it gave him the confidence to begin the Barrytown trilogy with The Commitments complete by 1987.
There was also a conscious decision to write about ordinary people's lives, in ordinary language, which was partly inspired from the multiplicity of voices he heard around him as a teacher. "I was in my seventh or eighth year of teaching and it had a colossal impact on me, being among all these voices… Like a lot of writers, I knew I wanted to write but I didn't know what I wanted to write about. When I wrote The Commitments, it clicked. I felt this was the world that was familiar and I could make it a bit unfamiliar and sparkling."
Over subsequent years, he became associated with a disparate group of vernacular writers including Irvine Welsh (who published Trainspotting the same year as Paddy Clarke) and James Kelman, who won the Booker a year after Doyle for How Late It Was, How Late. Kelman's edgy writing, with its street sounds and its "bad language", stirred outrage among the establishment, as did Welsh's and Doyle's, especially on winning the Booker.
It was a stir that by then had passed Doyle by. "Paddy Clarke was my fourth novel, so I had been bombarded with all that 'he has no idea how to write a novel' – a lot of objections to the language, and I remember one journalist saying The Van wasn't uplifting enough and that literature should be uplifting. By the time Paddy Clarke came out, I no longer felt a need to defend myself."
Latterly, Doyle's books have been preoccupied with, and populated by, middle-aged lives – married couples flourishing or foundering, children growing up, parents getting cancer and midlife men propped up in the pub with a pint. The short story collection, Bullfighting (2011), is full of such tales, as is the fourth addition to the Barrytown series, The Guts (2013), which sees Jimmy Rabbitte's return as a 47-year-old man diagnosed with bowel cancer.
This was, says Doyle, a reflection of what began to happen around him about 12 years ago. Family and friends were being diagnosed with cancer; his three children were growing up, he found himself attending far more funerals than weddings. "There, you'd meet these middle-aged people that you'd last seen as kids. It's not without its humour when you see a bald guy coming towards you and the last time you saw him was when he was 13."
If Doyle has mined the life around him for creative inspiration, than his characters might, if they peer out of the books, see glimpses of themselves in him. He speaks with little pretention. He is as likeable and as gently funny, always within easy reach of a good punch-line. Like his verdict on Ireland's new laureateship for fiction, for which he was a contender though he told them he wasn't much interested (it went to Anne Enright in the end): "You [the British] have a population of 60-odd million and you have two laureates; Ireland has a population of four million and has three. There'll be one for plumbing being declared next week."
Roddy Doyle's 'Dead Man Talking' is published by Galaxy Quick Read (£1)
Join our new commenting forum
Join thought-provoking conversations, follow other Independent readers and see their replies