Room with a panoramic view: How Emma Donoghue's latest novel aims to tell a universal story
Boyd Tonkin asks her about our own small worlds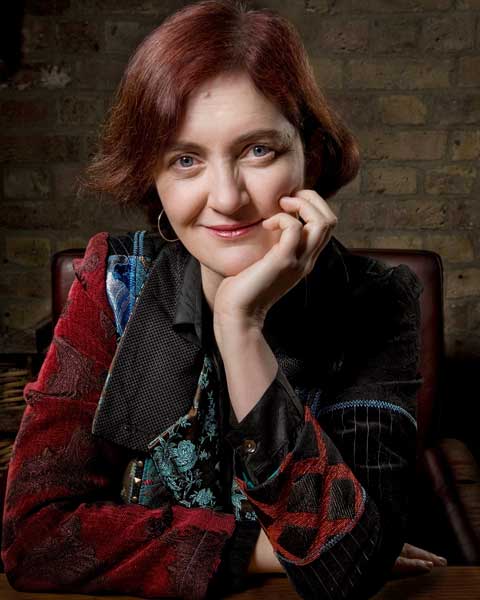 Good novels have a habit of reading their critics' minds. Last week Room, the seventh novel by the Irish-born writer (and now Canadian citizen) Emma Donoghue, reached the long-list of the Man Booker Prize. Even before the selection it came trailing clouds of expectation: the bidding war, the rights deals, the talking-up and talking-past that can smother a book with its own renown even before it lands.
I had heard of its alleged connection with the Josef Fritzl case of kidnap and incarceration; of its scenario of a terrified mother and her five-year-old son imprisoned from his birth in a tiny secret space. And, falling headlong into the rumour-mill, I thought of the literary antecedents that might give ballast and background to the flesh-creeping horror of the headlines: the feral children, the enquires into language and perception, the solemn discourses on nature and nurture that have partnered such outlier cases ever since the age of Rousseau.
Towards the end of Room (Picador, £12.99) , mother and son – Ma and Jack - have regained their physical, if not mental, liberty. More than half the novel, and much of its decisive action, takes place post-confinement, so this is not a spoiler. Watching TV with his Grandma, Jack catches an earnest discussion of his case. "Of course Kaspar Hauser famously claimed he'd been happy in his dungeon," drones the expert, "but perhaps he really meant that nineteenth-century Germany society wasjust a bigger dungeon...". And so, creepily, on, as talking heads and professional carers of every kind attempt to capture and package the meaning of the woman's and child's outlandish ordeal.
Kaspar, the boy found wandering the streets of Nuremberg in 1828 with tales of an upbringing alone in a cramped and darkened cell, became the prototype of the wild child whose isolation catches the greedy interpreting gaze of thinkers and artists – from his first "protector" Lord Stanhope through to Werner Herzog and Paul Auster. Enlightenment sages, Romantic artists and modern theorisists alike have repeatedly kidnapped the plight of lost, hidden and forsaken children as grist for pet ideas. But who listens to the child's voice?
No subject, no story, could be more overdetermined than that of Room: more shaped and structured by our various ways of speaking about the mind, the self, the family, from linguistics and psychiatry to red-top frenzy and talk-show hysteria. Yet somehow, via the narrative voice of Jack and his stoic and heroic making-sense in words of his small world, it bursts free of every preset category.
This is a novel, and a child, that will not be confined. To stand on its own it must scale the intellectual walls that surround its theme. Emma Donoghue herself calls it simply "a boy's story of courage and love".
It's true that the Fritzl case did create the spark. Donoghue has written that "I don't know why, out of all the headlines that flash up on my screen, the case of the five-year-old Felix Fritzl grabbed me this way except that – as the mother of a four-year-old boy and one-year-old girl – I was ready for it". Felix was one of seven children born to Elisabeth Fritzl during her and their 24-year-long imprisonment by her father in Amstetten, Austria between 1984 and 2008.
In contrast, Room only has the plausibly observant, word-loving Jack, fearful but resourceful Ma, and the visiting stranger, provider and tyrant – Old Nick – who one day seven years before the novel's events had abducted a student. After that first ignition, Donoghue had read about "every case of kidnapping for sexual purposes I could find". She uncovered some "astonishing" happy endings as well as cases of lasting damage that "made me cry out loud".
But she carefully explains to me that "Room was only inspired by, not based on, any real-life case. I went out of my way to make Ma and Jack's circumstances different from all the ones I was reading about; there is no case I encountered which features a grown woman (not a child or adolescent) imprisoned by a stranger (not a family member) and raising a child. Which meant that I did not feel in any way burdened by the facts of those notorious cases. What I took from the Fritzl case... was simply the idea of living in confinement, and of a boy who thinks his small world is the only one there is."
So Jack's sealed Room – its furniture arranged by Donoghue on a home-design website - exists as a singularity. It has article-free Blanket and Wardrobe, Stove and Bed and Plant, as well as the many "planets" on TV that show an "Outside" Jack finds entertaining but incredible. He is, if you like, Adam in the Garden, or sole survivor of a science-fiction apocalypse: the last and first child. He must name and know his world, and make it scan and rhyme.
Ma, meanwhile, has her own favoured stories, which hint at her – if not his – inner state: The Count of Monte Cristo; "GulliJack in Lilliput"; "Nelson on Robben Island"; even The Great Escape. And Old Nick drops in, to bring dread or help, and sometimes, while Jack hides, to make Bed creak: "I always have to count until he makes that gaspy sound and stops".
As Donoghue has put it, "the real value of telling a freakish story is to illuminate the normal and universal". She elaborates: "I would never have written Room if I hadn't glimpsed a way to make the strangeness of Jack's Room somehow universal - a sort of microcosm of our world... We all start in a very small place (the womb) and emerge into a bigger one, then again in childhood we gradually move from a narrow social setting to a bewilderingly complex, even international one. So Jack's journey is everyone's journey, just speeded up."
Elsewhere, she has spoken of Jack and Ma's claustrophobic bond as a limit case of ordinary motherhood. Now she comments that "It may sound outrageous, but every parent I know has had moments of feeling as if they've been locked in a room with their toddler for years on end. Even 20 minutes of building towers of blocks can feel like a lifetime. I'm not saying that Ma's experience is every mother's experience, not at all. In my case, I've been able to parent in pretty ideal circumstances. My partner got six months fully paid parental leave, we've had access to good daycare, etc. But there's a psychological core that's the same: the child needs you so much that you don't fully own yourself anymore."
Bristling with a fiercely intelligent if unobtrusive grasp of the links between language, power and perception, Room marks both a fresh start for its author's fiction and, in some ways, a deepening of its range. Emma Donoghue was born in 1969 in Dublin, where – at Trinity College - she did her first degree. Her father is the eminent academic Denis Donoghue, for more than four decades one of the finest, subtlest critics of Irish and American poetry. She then studied for a doctorate at Cambridge and, after its completion, moved to Canada in 1998.
Her early fiction (Stir Fry, 1994; Hood, 1995) had explored sexual identity in contemporary settings; both were shortlisted for – and in Hood's case won - awards for gay fiction. The acclaimed Slammerkin (2000) first took her into the historical novel, with its rebellious, definition-shunning prostitute heroine in 18th-century London.
Closely-researched period material also underpinned the later novels Life Mask and The Sealed Letter, which dramatised the Codrington divorce scandal of 1864 and confirmed her flair for investigating the fault-lines of class as well as sexuality. In addition to stage and radio drama, and three short-story collections, she has also written a history of 18th-century lesbian culture (Passions Between Women) and a recent study of desire between women as a literary motif, Inseparable.
Donoghue says about her new novel that "Despite my feminist background, and despite the fact that my children have two mothers and no father, I never saw Room as a men-against-women-and children story." Human beings in many contexts get deplorably used to owning and controlling one another, she argues. If she had been born into a slave-holding family in the South, "would I have been any different?"
Pungent and percussive, Jack's new-minted language grabs hold of his constricted life with startling force and zest. From the depths of his and Ma's slavery, it cries out for a kind of freedom. With a five-year old storyteller, how did Donoghue fuse artistry and credibility? "I think five was the right age," she observes: "slightly linguistically advanced (but no prodigy), he can speak well enough to describe things coherently, but he still has the wacky mindset of a small boy. And, of course, other characters can be represented through their dialogue."
To this reader, at least, the novel's effect is almost exhilarating. The mind, and the tongue, make its suffocating space expand. Donoghue confirms that "I meant Room to be extremely uplifting, but not cheaply so. I tried to keep a careful balance between the shivers of dread and the feel-good moments." Not only because of the well-signalled escape – which in any case has a troubling aftermath as "Outside" steals their story – the book often bounces along through its profound darkness with a near-comic exuberance.
I have to ask Donoghue - as another Dublin writer, after all – about the shade of Beckett. "I wasn't thinking of Beckett," she replies, "but I suppose no one can write about a pair coping with boredom without echoing Waiting for Godot." On the other hand, "I was very aware of good child's-eye fiction I'd read - LP Hartley's The Go-Between, Roddy Doyle's Paddy Clarke Ha Ha Ha, the beginning of Joyce's Portrait of the Artist... to name but three - as well as the king of confinement novels, John Fowles's The Collector".
In his solitude and separation, Jack also becomes the wide-eyed explorer of unknown continents. He watches with incredulity the alien parade of TV: "the couch and the necklaces and the bread and the killers and the airplanes and all the shes and hes". From his own perspective of normality, the boy gapes at all the exotica beyond: "I also thought very consciously about 18th-century adventure stories," Donoghue says, "such as Defoe's Robinson Crusoe and Swift's Gulliver's Travels."
As with those tales of the strangeness within, Room turns out be more about us than about them; the near, rather than the far. From its freakish instance it finds a common truth about the private worlds of language and feeling that we all protect. As Emily Dickinson once put it, in a line that Jack overhears during a counselling session, "The Soul selects her own Society – Then – Shuts the Door -". Which locked room do you choose to inhabit?
Join our commenting forum
Join thought-provoking conversations, follow other Independent readers and see their replies