Timur Vermes's Look Who's Back: Is it ever safe to laugh at Hitler?
The new German fantasy novel imagines the Führer returning to Berlin as the star of an alternative comedy show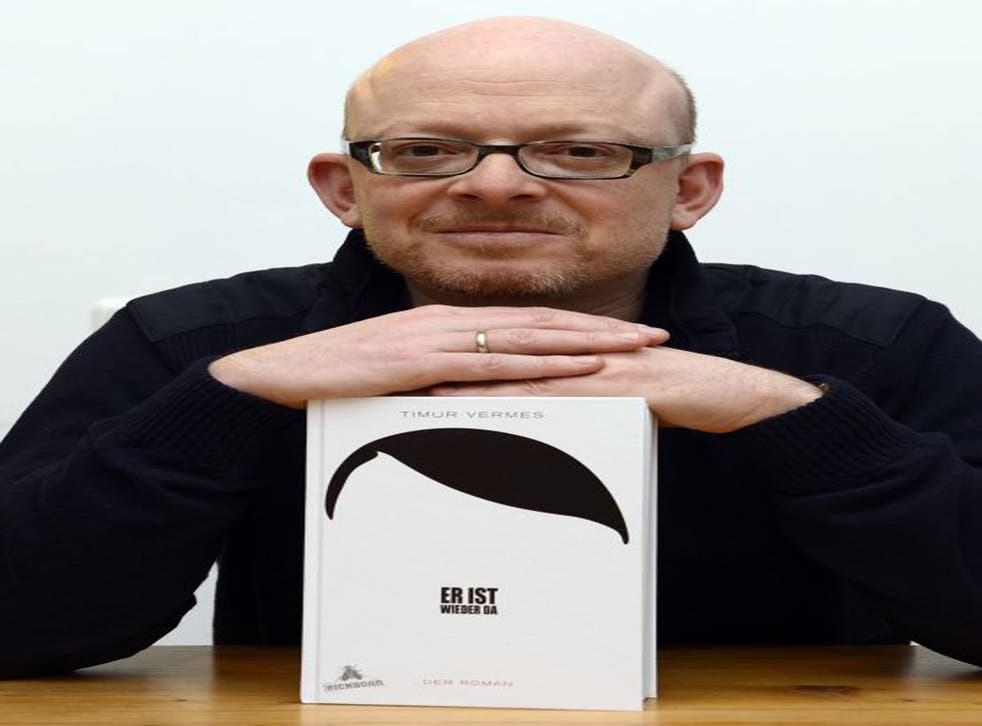 Adolf Hitler wakes up in Berlin in 2011. Thanks to his uncanny resemblance to himself, he soon lands a spot on a television satire show. Before the Führer seals the deal, however, executive producer Frau Bellini needs to be sure on one topic that might sink the project. "We're all agreed that the Jews are no laughing matter," she suggests. "You are absolutely right," he replies, "almost relieved".
A 1.5 million-copy bestseller in Germany, Timur Vermes's fantasia Look Who's Back scoots blithely around a fathomless abyss of bad taste. On the sensitive matter that Frau Bellini raises, the revived dictator does not dodge the issue. He chats to us cosily about the "unpleasant but necessary" work of his colleague Himmler and learns with disgust that only two barrack blocks still stand at Dachau. Given his future plans (more or less identical to his former aims), "the crematoria would have to be fired up again after the first wave of arrests".
Vermes's book appears in Britain this week in a sassy translation by Jamie Bulloch. Hitler has hardly lacked for post-war resurrections. From Frank Finlay and Alec Guinness to Bruno Ganz in Downfall, heavyweight actors have glued on the moustache and dared the comb-over.
On the literary front, historical depictions have marched in step with counterfactual updatings – most notably, in George Steiner's The Portage to San Cristobal of AH (1979). As for debunking burlesque, it began with Charlie Chaplin's The Great Dictator in 1940 but reached a glorious zenith in Mel Brooks's The Producers.
With Look Who's Back, the Hitler-Welle (Hitler wave) has broken on a more contemporary shore. For Vermes's novel is not so much a satire on Third Reich revisionism and nostalgia – although that plays its part – as on the blank ironies of amoral and fad-crazy multi-platform media. For parallels, think Sacha Baron Cohen and Chris Morris. The undead Führer gets his first big break on a show hosted by a Turkish-origin comedian called Ali Gagmez.
Adolf doesn't do irony. The rest of the world now does nothing else. "He's doing it so it doesn't happen again," Hitler's Goth secretary tells her appalled Jewish granny. That's what the media moguls believe. The Führer wins comedy awards. Far-right thugs attack him as a leftie impersonator sending them all up. Little do they know.
Look Who's Back takes us close to the edge. Adolf's voice catches the comic dimensions of the whingeing self-pity and self-importance you find in Mein Kampf. But much of the satire on Germany today mimics the familiar genre of the bemused alien or time-traveller ("I realised that Herr Starbuck owned dozens of coffee houses").
Wrestling with a mouse or navigating a convenience store, Adolf channels a mainstream mockery of hi-tech gadgetry and consumer idiocy. Readers will fall into line as he pours scorn on German politics under its "petty bourgeois hen". Some of the chat-show encounters, as his television empire grows, have the authentic Baron-Cohen touch. Adolf asks a smug eco-warrior: "If the Greens took power in this country, which would be the first state they would annex?"
But Vermes does know where he's going. We see how easily the ultra-cool ironies can flip over into active endorsement. Beware the parodist. Think twice about the belly laugh that greets the "politically incorrect" takedown, bracketed by air-quotes.
On his first television spot, Adolf hears Ali Gagmez run though his knowing routine of sophisticated ethnic gags. He rather approves. Still, why bother with this post-modern imitation? After all, "an upright German has no need of foreign henchmen to help him make jokes about inferior races."
Join our new commenting forum
Join thought-provoking conversations, follow other Independent readers and see their replies