For the cunning plot to lure book buyers away from Amazon, read on...
Blockbuster authors offer bonus chapters to high street bookbuyers
Tom Peck
,
Miranda Kiek
Monday 11 March 2013 22:11 Comments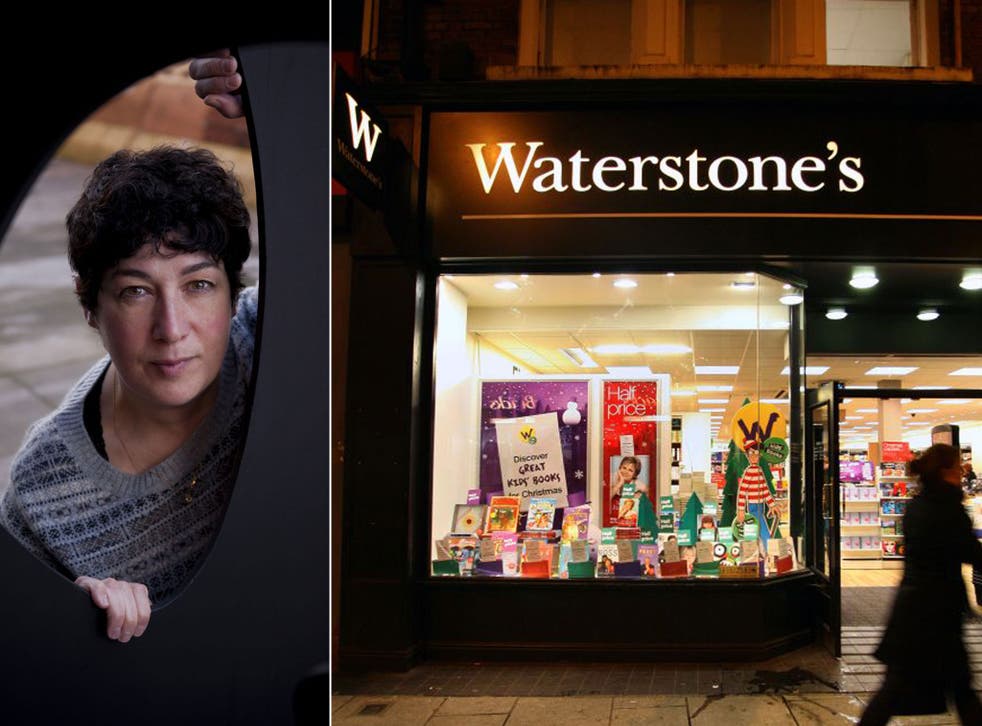 War is said to be the mother of invention – and in the increasingly bitter battleground of publishing, bookshops have a new weapon.
Anyone who buys the new Joanne Harris paperback Peaches for Monsieur le Curé from Waterstones will find it contains an extra chapter not included in copies sold elsewhere, after the book chain signed an exclusive deal with the author.
The chapter, which Harris says can be read either as an epilogue or as "the prologue to an as-yet-unwritten story", may not be central to the plot of Peaches, which is a follow-up to her best-selling Chocolat. But Waterstones hopes that the extra material will be enough to persuade Harris fans to shun Amazon and other web retailers in favour of a trip to the High Street.
The promotion is one of several innovative marketing tactics – many involving so-called "bonus material" – being adopted by booksellers in an attempt to compete with cut-price online rivals.
Foyles recently sold copies of Alexander McCall Smith's novel Trains and Lovers with a small booklet containing an extra short story by the author.
But are these tactics anything more than merely the final writhings of a fish out of water, or do they represent a genuine lifeline for booksellers?
"Of course these things are viable options," said Tom Tivnan, features editor at The Booksller, the book industry magazine.
"All bookshops are having to innovate and do special things to survive. It's part of the whole package of how to reform themselves. They have to work out what things they can do that online retailers can't. There's also things like membership clubs, coffee shops, crèches and speaking groups."
Similar promotions deployed in the past include Claire Tomlinson's biography of Charles Dickens, of which a very high specification limited edition, with gold foil, a map of London, and some extra material was available only in Waterstones.
But it is not merely nostalgia for the high street bookshop that is compelling authors into offering these deals. "One of the buzzwords in publishing and bookselling is 'discoverability'," Mr Tivnan added.
"Authors are unanimous on this. The place to discover a new book is not on Amazon. It is browsing through a bookshop or a library. Physical bookshops have to survive. Authors and publishers really want to keep bookshops and libraries open. Particularly mid-rank authors, lower down than Joanne Harris or Ian Rankin [who added a bonus essay to a bookshop-only version of a recent novel]."
It is not merely the big high street players signing up to these schemes. Mr B's Emporium of Reading Delights in Bath, twice recent winner of the Independent Bookshop of the Year Award, has also worked with publishers to secure exclusive extras.
More than 400 bookshops closed in 2012, seven times more than the year before. There are now fewer than 2,000 bookshops in the country, less than half the number of seven years ago. Ebook sales doubled last year, to £261m, while physical book sales fell from £1.51bn in 2012, down from £1.59bn in 2011.
Online retailers are also looking for exclusive content. Crime writer Peter James is one of many authors to offer "eshorts" – short stories available exclusively for ereaders.
Philip Stone, who monitors sales for The Bookseller, said "ridiculously cheap" ebooks are contributing to the decline in money spent on books.
Sony has been selling some bestselling ebook titles, including Yann Martel's Life of Pi, for just 20p from its ebook store. Sony was then price-matched on all of its titles by Amazon, causing Stone to reflect that customers may come to believe that books, like music, have "almost no value".
Register for free to continue reading
Registration is a free and easy way to support our truly independent journalism
By registering, you will also enjoy limited access to Premium articles, exclusive newsletters, commenting, and virtual events with our leading journalists
Already have an account? sign in
Join our new commenting forum
Join thought-provoking conversations, follow other Independent readers and see their replies