From Avon lady to dance hostess to prize-winning novelist...?
Korean-born author Nami Mun's long journey to the shortlist for Orange award for new writing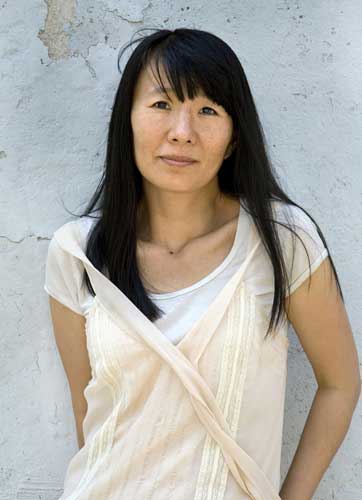 Nami Mun took her first, ill-fated job selling cosmetics to lonely housewives as an "Avon lady" aged just 13, after running away from her family home in the Bronx and having never applied make-up before.
She lasted only two weeks and later found itinerant employment as a dance hostess, cocktail waitress, photojournalist and a criminal investigator before sending a chapter of a half-written novel to a publisher.
That publisher was Barney Rosset, the founder of Grove Press in the US, and the man responsible for bringing William Burroughs and Jack Kerouac to public attention.
The result was her debut novel, Miles from Nowhere, which mirrors aspects of Ms Mun's own life on the streets as a runaway, and which has been shortlisted for the Orange Prize's award for New Writers.
Ms Mun, 41, a Korean-born novelist who emigrated to New York with her family at the age of eight, was selected alongside Ann Weisgarber, whose novel, The Personal History of Rachel DuPree, is about a black farming family living in the American West in 1917, and Francesca Kay's An Equal Stillness, which dramatises the domestic strife of a couple after the Second World War.
Speaking to The Independent, Ms Mun said she was spurred into adult education after a humiliating episode while working as a waitress, and eventually completed an English literature degree at Berkeley university.
"I was a minor and I worked really hard to get whatever I needed," she said. "I got a job as a waitress serving cocktails when I was only 15. I was serving these two guys and they had a bet on about me. They asked me a maths question – 'What do you call a line that touches but does not intersect a circle?' I'd left school after eighth grade and I was kind of embarrassed that I didn't know the answer.
"One guy bet that I'd know because I was Asian, while the other bet I wouldn't know because I was a waitress. I was so maddened by them that I signed up for my educational diploma," she said.
Her book follows the life of Joon, a Korean immigrant living in the Bronx in the 1980s who runs away from home aged 13 after struggling against her father's infidelity and mental illness. She sets out on a harrowing journey, living on the margins of society and working in an escort club while fending off addiction and destitution.
Ms Mun, who now works as a creative writing lecturer in Chicago, lived on the streets herself, often finding temporary homes in shelters, bus stations, park benches and abandoned buildings. She also worked as a dance hostess, all of which, she said, informed her creative writing.
"Waitressing and being an Avon lady – and even criminal investigations – are all about understanding people's desires. I had to rely on my communication skills and empathy in these jobs... There was a shared emotion between them and me, the people I was sometimes talking to. We were all lonely," she said.
While there are certain biographical similarities to her life and to the changing fortunes of her fictional character, her novel does not tell her own life story, she added.
Ms Mun is currently working on her second novel and a collection of short stories based on a single crime.
The winner of the Orange prize's first novel award will be announced on 3 June in The Ballroom at the Royal Festival Hall, and will receive a £10,000 bursary funded by Arts Council England.
In contention: The nominees
Francesca Kay 51, who grew up in south-east Asia and now lives in Oxford, was shortlisted for An Equal Stillness. The book tells the story of Jennet Mallow, a woman born in 1924 who grows up in an austere rectory in Yorkshire where her interest in art and creativity means she is alienated from her from her family. Jennet moves to London where she meets a handsome painter, who she is pressured into marrying after falling pregnant. The couple tire of London and restart their lives in Spain but when Jennet's own career takes off, it triggers a destructive spiral in her marriage.
Nami Mun 41, is Korean-born but emigrated to America aged eight and now lives in Chicago. She has been shortlisted for Miles From Nowhere, a story about Joon, a young Korean immigrant in New York who runs away from home at the age of 13, dismayed by her father's infidelities and mental illness and her mother's rage. She embarks on journey from the streets to a homeless shelter and work in an escort club, then to a struggle with addiction and finally an ending which provides hope for her future.
Ann Weisgarber 54, who was born in Ohio and now lives in Texas, was shortlisted for her novel The Personal History of Rachel DuPree, set in the South Dakota Badlands in 1917. The book revolves around Rachel and Isaac DuPree, a black couple who leave Chicago to make a new life in the American West where black farming families are extremely rare. The couple struggle to survive, and Rachel is desperate to move out of farming, but knows deep down that her husband will never leave his ranch.
Join our commenting forum
Join thought-provoking conversations, follow other Independent readers and see their replies