Oxford Dictionaries accused of 'sexist' usage examples including 'rabid feminist' and 'nagging wife'
The publisher initially replied flippantly to a tweet from Michael Oman-Reagan but is now promising to review its examples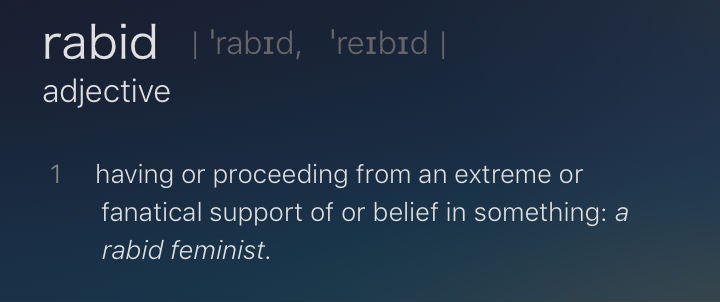 Oxford Dictionaries has agreed to review the language used in its definitions after coming under fire for sexism.
The publisher, part of Oxford University Press, currently prints "a rabid feminist" as a usage example for the adjective "rabid", defined as "having or proceeding from an extreme or fanatical support of or belief in something".
Canadian anthropologist Michael Oman-Reagan noticed this and tweeted Oxford Dictionaries to complain, while also drawing attention to other "explicitly sexist" examples such as "bossy" ("a bossy, meddling woman"), "psyche" ("I will never really fathom the female psyche"), "nagging" ("a nagging wife"), "shrill", ("the rising shrill of women's voices") and "grating" ("her high, grating voice").
Oman-Reagan highlighted the irony of the Oxford Dictionary's own usage example for 'sexism' ("sexism in language is an offensive reminder of the way the culture sees women") in a post on Medium, arguing: "Shouldn't the usage examples in this dictionary reflect that understanding of sexism in language?"
Oxford Dictionaries dismissed Oman-Reagan's suggestion at first, sarcastically replying to his tweet: "If only there were a word to describe how strongly you felt about feminism…"
Later posts attempted to clarify its "point" that 'rabid' is "not necessarily a negative adjective" and argue that "example sentences come from real-world use and aren't definitions".
However, the damage was done, and 'rabid' rocketed to the top of the trending words list on the Oxford Dictionaries website, prompting the publisher to apologise for its "flippant" tone and promise to "review the primary example sentence used for 'rabid'".
An official statement released on Monday read: "We apologise for the offence that these comments caused. The example sentences we use are taken from a huge variety of different sources and do not represent the views or opinions of Oxford University Press.
"That said, we are now reviewing the example sentence for 'rabid' to ensure that it reflects current usage."
Other examples raised by Oman-Reagan will also be reviewed.
Join our commenting forum
Join thought-provoking conversations, follow other Independent readers and see their replies