Beastly Things, By Donna Leon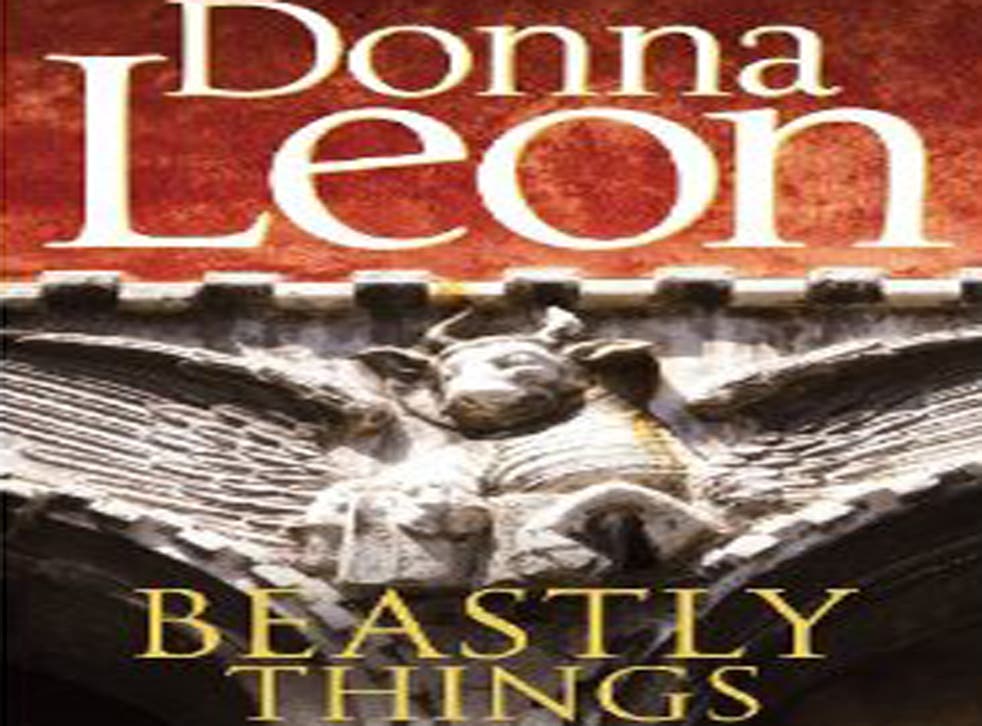 I went off Donna Leon several books ago – not enough plot, too much pasta, too much family stuff, above all, an excess of the tiresomely perfect Signorina Elettra, paragon of the Venetian cop-shop. But this is a return to form. Commissario Brunetti exerts himself with a lot more policing, plus the book is written with that depth of thought about crime and humanity that characterises the best of Leon's work.
A body is fished out of a canal – a man who has been stabbed to death and who, as Brunetti discovers, suffered from a bizarre genetic disfigurement. As our Commissario and his sidekick, Vianello, investigate, they discover that in spite of his fearsome appearance, the dead man had a gentle nature. He was a vet with a devoted animal clientele. How could such a man have made enemies?
Quite easily, it transpires. He worked at a slaughterhouse, and Leon spares us nothing of the haunting sights, smells and sounds which the investigators encounter when they visit, shown round by an imperious and beautiful woman who has all the callous butcher staff in awe. The dead man's job was to certify that animals brought for slaughter were free from any disease that could be passed into the food-chain.
Tracking down the conspiracy behind the murder of the vet enmeshes Brunetti and Vianello in a dangerous intrigue and takes them briefly to Mestre on the mainland, where they encounter the dead man's human and animal family.
The main theme is enriched with supplementary narratives. Brunetti's daughter, Chiara, has become a vegetarian; at the Questura, Elettra and Vianello represent enlightened ecological thinking; and Brunetti is beset by ethical questions and so is his wife, Paola.
Venice pursues its absurd and beautiful daily round, the city sinking ever deeper into the mire; literally into the lagoon and metaphorically into the economic problems besetting Italy in general. Seaweed and tourists are clogging the centre of the city to a standstill.
With us again is that fascinating tension between Leon's deep-veined puritanism and her exuberant subject. If sentiment unexpectedly breaks through at the end, it is exactly what her operatic city demands.
Join our new commenting forum
Join thought-provoking conversations, follow other Independent readers and see their replies