Chewing the Fat: An Oral History of Italian Foodways from Fascism to Dolce Vita by Karima Moyer-Nocchi, book review
Moyer-Nocchi's astute, lively subjects shred the golden historical halo around Italian foods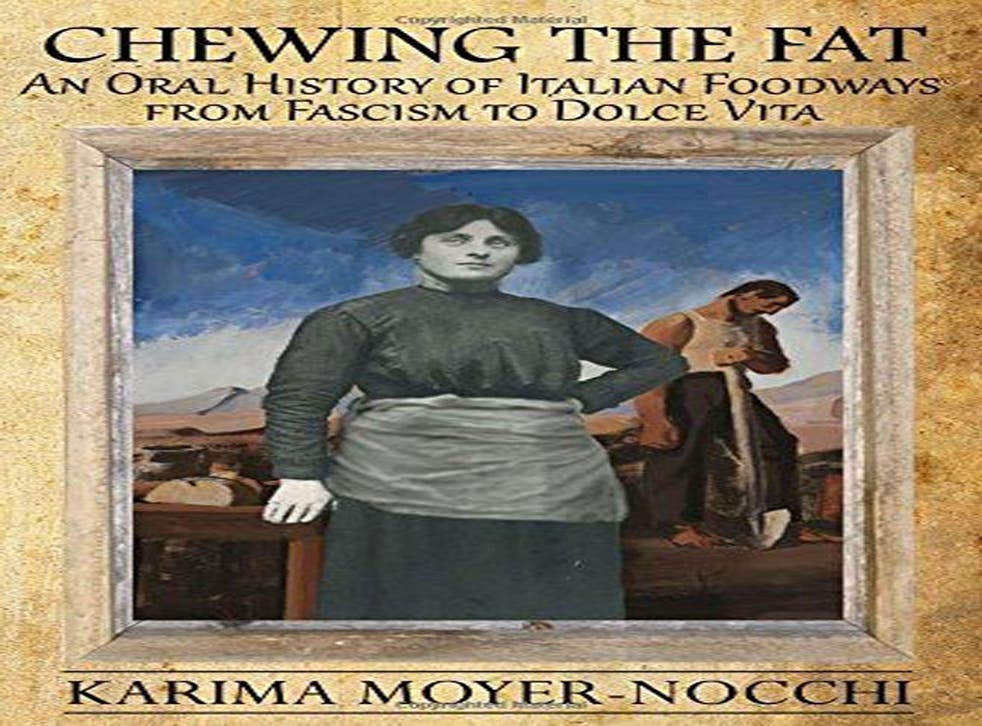 Somewhat in the style of the great oral historian Studs Terkel, these 18 extended interviews with women who endured the deprivations of the fascist era reveal that the commonly held belief in Italy's bounteous gastronomic tradition is so much baloney. Contrary to the artificially contrived impression of continuous feasting, many Italians went hungry until the economic miracle of the Sixties.
Of course, the Second World War was a lean time here as well, but we were never forced to the same extremities as Celestina, a 93-year-old from northern Lombardy. "If you saw someone who had a big fat cat, it was because they were going to eat it… To fix him up right for cooking, you skinned him and put him in the snow overnight to temper down that wild taste. Then you cut him up in chunks, just as you would with a rabbit. You could hardly tell the difference with the skin off."
In the case of Concetta, a 90-year-old from the poverty-stricken region of Basilicata in southern Italy, we hear of a foodstuff that is more unconventional than taboo. "We hardly had meat more than twice a year… It was mostly chickens and guinea pigs. I heard that some children these days keep them as pets. How strange! You can fry them or make a nice fricassee. They're good roasted too."
Northerners were mostly sustained by polenta. "Lunchtime was almost always polenta," says Luigina from Ovanengo near the Alps. "Most days we'd have half an egg per person, greens that we foraged, cabbage and polenta… Dinner was a bit leaner."
As a sprinkling of recipes (stuffed chicken neck and soups made from bread, lettuce or pea pods) demonstrates, it was possibly to make tempting dishes from a limited range of ingredients but such cucina povera was very different to starvation rations. Renata from Milan stresses, "You can't talk about cooking well until you get pretty well into the Fifties. You can only talk about making do with little there was."
Moyer-Nocchi's astute, lively subjects shred the golden historical halo around Italian foods. Her labours have produced a revelatory volume but there is one aspect that has an unintentionally patronising effect. In order to convey idiosyncrasies of accent for her American readers, Moyer-Nocchi makes some interviewees talk like Arkansas sharecroppers: ""Our Duce wasn't much likin' the folks that done for themselves, so he made up taxes special for us." It would have been better to stick to conventional English.
Medea $22. Order for £14.99 (free p&p) from the Independent Bookshop: 08430 600 030
Register for free to continue reading
Registration is a free and easy way to support our truly independent journalism
By registering, you will also enjoy limited access to Premium articles, exclusive newsletters, commenting, and virtual events with our leading journalists
Already have an account? sign in
Register for free to continue reading
Registration is a free and easy way to support our truly independent journalism
By registering, you will also enjoy limited access to Premium articles, exclusive newsletters, commenting, and virtual events with our leading journalists
Already have an account? sign in
Join our new commenting forum
Join thought-provoking conversations, follow other Independent readers and see their replies