Diamond Street: The Hidden World of Hatton Garden, By Rachel Lichtenstein
This slice of London history reveals a parallel culture of Jewish and Italian local enterprise
Ken Worpole
Friday 06 July 2012 12:05 Comments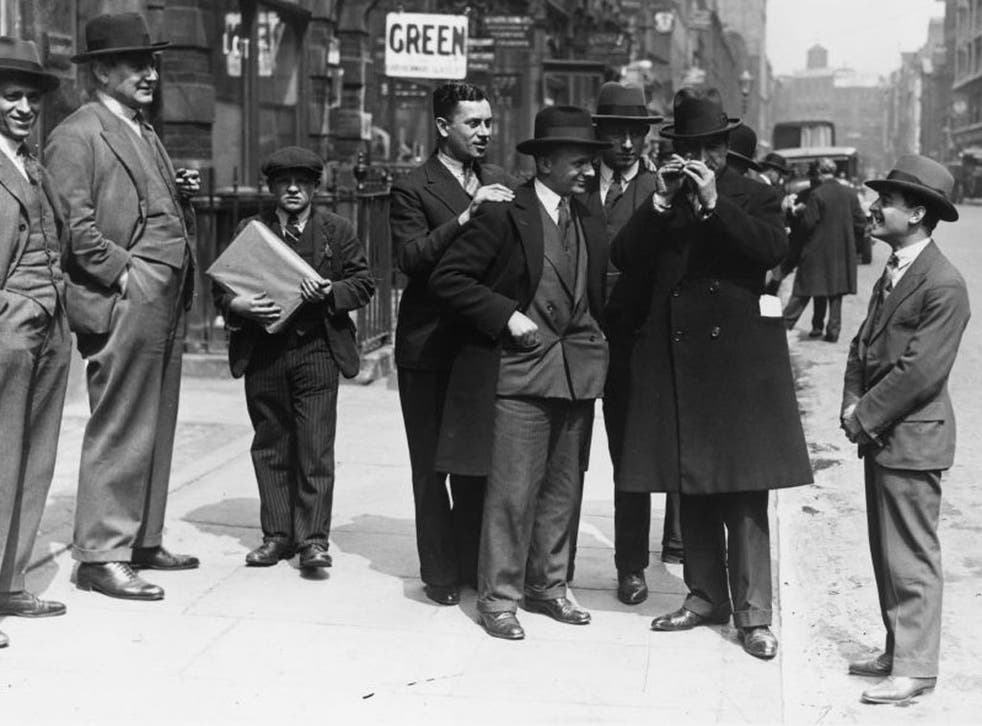 Diamond Street is the second of Rachel Lichtenstein's proposed trilogy of histories of London streets with which her family have been connected. Unlike the others, Brick Lane and Portobello Road, Hatton Garden remains the most self-effacing, with many of its jewellers and gold-dealers speaking only Yiddish or Hebrew until recently. Along with historian Sarah Wise, Lichtenstein employs the micro-history of the London street as a point of entry into past and present lives.
Retailing came late to Hatton Garden. Until the Second World War, business was conducted on the street, or in one of several kosher cafes, where diamonds were displayed and prices agreed with a handshake, accompanied by street-honoured expressions of goodwill. The cover photograph shows a group of homburg-hatted dealers on a busy pavement examining a diamond through an eye-piece (the jeweller's loupe), oblivious to passers-by. Today, trade is conducted behind closed doors, or in the heavily guarded London Diamond Bourse. Along with tailoring, cabinet-making and hairdressing, one of her informants tells her, the jewellery trade was open to Jews.
Focal range is important in this book, which alternates between Jewish family history and the quasi-mythical topographies of the monasteries, palaces and orchards once said to dominate this medieval arcadia where the River Fleet ran close by - though bloody Smithfield was never far away. Occasionally the abrupt switch from one historical realm to the other is disconcerting, as are chapters in which Lichtenstein strays too far from "the Garden" - though her foray into Clerkenwell's Little Italy is fascinating, reminding us of another part of London where the English language was rarely heard.
Scientific invention was the engine of change. In the 1820s assayers Johnson and Cock (later to become Johnson Matthey) established a reputation for the refining of precious metals at 79 Hatton Garden, which triggered the development of the jewellery trade there. Skilled Jewish immigrants opened workshops, establishing London as a new centre for trading in diamonds and gold. By 1850 Italians dominated the production of optical instruments, with Negretti & Zambra at 1 Hatton Garden one of the most prestigious manufacturers in the world. Given that both trades required exceptional expertise in cutting, grinding and polishing, there seems to have been little overlap in personnel. Some cultural boundaries were never crossed, it appears.
The interviews with retired diamond traders and goldsmiths provide a generous heartbeat to the book, as do the testimonies from former inhabitants of Little Italy. Economic theory has reclaimed "clusters" as the key to success in post-industrial cities. Today's "silicon roundabout" at Old Street in Shoreditch is in many respects a contemporary version of Hatton Garden, though unlikely to prove as durable. Such economic affinities add cultural distinctiveness to a neighbourhood, and Diamond Street is a lively and rewarding addition to the capital's rich history.
Register for free to continue reading
Registration is a free and easy way to support our truly independent journalism
By registering, you will also enjoy limited access to Premium articles, exclusive newsletters, commenting, and virtual events with our leading journalists
Already have an account? sign in
Join our new commenting forum
Join thought-provoking conversations, follow other Independent readers and see their replies