I Was a Spy! by Marthe McKenna, book review: Enid Blyton meets James Bond
Originally published in 1932, this First World War memoir has been rereleased, together with a tribute from the then Secretary of State for War, Winston Churchill, no less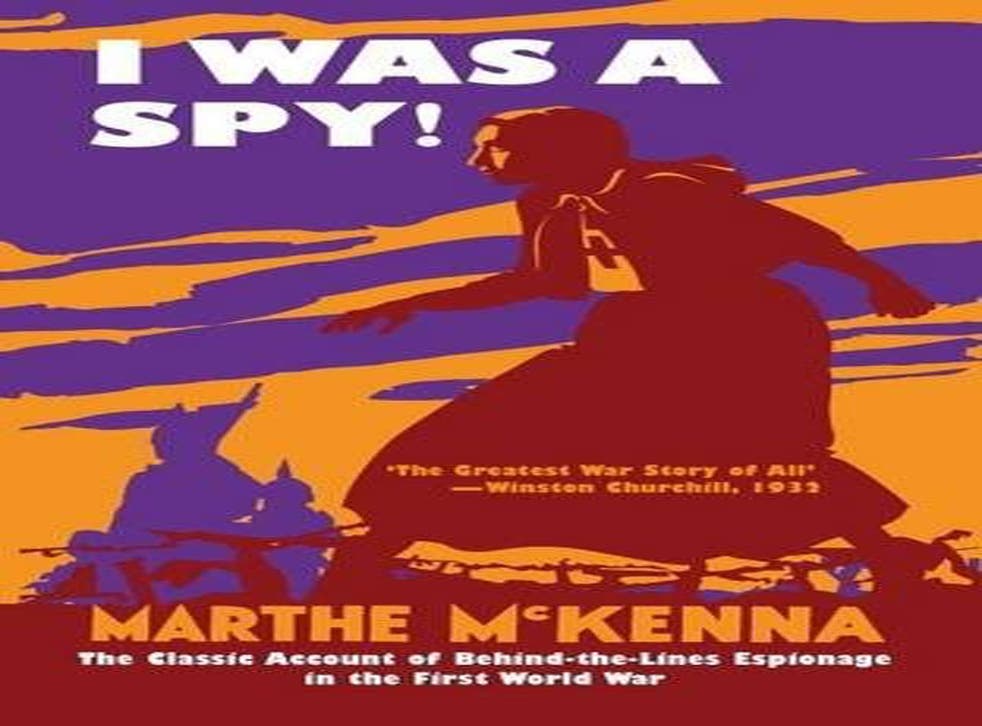 There's only one spy at the forefront of people's minds just now and chances are it's not Marthe McKenna. Lucky, then, that she thought to stick an exclamation mark at the end of the title of her autobiography or we might not have paid it much attention. Originally published in 1932, this First World War memoir has been rereleased, together with a tribute from the then Secretary of State for War, Winston Churchill, no less.
McKenna, née Cnockaert, was a young Belgian medical student when the Germans rolled into town in 1914. She swiftly proved her usefulness at the local hospital because of her fluency in German and English and a skill in tending both German and Allied wounded. It was not long before she also proved her usefulness to British intelligence, having been recruited by a neighbour.
McKenna is given no operational training, other than to keep her eyes and ears open and to transport any secret messages in her hair rather than her stocking tops. So when she is not trying to patch up the mangled wrecks of humanity in her care, she is squirrelling information about troop movements and munitions dumps to unseen handlers. She takes to the cloak-and-dagger routine with gusto and soon starts to embark on increasingly risky escapades. McKenna's style is a breathless mix of Celia Johnson crossed with Enid Blyton, and her fondness for exclamation marks is matched only by cliché. But she drives her narrative at a brisk clip and becomes an entertaining and rather endearing companion.
In one mission she learns of a radio outpost hidden in a forest that is causing Allied losses. She dresses up as a soldier, blags a lift in a cart and immobilises the radio operator with chloroform she half-inched from hospital stocks. In another, an ardent German officer invites her to Brussels to, ahem, go to the opera. It offers a perfect opportunity to spy on the Kaiser. That done, the time comes to think of Belgium, but she clonks her suitor over the head with a water jug and scuttles back to the provinces. The fact that there were no reprisals or suspicions about her behaviour is singularly curious. When she is eventually caught, she does not face a firing squad. Instead she gets off lightly with a spell in prison.
Which raises the question, is any of it true? The Imperial War Museum said it had never heard of Marthe Cnockaert or McKenna but the book does contain a reproduction of her mention in dispatches. Her fan, Churchill, admits: "I cannot vouch for the veracity of every incident." But, he attests, it didn't stop him staying up till 4am to finish it.
Pool of London Press £12.99, Order for £11.69 (free p&p) from the Independent Bookshop: 08430 600 030
Join our new commenting forum
Join thought-provoking conversations, follow other Independent readers and see their replies