Orson Welles: One Man Band by Simon Callow, book review
Simon Callow's three volumes so far amount to hero worship, warts and all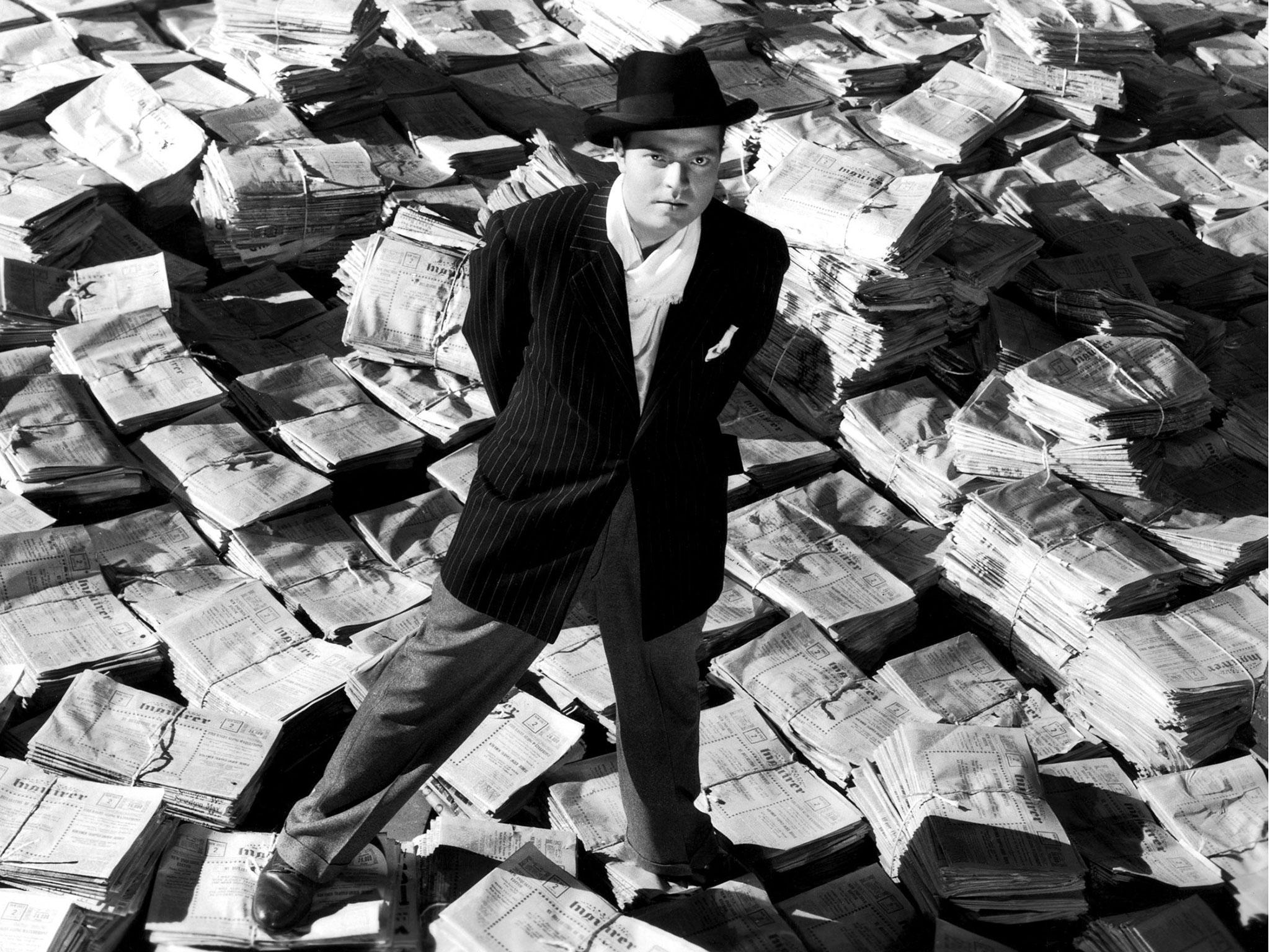 "The greatest career in film, and the most tragic," said the critic David Thomson of Orson Welles, outlining his theory of the good, the bad and the ugly in his biography of the celluloid leviathan. The best writers about Welles – Thomson, Pauline Kael, Peter Conrad – have always made this brutal distinction between his ups and downs, his brilliance and his bathos, his flares and his flops.
Simon Callow, completing a third volume in his heroic quest for Welles – there will be a fourth, covering the last 20 years (he died in 1985) during which he did not complete a single film – is as critically astute about his good performances in bad films, even his bad performances in good films, as anyone. But he is doing something else. He is taking the man for all he represents in the culture of Hollywood and Europe, in the theatre of his day, as a pioneer of television arts programmes and chat shows, and as a force of nature, a phenomenon, an incomparable bravura personality (as Kenneth Tynan called him), a walking (just about) compendium of enthusiasms, obsessions, friendships, frustrations and sheer lust for spinning out a ribbon of dreams with, as he said, "the best electric train set a boy ever had".
And Callow does this by recognising in Welles someone so rare, and so reprehensibly admirable, that his modus operandi – guzzling, drinking, travelling from Rome to the South of France by cab for a party, spending money he doesn't have, smoking implausibly long cigars, wheedling, harrumphing, shooting and editing through the night, romancing and revelling – is as marvellous as the best of his work; the life, in fact, is the work, and inseparable from it.
Even in Hollywood, there has never been anyone as monumental as Welles, and Callow loves this, and is magnetised as one who, without strain, can do so many things so Welles-ishly himself: writing, acting, directing, talking and, I dare say, eating and drinking. He never pushes the analogy, but it's there, though Callow is clear-eyed enough to chart all the monster's betrayals and bad behaviour. His three volumes so far amount to hero worship, warts and all, without slack-jawed disbelief and admiration ever curdling into gush.
I thought that the first volume – the story as far as Citizen Kane (1941), regularly voted the greatest movie of all time – might merit a cut of every third word. But Callow's prolixity – and he writes beautifully even when overwriting – is, I realised in the second volume, a facet, sustained by osmosis, of Welles' over-brimming abundance. Callow's deep down in Welles, hoisting up brave buckets.
In One Man Band, covering the years 1945 to 1967, Welles is inhabited by equals: Captain Ahab (Moby Dick in1955, with Joan Plowright and Kenneth Williams in the cast, "dwarfs anything the London theatre has seen since the Great Fire," said Tynan), King Lear (twice), Falstaff – in arguably his best film since Citizen Kane, Chimes at Midnight (1965) – and Don Quixote, tilting at windmills and never striking home.
That last movie was never made, though Welles, as was his habit, shot reels of film while doing other things. But it's the process and the story of the unmade movies that intrigues Callow as much as the successes. Welles was never reclaimed by Hollywood after he left for Europe, and it's heart-breaking to be reminded of the vicious reviews Chimes received back home after the acclaim in Britain and Europe generally.
As a man of the theatre who has stalked theatrical titans himself – working as a student dresser for Micheál MacLiammóir, selling tickets for Olivier at the Old Vic, acting with Paul Scofield in Amadeus – Callow is the best placed, and best informed, of all Wellesians to write about the early days at the Mercury Theatre with John Houseman, the precocious incursion at the Gate Theatre, Dublin, with MacLiammóir and Hilton Edwards (so important to Welles throughout his life; Callow tracks this story better than anyone) and his brush with Olivier when he directed Ionesco's Rhinoceros at the Royal Court in 1960.
Each episode ripples with piercing anecdote, detail of rehearsals and performance, the costs and the fights with producers, close critical assessment and a constant juggling, and reiteration, of the arguments surrounding Welles' character and industry status, each time recounted differently and illuminatingly. In Carol Reed's The Third Man (1949), Welles' unforgettable Harry Lime – a performance which made him an international star – transforms Reed's great black-and-white movie into one of his own.
This narrative technique climaxes in a particularly brilliant and illuminating chapter called "Welles on Trial", which meshes overall stock-taking (quoting Walter Kerr's apophthegm of "the world's youngest has-been" and Tynan's "fixed reputation that can never wholly be tarnished") with a dispassionate appraisal of The Trial (1962), in which Callow concludes that, despite Anthony Perkins' fine performance, Welles' "tumultuous combat" with his own tragic pessimism results in a movie that comes close to expressing Welles' mystery and fails, probably, because he was working with a novel (Kafka) he didn't, deep down, really admire.
Callow continuously strikes to the quick and the essential in Welles.
Michael Coveney's new book is 'Maggie Smith: A Biography' (Weidenfeld & Nicolson)
Jonathan Cape, £25, Order at £21 inc. p&p from the Independent Bookshop
Join our commenting forum
Join thought-provoking conversations, follow other Independent readers and see their replies