Poets & The Peacock Dinner: The Literary History of a Meal, Lucy McDiarmid, review
Feather in the cap for McDiarmid and her slice of history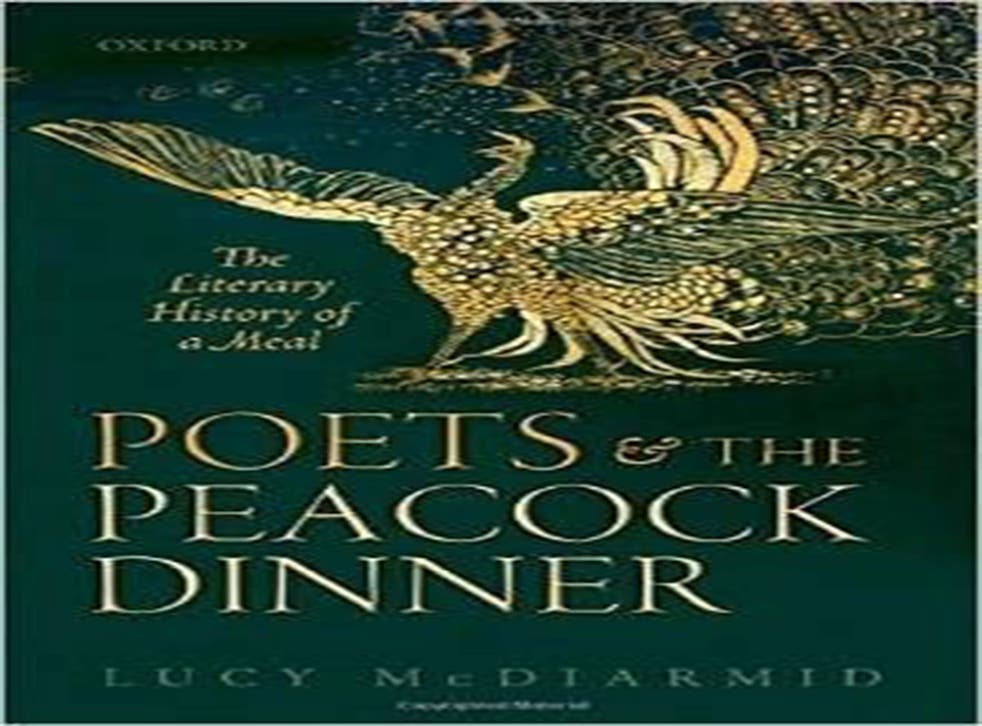 "On 18 January 1914 seven poets gathered to eat a peacock," opens this entertaining microbiography. For ten years the literary critic Lucy McDiarmid pondered a four-and-a-half hour meal, its antecedents and aftermath. Her alimentary quest began with an iconic photograph, taken at Wilfrid Scawen Blunt's manor at Horsham. Blunt, grand old Victorian scallywag, Arabist and anti-imperialist, poses with his postprandial pipe at the centre of a group of younger poets. On his right stands W B Yeats with Victor Plarr and Thomas Sturge Moore; on his left is the young Ezra Pound, accompanied by Imagists Richard Aldington and Frank Flint.
The guests had just honoured Blunt by presenting him with a Futurist marble box, designed by 20-year-old Henri Gaudier-Brzeska (Blunt hated it), containing samples of their avant garde poetry (he disliked that, too). The box was engraved "Homage to W.S.BLVNT". Aside from a sculpted female nude adorning this vessel, women were excluded from the feast, though Lady Augusta Gregory had facilitated it. After all, as T S Eliot remarked on another occasion: "Too many women... lower the tone."
McDiarmid's intimate, intricate narrative wittily reveals cross-currents: the young men flattered and challenged the patriarch, jostling amongst themselves. Pound had been wangling an entrance to the literary elite since disembarking from America: the door opened to him at Horsham. The peacock meal was to mean the world to him. Thirty-one years later, caged in a US military camp in Pisa for supporting Mussolini, he recalled it vividly. In a majestic passage in the "Pisan Cantos", Pound memorialised his admission to Blunt's world: "To have gathered from the air a live tradition/ or from a fine old eye the unconquerable flame/ This is not vanity."
McDiarmid ekes out the meal's meanings, occasionally over-reading her sources. But Poets & the Peacock Dinner persuasively treats this gathering as a founding moment of Modernism: "After 14 January it became an invisible presence in literary history."
The bird itself was served in full plumage, miming medieval tradition. Apparently, a peacock tastes quite stringy and dry; I expect the diners were glad to tuck into the more Homeric roast beef accompanying it. The Dionysian younger poets, however, were dismembering and consuming not just a peacock, but a symbol – and an archaic symbol at that, for peacocks epitomised late-19th century aestheticism and an art essentially decorative. Poetry, on the verge of global mechanised war, was to be the language of apostasy and iconoclasm.
Oxford University Press , £20. Order for £16.50 (free p&p) from the Independent Bookshop: 08430 600 030
Register for free to continue reading
Registration is a free and easy way to support our truly independent journalism
By registering, you will also enjoy limited access to Premium articles, exclusive newsletters, commenting, and virtual events with our leading journalists
Already have an account? sign in
Register for free to continue reading
Registration is a free and easy way to support our truly independent journalism
By registering, you will also enjoy limited access to Premium articles, exclusive newsletters, commenting, and virtual events with our leading journalists
Already have an account? sign in
Join our new commenting forum
Join thought-provoking conversations, follow other Independent readers and see their replies