Terry Pratchett, The Shepherd's Crown, book review: An eminently suitable testament to the author's life and career
The Discworld series has outgrown its comic fantasy roots to become astute observations on the human condition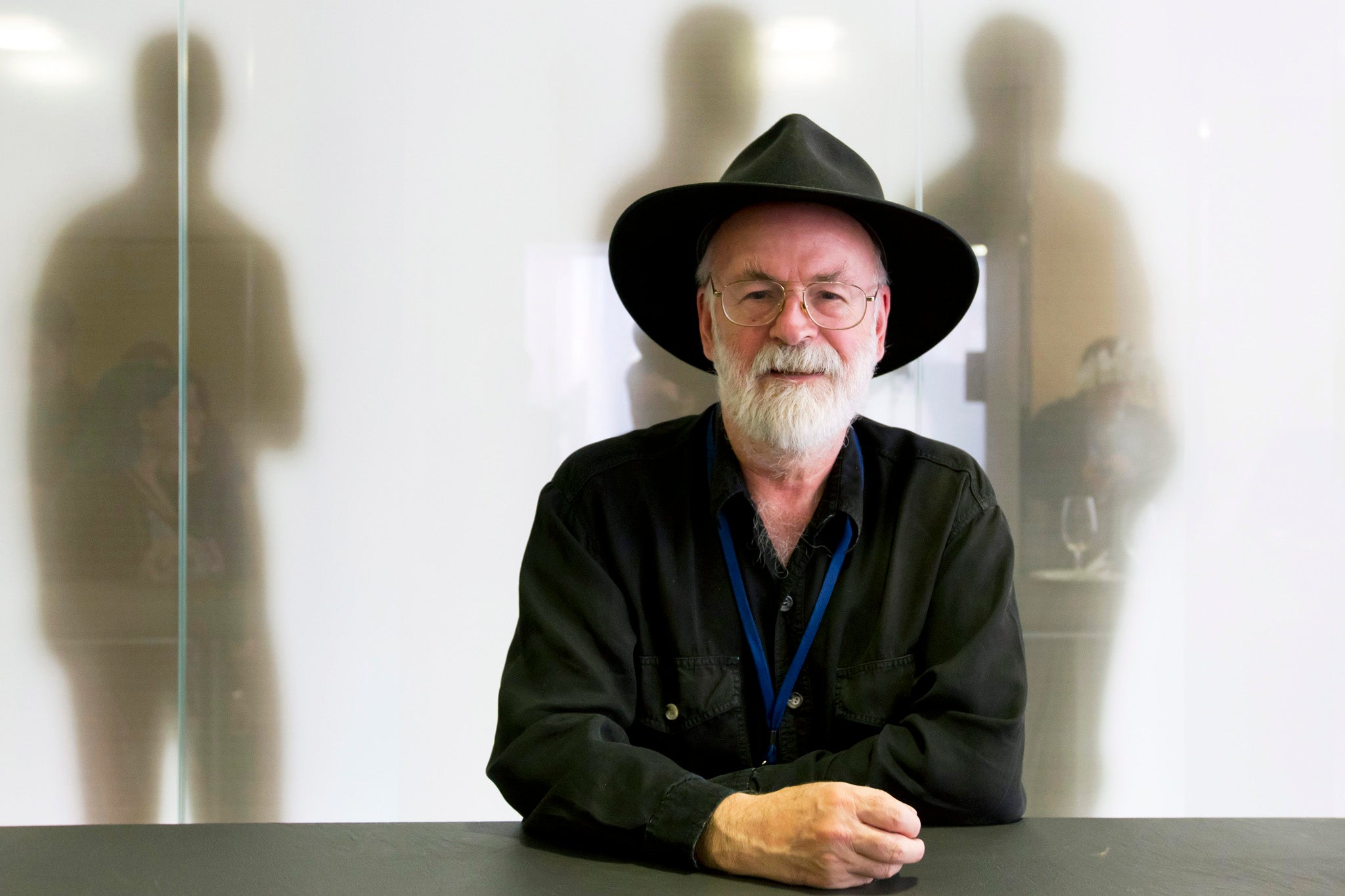 And so it ends. The Shepherd's Crown: The 41st and final Discworld novel, from the soaring imagination of Terry Pratchett, is the last book in a series that has won millions of fans since it began in 1983 with The Colour of Magic.
It is five months since Sir Terry died, aged 66, from what he called his "embuggerance" - the Alzheimer's he raged against since he was diagnosed in 2007.
It's impossible to open the book without a sense of melancholia, and it feels like the author embarked upon the writing of it weighted with the same. He knew when he sat down to write it that it would be his last Discworld, his final book.
As such, it's difficult to see The Shepherd's Crown as anything other than Sir Terry's farewell letter to his legion of fans - though of course, this being a Pratchett, it's pretty fine novel in its own right.
Terry Pratchett: A career in quotes
Show all 13
It has a plot, of course - several of them, all twining around young Tiffany Aching, the witch introduced in The Wee Free Men who has grown through a variety of Discworld novels. Much of the excitement revolves around the return of elves from Fairyland to visit all kinds of mischief and trouble on Discworld.
This is essentially Tiffany's coming of age novel, of a young woman on the cusp of adulthood who has greatness thrust upon her. It's about endings - the first part of the novel deals with the death of a much-loved character from the early books in the series, and there won't be a dry eye in the house.
But it's also about beginnings, and change, and progressiveness, and duty. There's a boy who wants to be a witch, against all tradition. There's a fairy queen cast out from her realm, amazed at how the world's changed while she's been cloistered away. There's a tug-and-pull between family and work as Tiffany wrestles with whether the modern senior witch can really have it all.
The Discworld series has outgrown its comic fantasy roots - despite the central conceit of a flat world balanced on four elephants on the back of a giant turtle swimming through space - to become astute observations on the human condition.
According to the afterword by Sir Terry's assistant, Rob Wilkins, "The Shepherd's Crown has a beginning, a middle and an end, and all the bits in between. Terry wrote all of those. But even so, it was, still, not quite as finished as he would have liked when he died."
That acknowledged, The Shepherd's Crown is a sometimes sad, often funny and eminently suitable testament to the life and career of Terry Pratchett.
Perhaps the very final words should go to Pratchett's Death, his version of the Grim Reaper who speaks in capitals, and opines most suitably in The Shepherd's Crown: WE ARE ALL FLOATING IN THE WINDS OF TIME … AND YOU HAVE LEFT THE WORLD MUCH BETTER THAN YOU FOUND IT, AND IF YOU ASK ME, NOBODY COULD DO ANY BETTER THAN THAT.
Join our commenting forum
Join thought-provoking conversations, follow other Independent readers and see their replies