The Noise of Time by Julian Barnes, book review: Author misses a beat
​Julian Barnes's novel on the life of Shostakovich fails to reveal enough about the man behind the music, writes Arifa Akbar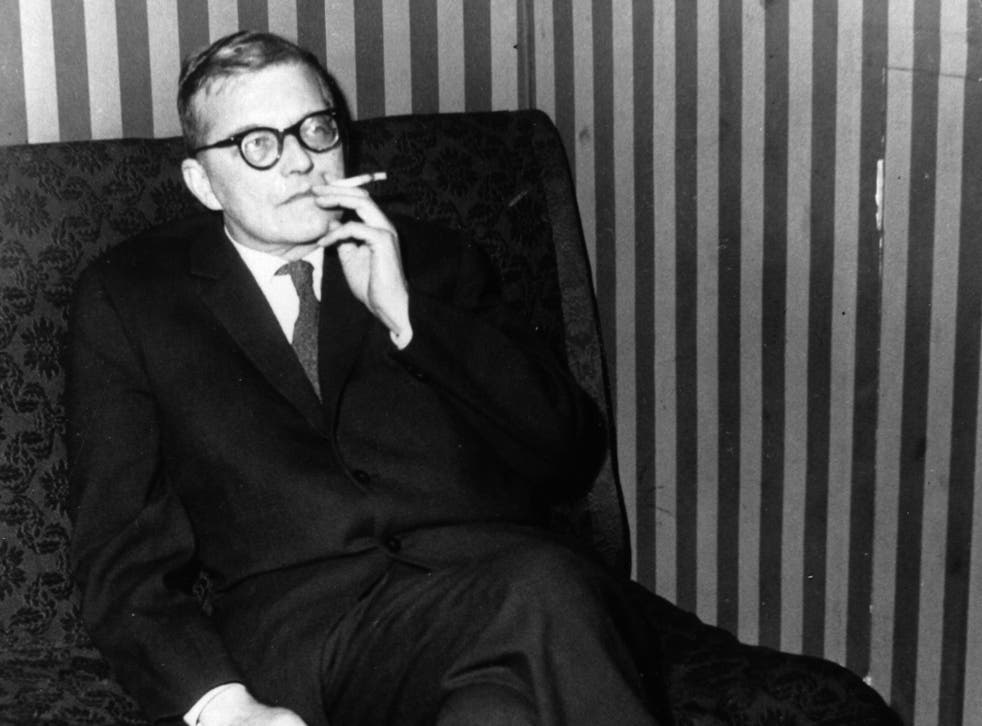 This novel is Julian Barnes's first since winning the Booker Prize in 2011, so it comes with its own sense of expectation for readers who loved the taut storytelling in The Sense of an Ending. This one is similarly short, and written in the same tight paragraphs that appear like lyrical thought-bubbles and -images on the page.
Beyond this, it is perhaps better not to compare. Firstly, because this is a very different kind of story, though again, of a man auditing his life's right- or wrong-turnings. Secondly, because that novel was incomparably better, so it will only lead to disappointment.
The Noise of Time is about the life of the Soviet composer, Dmitri Shostakovich. Although it reads less as a fictionalised biography of "the man" than the "the Composer"; its central preoccupation is the sense of artistic compromise that Shostakovich struggled with during Stalin's reign of terror that tipped over into the Khrushchev era and left deep scars on his soul.
The book begins promisingly, with the same mystery and foreboding as The Sense of an Ending. The composer, waiting by the lift of his home for the Soviet agents he thinks will come for him in the night after his opera is denounced. They have already come for his friends – those deemed enemies of Soviet Communism: "He had been standing by the lift for three hours. He was on his fifth cigarette, and his mind was skittering. Faces, names, memories. Cut peat weighing down his hand. Swedish water birds flickering above his head. Fields of sunflowers… Faces, names. The faces and names of the dead, too."
This image of Shostakovich standing in quiet terror by the lift has a noirish quality. It is a shame that we do not, after this opening scene, get much more of the same drama and tension. The tautness of language gives ways to baggy repetition despite the novel's size – repeated thoughts on art's capacity to be corrupted, or not, by state power: perhaps Barnes wants to immerse us in the inner world of his obsessive protagonist, but this also stalls the fiction's narrative drive.
Too soon, the world outside and around Shostakovich's thoughts and memories seems to fade to black, so that there is no significant dialogue and few dramatic scenes between characters. He divulges in third-person narration. Inside his head, we feel the rage and guilt of a man who has submitted to "Power" all his life – fearful of his overbearing mother, obeying the Party he abhors, reading speeches written for him and producing music that at least appears to conform to Soviet aesthetics, even if it carries its covert subversions. Barnes's Shostakovich considers himself a coward – too scared to defy authority and once he is forced into making his Devil's pact with Communism, too cowardly to commit suicide, which he considers could rehabilitate his integrity.
So what we get is Shostakovich's often self-critical (increasingly self-loathing, self-pitying and self-obsessed) monologic anguish. Could Barnes, in his reconstruction of the composer, be paying tribute to the archetype of the Russian anti-hero? If so, this too has its flaws because despite Shostakovich's outpourings, he remains peculiarly distant to the reader. We barely see him interact ing with his two children or his wife, Nita. She is announced dead in the third section when he visits her grave. We are not taken though her dying, or his real-time sadness. We are told of dalliances with other women in passing but all feels static, little of it vivid or emotional or part of the drama.
We are told things about or by him too often – that "in truth, he was a neurotic", that "he was an introverted man who was attracted to extroverted women", that he "enjoyed playing patience, which calmed him", when it would have been preferable to have seen some of it dramatised. We are also told that he has written his Fifth Symphony, and his Eight, but are not taken through the process of his composing – the joy or pain of creation. Shostakovich as he is here lacks the humanity if not the angst of a classic Russian anti-hero because almost all of his thoughts are erudite, abstract musings about music, power and ethics, with regular bursts of polemic. For instance: "Art belongs to everybody and nobody. Art belongs to all time and no time. Art belongs to those who create it and those who savour it. Art no more belongs to the People and the Party than it once belonged to the aristocracy and the patron. Art is the whisper of history, heard above the music of time." This is interesting, but it does not make him more human to us.
Some of it, in fact, bears the hint of a patronising history lesson. Shostakovich tells us that French bread has disappeared from Russia with a patriotic brand of "city bread" in its place, and that "To be Russian was to be pessimist; to be Soviet was to be optimistic. That was why the words Soviet Russia were a contradiction in terms. Power had never understood this. It thought that if you killed off enough of the population, and fed the rest a diet of propaganda and terror, then optimism would result." There are some scenes that stand out such as Stalin's phone call to the composer, but not nearly enough of them.
Barnes has used real life as a basis for fiction before such as in the Booker-shortlisted Arthur and George (2005). Yet it may be the case here that the non-fiction of Shostakovich's story has sabotaged the fiction – real-life casting too long a shadow over the make-believe. The excellent lift scene of the beginning is left hanging as a narrative gear shift takes us through the nuts and bolts of Shostakovich's early biography, but there is never really a gear shift back. There is his birth in St Petersburg, his growing up in Petrograd on page 11. By page 16, he is in a Crimea sanatorium with TB, and meeting Tanya, the first love of his life, and has played his first piano concerto. The laying down of this early life feels too potted, as if the biographical back-story is being shoed-in with no emotional currency.
Barnes has spoken of his love of classical music and he has clearly done his research for this book. This process seems too evident at times. Shostakovich was "a multiple narrator of his own life. Some stories come in many versions, worked up and 'improved' upon over the years", Barnes tells us in his end-note. In the fiction, he seems to hammer this home by repeating thoughts, refining them. Linguistic tics and terms are repeated too: bad luck in the leap year, the phrase "a shrimp in shrimp sauce", the newspaper headline denouncing his opera, Lady Macbeth of Mtsensk, and much more. Shostakovich was obsessed with clocks so there is a scene to illustrate the fact. He loved novels, so Pasternak and Chekhov et al are name-checked. He was interested in Jewish folk music, so there is a reference to this too.
Those who seek to better understand the era in which Shostakovich lived and its repressive impact on the arts may love this book. Those who want to understand Shostakovich may gain more insight by reading his published letters to his friend, Isaak Glikman. Those who seek an innovative approach to writing biographically of the composer might go to Wendy Lesser's Music for Silenced Voices: Shostakovich and His Fifteen Quartets. This novel is filled with learning about Shostakovich but we do not read Barnes to find out more about Shostakovich, or Soviet terror, or artistic compromise, first and foremost. We read him for an arresting story, and this is, sadly, not what we get.
Jonathan Cape, £14.99. Order at the discounted price of £12.99 inc. p&p from the Independent Bookshop
Join our new commenting forum
Join thought-provoking conversations, follow other Independent readers and see their replies