The Tears of the Rajas by Ferdinand Mount - book review: The brutality of British imperialism is skilfully laid bare
What makes it exceptional is that Mount has brilliantly woven his family history into the wider history
Mihir Bose
Monday 30 March 2015 17:54 Comments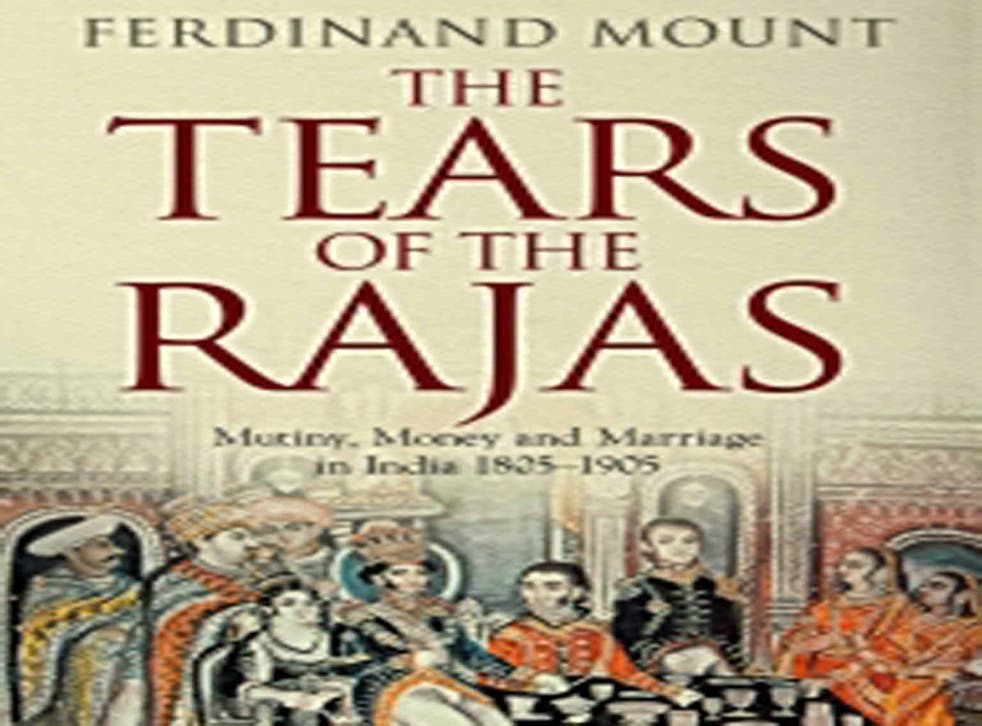 For much of his life, Ferdinand Mount has avoided discussing British rule in India despite the fact that between 1771 and 1909, more than 125 years, more than 20 members of his extended family, Lows, Shakespears and Thackerays, worked there.
Then a story of a great-great grandfather of Cameron and Mount (they are related) hanging civilians during the 1857 revolt, a war crime by our standards, made him realise the source was a book written by his great-aunt Ursie. It had lain unread on his bookshelf for 40 years. Now he read it, much else beside, and the result is one of the best histories of a much neglected period when the Raj was made and very nearly unmade.
What makes it exceptional is that Mount has brilliantly woven his family history into the wider history. So while John Low, the central character, is off stage for much of the first 150 pages by then we have had a very insightful look into the crucial first decades of the 19th century with Mount highlighting British double standards. So a munity by Indian soldiers is dealt with brutally but that by English soldiers lightly, even omitted from Victorian history books; adventures, like Stamford Raffles, dress up personal gain as for the good of the nation, and, it turns out, the Elgin Marbles are not the only stolen antiquities in the British Museum.
Low's first major appearance, in 1811, six years after he arrived as a 17-year-old, could be out of Kipling, with him handling the court-martial of a general who is also a baronet, who complained about the quality of the meat. The general is acquitted but spends the next 20 years fruitlessly petitioning for his back pay and dying a bachelor in Colombo.
The main part of the book is about Low as the resident at the courts of Indian rulers, a story of a dying, dissolute, Indian princely world trying desperately to keep at bay the rapacious British who often broke the treaties they had themselves imposed to cheat these rulers of valuable lands. Even as Low deposed three of the rulers he warned that Indians preferred their own bad rulers to a foreign one and while the princes are spendthrift what they spend remains in India not like the British who siphon it "off to a distant country", an argument the nationalists would later seize on. But Low could also abandon his own high moral ground when his future was at stake and acquiesced in deposing the ruler of Oudh, one of the many reasons for the 1857 revolt. Mount's even-handed description of this horrific event is the best I have read and a fitting conclusion to this splendid history.
Register for free to continue reading
Registration is a free and easy way to support our truly independent journalism
By registering, you will also enjoy limited access to Premium articles, exclusive newsletters, commenting, and virtual events with our leading journalists
Already have an account? sign in
Join our new commenting forum
Join thought-provoking conversations, follow other Independent readers and see their replies