When Breath Becomes Air by Paul Kalanithi, book review: The type of pain medicine can't cure
A surgeon's moving and insightful account of coming to terms with terminal illness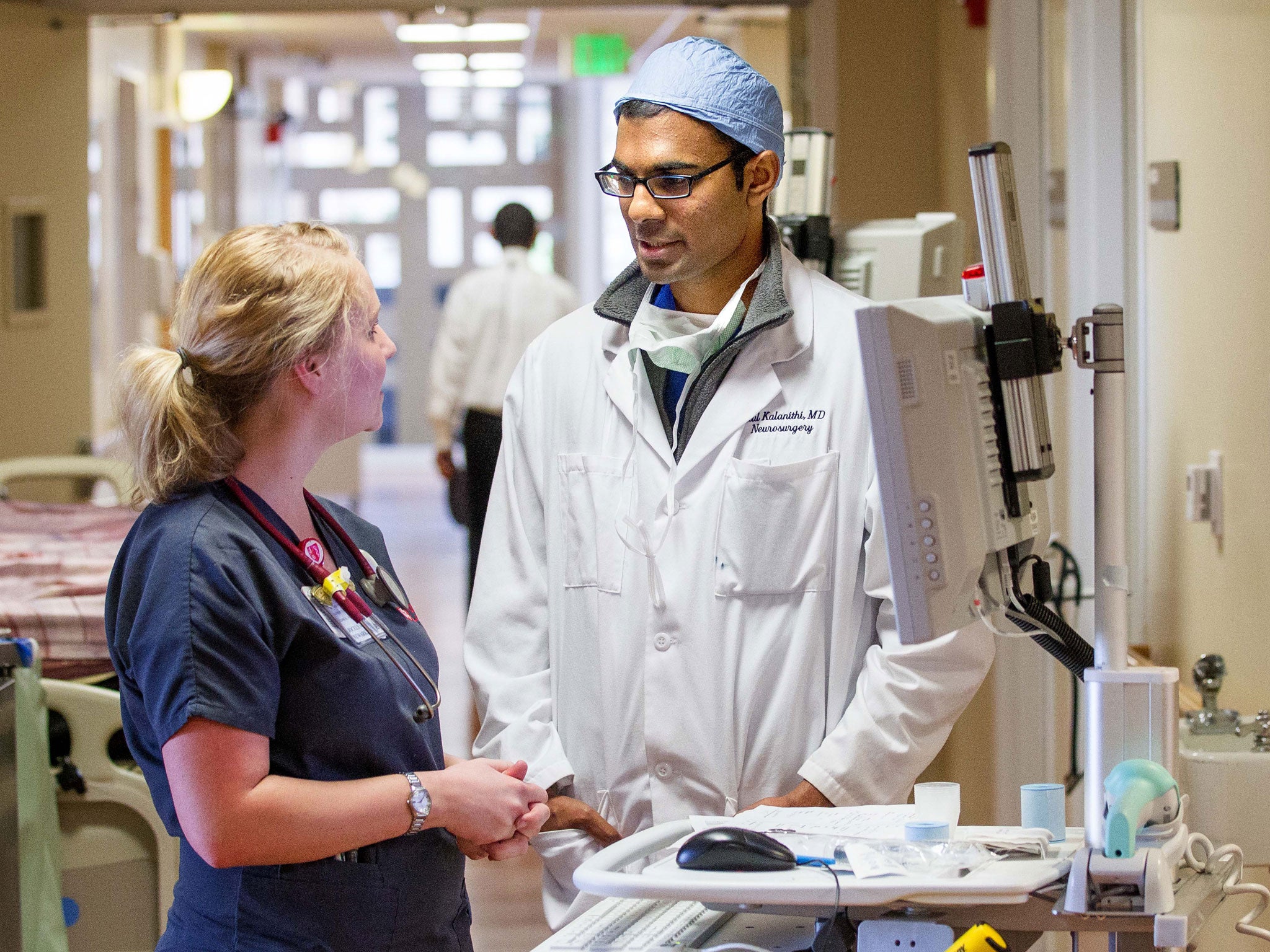 Neurosurgeon Paul Kalanithi was diagnosed with cancer when the world was at his feet, about to complete his training and with the pick of top jobs waiting. It was horribly appropriate. For Kalanithi's medical practice and academic interests could be summarised, with one of the literary references he savoured, as being much obsessed by death.
After studying literature and human biology at Stanford University and the history and philosophy of medicine at Cambridge, this evidently brilliant son of Indian immigrant parents decided to go to medical school at Yale "to find a different sort of sublime".
He was fascinated by where science and morality intersected and how the language of life related to the language of neurons and heartbeats. He suspected that direct experience of life and death questions was vital to developing his moral understanding. For many, what these questions look like close up will be shocking. The equipment of dissection, the chisels and bolt cutters, is barbaric. No wonder doctors rarely donate their bodies for research. He recounts some of the people he saw die in his first year of training and we learn that profanity runs on a slightly different circuit in the brain from the rest of language. There is a macabre fascination in these often weird nuggets of insider knowledge.
Culture news in pictures
Show all 33
Having started his new career to pursue, in part, death and transcendence, he grasps that his own diagnosis is particularly poignant. "Shouldn't terminal illness be the perfect gift to the young man who had wanted to understand death?" he asks.
Except such a gift obviously makes it no easier to deal with. "Severe illness wasn't life-altering, it was life shattering," he notes. The fact that he understood more than most about what lay ahead, and could give detailed notes on his chemotherapy regime or read the scans, only reinforces the sadness. Even for medics, it should be sobering to realise what facing mortality really means. "My relationship with statistics changed as soon as I became one… Doctors, it turns out, need hope too."
This is a doctor's tale, complete with technical terms – "resect", "coded", "dehiscent wound" – where a word or two of explanation would not have gone amiss. But that's a quibble. For it is much more than a technical guide to the end of life because it is also the story of his strained marriage with fellow medic, Lucy, and how the challenge brings them back together. They re-discover their love for each other and find joy with the arrival of a daughter who transforms the author's final eight months. It is Lucy who completes the book with an honesty and elegance that echoes his own.
There have been a number of moving and insightful accounts of terminal illness, from the likes of John Diamond, Ruth Picardie and Tom Lubbock. There have been some that are more poetic but the medical perspective does give this added punch.
Yet the questions Kalanithi pondered as he tried to decide his priorities while not knowing how long he had left to live (he died aged 37 in 2015) hold lessons for all. As his oncologist advises: "You have to figure out what's important to you."
This book goes a long way to achieving what Kalanithi wanted to achieve – helping people understand death and face their mortality. He emerges as a fine man who faced his own with fortitude and integrity.
Bodley Head, £12.99. Order at £10.99 inc. p&p from the Independent Bookshop
Join our commenting forum
Join thought-provoking conversations, follow other Independent readers and see their replies