British orchestras are in danger of losing top billing despite rising ticket sales
Funding reductions mean our leading ensembles may have to cut back on the things that give them world status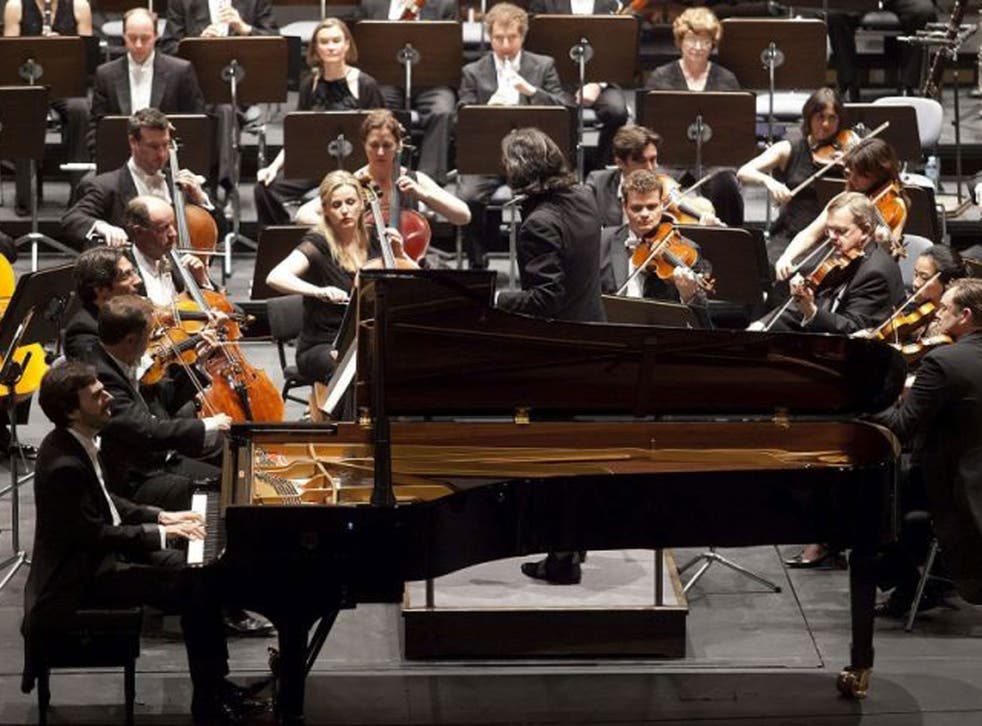 The nation's orchestras are poised to "slip out of the top tier" of the world's best ensembles, senior figures in the industry believe. Despite a year in which audiences flocked to concert halls and with figures showing that attendances rose by more than 10 per cent, there are mounting fears that orchestras may be forced to cut performances, rehearsals and new commissions, and thus jeopardise their global status.
A survey by the Association of British Orchestras (ABO) has found attendances at concerts and performances between 2012 and 2013 were up 16 per cent on those three years earlier. More than 4.5 million people a year now see orchestras play live in the UK. Mark Pemberton, director of the ABO, said: "There is a hunger for what we do. There are certain assumptions made that classical music is a dying art form. This does show that, in fact, we're a lot more popular than people give us credit for."
Yet news of growth in attendance has not translated into huge returns at the box office, as income from ticket sales and contract hires has fallen 11 per cent over the same period, according to the survey. And added to this a 14 per cent decline, in real terms, in public funding.
The stark figures will be presented at the ABO annual conference in London this week. "We will hear from American orchestras where things are pretty calamitous. There have been closures, strikes and lock-outs," Mr Pemberton said.
"The key message we're drawing is we have to make sure we avoid those sorts of difficulties. That's where public investment remains crucial. We don't want to be alarmist but it will be tough."
Timothy Walker, chief executive and artistic director at the London Philharmonic Orchestra, said: "How much longer orchestras can be squeezed is a real issue. Many are managing now but may not be able to survive a further round of cuts.
"We will begin to worry if we have to cut rehearsals or can no longer commission new work," he added. "The very things that push our art form forward and keep us at the highest international level are then under threat. We would worry about slipping from the top tier, which is a real possibility if it carries on like this."
The arts have been "very accepting of the country's need to balance its books", Mr Walker said, but added that they "can't cope for ever". The seeming discrepancy between a rise in attendances yet a decline in ticket revenue is explained by orchestras discounting to fill the houses.
"We've got a wonderfully young audience," Mr Walker said. "But many tickets are at student prices that start around £4, which doesn't help our yield." Promenaders at the Royal Albert Hall at the BBC Proms have for many years paid only £5.
Many orchestras have been forced to change how they operate to boost income, including more foreign tours, recording abroad and a rise in commercial projects such as film soundtracks. "Everyone has now done that .... What do you do next time? Are you cutting staff, rehearsals or new work? Any further cuts would be detrimental. This has all changed in the past three years," Mr Walker said.
Many are looking abroad, where they can earn more, and cutting the number of domestic performances. British orchestras toured to 35 countries outside the UK last year, including China, Russia and the United States, playing more than 400 concerts, the survey found.
The squeeze on budgets "leaves orchestras ever more vulnerable", according to Michael Eakin, chief executive of the Liverpool Philharmonic and chair of the ABO. Donations and sponsorship have risen over the same period by almost a third in real terms, yet almost 40 per cent of donations are for education and new buildings.
The survey found that the increase in contributed income was not at a sufficient level to offset the falls in public funding. Mr Pemberton said: "It's helping, but it is not replacing public funding. We are very good at raising money. The narrative we're not good at asking is wrong."
Mr Pemberton fears orchestras will take fewer risks as budgets come under pressure: "Orchestras are meant to be vibrant contemporary arts organisations. We have to keep up the contemporary alongside the heritage."
Register for free to continue reading
Registration is a free and easy way to support our truly independent journalism
By registering, you will also enjoy limited access to Premium articles, exclusive newsletters, commenting, and virtual events with our leading journalists
Already have an account? sign in
Register for free to continue reading
Registration is a free and easy way to support our truly independent journalism
By registering, you will also enjoy limited access to Premium articles, exclusive newsletters, commenting, and virtual events with our leading journalists
Already have an account? sign in
Join our new commenting forum
Join thought-provoking conversations, follow other Independent readers and see their replies