Der Rosenkavalier, Royal Opera House, London, review: 'Outstanding performances'
Robert Carsen's felicitous production sails triumphantly past inherent problems in the work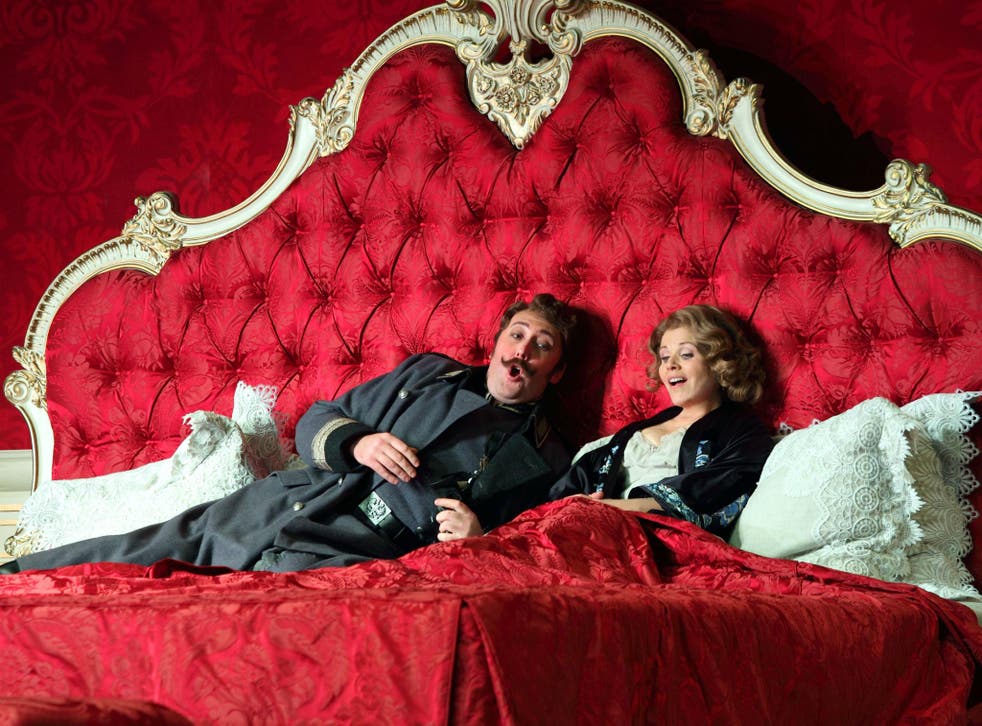 Directors of Der Rosenkavalier must tackle problems inherent in the work – it no longer shocks, its humour is laboured, its message is laid on thick. They must also meet two challenges, the first being to make the relationship between the Marschallin and her sexy young lover Octavian, sung by a mezzo, plausible (something which, with its miscast, miscostumed, and misdirected Octavian, Richard Jones's Glyndebourne production signally failed to do); the second being to prevent the libidinous Baron Ochs from becoming a crashing bore.
Avoiding the usual opening-scene clichés, Robert Carsen's felicitous production sails triumphantly through these tests, much helped by outstanding performances. Renée Fleming forsakes her comfort-zone to create a finely-nuanced and musically-exquisite portrait of a fading beauty; Alice Coote's accurately-observed Octavian plays gallantly up to her, while tremulously developing a convincingly boyish love for Sophie Bevan's affectingly-sung 'Sophie'. If Coote's scenes masquerading (doubly) as a girl to snare Ochs are a touch OTT, there's nothing OTT about the way Matthew Rose plays that character. Rose has come up with something bombastic but utterly believable, something comic, cynical, and a shade sinister, and his Ochs commands the stage with total authority.
The restraint of Paul Steinberg's designs gives the hallucinatory scenes accompanying Ochs's delusion all the greater force; the brothel scenes are startlingly full-on, the portents of imperial decline radiate sad grandeur, the chorus of singers and dancers are marshalled brilliantly. Andris Nelsons conducts with the requisite mixture of mischief and tenderness, but in those places where the score cries out for a super-refined calibration of sound – notably in the final scene - he fails miserably, though mercifully the singing remains transcendent.
Register for free to continue reading
Registration is a free and easy way to support our truly independent journalism
By registering, you will also enjoy limited access to Premium articles, exclusive newsletters, commenting, and virtual events with our leading journalists
Already have an account? sign in
Register for free to continue reading
Registration is a free and easy way to support our truly independent journalism
By registering, you will also enjoy limited access to Premium articles, exclusive newsletters, commenting, and virtual events with our leading journalists
Already have an account? sign in
Join our new commenting forum
Join thought-provoking conversations, follow other Independent readers and see their replies