Elliott Carter/Pierre-Laurent Aimard, Aldeburgh Festival, Aldeburgh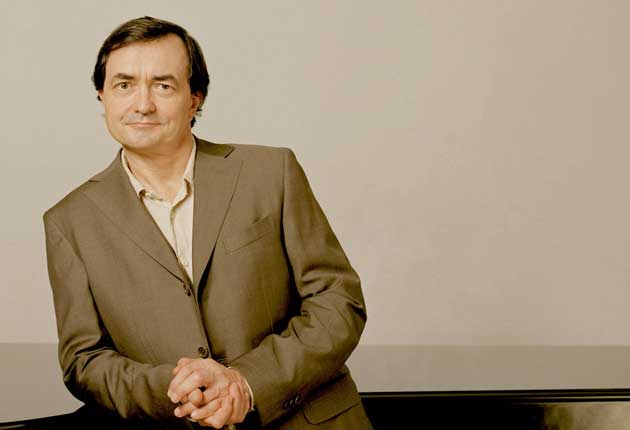 You can't keep a composer away from his music," explained a smiling Elliott Carter – now approaching his 101st birthday – when asked what made him fly the Atlantic last week. He had come to Aldeburgh to witness a blizzard of his works in performance, plus the unveiling of a new one, but he began with a public interview with pianist Pierre-Laurent Aimard, in which he proved conclusively that you're only as old as you feel.
What's fascinating about Carter is the way he didn't find his true voice until he was seventy. "I'm a fanatic," he told us. "I wouldn't be happy unless I was writing music, trying to do things I haven't done before." He talked of the pleasure of finding that voice, and using it to explore the layering of time, which was something (pace Proust) which music did better than words. And it was piquant to hear this arch-modernist declare that his polyphonic experiments picked up where the Elizabethan madrigalists had left off. When Aimard announced his intention of playing a series of Carter's works, he beamingly said he hoped he'd like them, whereupon we launched into a wonderfully unorthodox concert.
First came two of his "tribute" pieces: the first shaped by oblique intervals tethered by a sequence of chords as though planted in the earth, the second with three- and four-note patterns running rings round each other, which Carter aptly described as being "like a sprinkling of notes, a drizzle of sound". Then, to show how he built his harmonies, he put his own hands to the keyboard, and the touch of the master was still fresh and firm. "They're not as bad as I thought," he commented drily as Aimard spun his way through yet more polyphonies; what they had in common was clarity, economy, and a deft resolution at the end.
Carter's new work, "On Conversing with Paradise", is an 11-minute setting of some fragments of Ezra Pound. Under Oliver Knussen's incisive baton, baritone Leigh Melrose and Birmingham Contemporary Music Group evoked a timelessly simple and savage world which made the Maltings rafters ring. Modal rather than tonal, and grounded in throbbing percussion, it delineated a view of heaven from hell with unassailable authority.
Radio 3's 'Hear and Now' will broadcast these and other Aldeburgh events on 11 and 18 July
Join our commenting forum
Join thought-provoking conversations, follow other Independent readers and see their replies