IoS classical review: Carmen, Coliseum, London Huddersfield Contemporary Music Festival, Huddersfield
Intense, lean, witty and stripped of cliché: a 'Carmen' worth the wait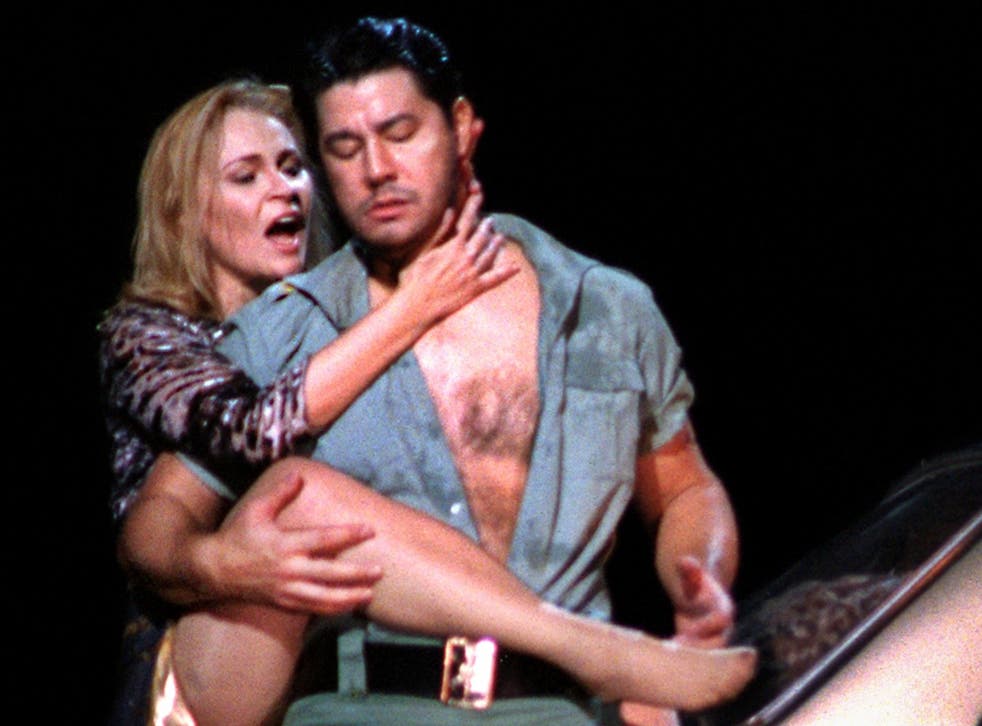 London has waited a long time for Calixto Bieito's Carmen. First seen in Barcelona in 1999, this lean, intense production of Bizet's opera subverts the branding of Spain, reducing the heroic figure of the matador to a tiny, jewelled jockey, and, in Alfons Flores's set, tracing a series of imaginary bull rings on the dusty ground. From the first flourish of machismo in the overture, male desire is presented as a sort of sickness, while the traditional madonna/ whore contrast between Carmen and Micaela is muddied. Stripped of touristic clichés, the drama becomes more vivid, while conductor Ryan Wigglesworth delivers a reading of the score in which the subtlety and audacity of Bizet's orchestration is as mesmerising as his melodies.
As with Richard Jones's well-travelled Julietta, Bieito's pre-loved Carmen is a good fit for English National Opera. Set in the late 1970s, it could pass as contemporary. The dressings are spare: a telephone box and a flagpole for Act I, a beaten-up Mercedes and a roadside deckchair for Act II, four more Mercs for Act III, and a rope for Act IV, as the gore-drunk crowd leans forward over the orchestra pit. There are witty details, red herrings, images of homoeroticism, sexual violence and child exploitation, and stunning stagecraft. Small possessions are guarded jealousy in this teeming thieves' den. Above all, there is a sense of heat.
While the soldiers stamp the ground, salivating over the factory workers, one is marked out by his apparent indifference. Adam Diegel sings with a painfully constricted tone but cuts an impressively Minotaurish figure as Don José, a killer before the opera opens, a killer at its close. His encounters with Elizabeth Llewellyn's glowingly sung Micaela are fraught, the "mother's kiss" charged with desire on her part, panic and revulsion on his.
First seen in the telephone box, Ruxandra Donose's blonde Carmen is a study in contradictions: self-assured in her physicality, manipulative and emotionally needy. It's a soft-edged voice, quite delicate in the "Chanson bohème", but an alluring performance. Impressive support comes from Rhian Lois and Madeleine Shaw as the sluttish Frasquita and Mercédès, Geoffrey Dolton as a hyperactive, psychotic Dancairo, and Duncan Rock as a priapic Moralès. Pithy piccolos, suave cellos and outstanding work from oboist Ruth Bolister underline the thoroughness of Wigglesworth's preparation.
After seven performances in 26 hours, I left Huddersfield Contemporary Music Festival reeling from the variety and vitality to be found in a recession-scarred city in drizzly November. Much like Wexford Opera Festival, HCMF is an improbable triumph, drawing international audiences to a programme of new or obscure work. There were pieces I loved, pieces I loathed, and only one piece I simply didn't get – Arnold Dreyblatt's jingly-jangly Resonant Relations. Five years in the planning, the UK premiere of Wolfgang Rihm's Vigilia was the headline event last Sunday, its narrative of grief codified into a series of sonatas and motets, with knotted choirs of brass, percussion and strings (Ensemble musikFabrik) and a cappella verses (Exaudi) reminiscent of Orlando di Lassus in their slanted harmonies.
In the scrum of HCMF's Free Monday, there were exquisite moments: the Shaker simplicity of Cage's Experiences No 2, as sung by Michelle O'Rourke; the hushed sheen of the Zelkova Quartet's performance of Philip Cashian's 1988 String Quartet; the pulseless beauty of Eliane Radigue's Occam River I and Occam Delta II, played by Rhodri Davies, Julia Eckhardt and Carol Robinson; the fierce glamour of cellist Deirdre Cooper's Reich, Gribbin and Nordheim. Two moments still resonate: the whispered secret at the close of composer Claudia Molitor's Remember Me, and the last exultant bang and whoop of Crash Ensemble's performance of Andrew Hamilton's music for people who like art.
'Carmen': (020-7845 9300) to 9 Dec. HCMF: (01484 430528) ends today
Critic's Choice
The subject of the LSO Artist Portrait, Leonidas Kavakos (above) gives the UK premiere of Osvaldo Golijov's Violin Concerto with Semyon Bychkov and the London Symphony Orchestra tonight, and a recital of Janacek, Brahms, Stravinsky and Respighi with Nikolai Lugansky (Fri), both at the Barbican Hall, London.
Join our new commenting forum
Join thought-provoking conversations, follow other Independent readers and see their replies