Marnie, English National Opera, London Coliseum, review: An uneasy and uneven transition to the stage
The opera 'Marnie' from composer Nico Muhly, with a libretto by Nicholas Wright, is based on the novel by Winston Graham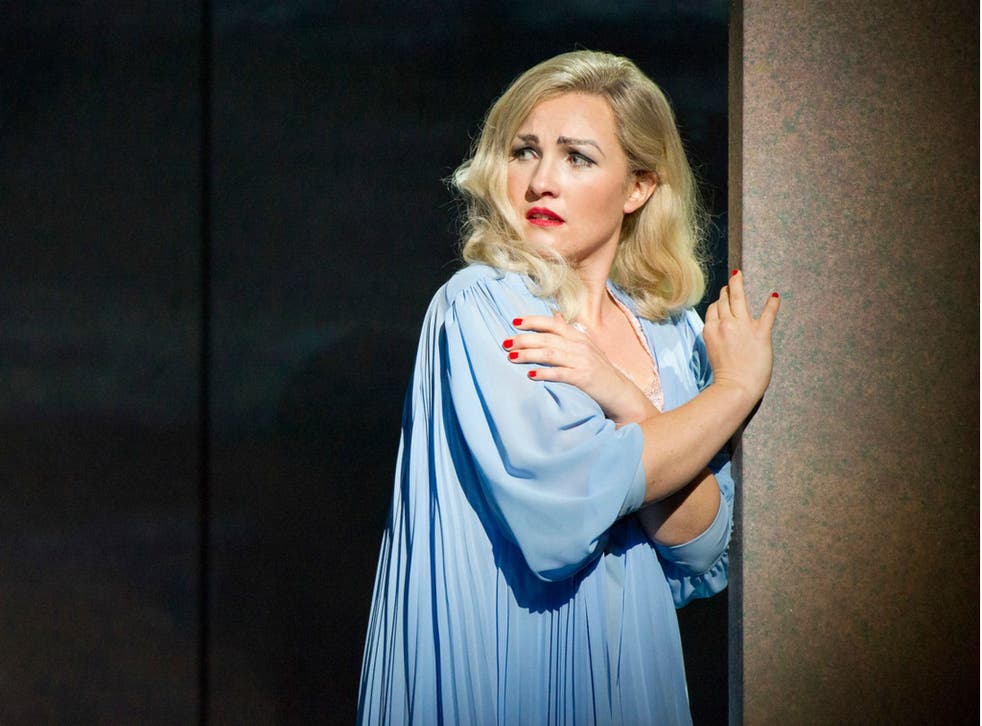 It's lucky that Joseph Kerman, the critic who famously dismissed Tosca as a "Shabby little shocker", didn't live to see Nico Muhly's Marnie. Winston Graham's 1961 novel (best known now in its Hitchcock adaptation) is a compellingly nasty affair in which larceny and blackmail are just the prelude to infanticide, rape and near-suicide. It's gothic stuff, all filtered through the gaze of a manipulative, deeply damaged heroine: no wonder Muhly and director Michael Mayer thought it would make the perfect opera.
But in many ways that's the problem; Muhly's Marnie feels like someone's idea of what opera ought to be rather than a convincing opera in its own right.
Where novels and films narrate, opera meditates, and Graham's plot-heavy book and elusive heroine make an uneasy and uneven transition to the stage. Two climactic episodes – a hunting scene and a rape – both expose the limits of musical treatment, and while Muhly's deft writing for ENO's superb chorus makes sense of this often awkward part of operatic apparatus, the same cannot be said of his music for the soloists.
All the life, the interest here is in the orchestra, whose jittery, near-constant motion and glinting, metallic textures (high flutes, oboe and tuned percussion provide a sequinned play of light through the limpid scoring) mirror the ticking, calculating mind of Marnie herself. The vocal lines, by contrast, float limp and inert on the surface, giving mezzo Sasha Cooke (mesmerising, if a little too sane, too in control, in the title role) little to get her teeth into. Technically a vast improvement on Muhly's Two Boys (premiered at ENO in 2011), the score still feels too much like a patchwork of borrowed brilliance, from John Adams's motoric, post-minimalism, to some very Brittenish orchestration).
That said, Marnie is still a diverting and inoffensive evening of music-theatre which will probably delight the conservative Metropolitan Opera audience when this co-production travels there. Mayer's direction and Julian Crouch's designs are as impeccably stylish as any Hitchcock blonde – their sliding panels and shifting projections creating a vivid sense of Marnie's world of mutable selves and realities – and Arianne Phillips's 1950s costumes are a treat.
You leave Hitchcock's Marnie feeling brutalised, Graham's feeling unsettled. But in the year of Weinstein and #metoo, Muhly's tale of sexual exploitation and abuse of power leaves his audience feeling oddly uncertain. Wiping off some of the story's grubbier finger-marks, Muhly and librettist Nicholas Wright reveal a love story – twisted, but unmistakable – beneath. Sentimentality or final sexual taboo? That's for you to decide.
Join our new commenting forum
Join thought-provoking conversations, follow other Independent readers and see their replies