Nixon in China, Royal Albert Hall, London Edinburgh International Festival, various venues, Edinburgh
Step forward Madame Mao, rewritten as the sexy starlet behind the zealot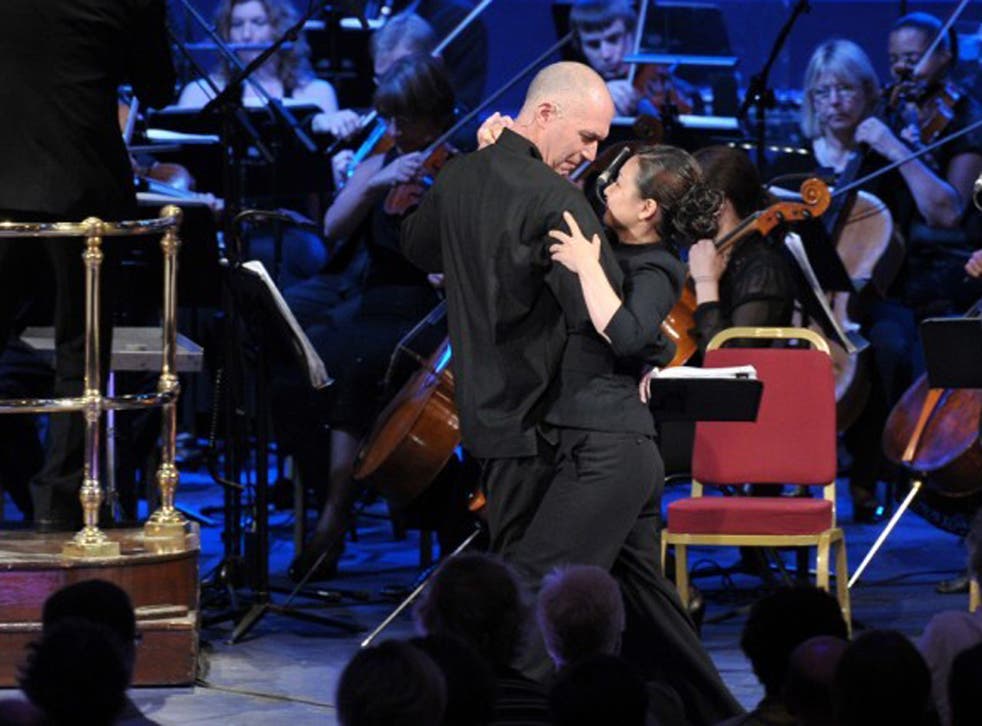 The hall turned red and the air turned blue in Wednesday's performance of John Adams's 1987 opera Nixon in China (Prom 72), last and boldest of this year's BBC Proms semi-stagings. Arms raised, hips grinding to the disinterested caress of a cocktail piano in the doldrums of Act III, Kathleen Kim's Madame Mao decided to change tempo: "Let's show these motherfuckers how to dance!" Here, then, was Lan Ping, the starlet behind the zealot. Here, too, was her husband, Alan Oke's Mao, too old to be duped by simulated desire but happy to dance.
There have been tighter performances of Nixon in China but none as exhilarating or as sexy. Conducted by the composer and wittily staged by Paul Curran, the opera felt at once more audacious, demotic and deeply serious. From the star-spangled arpeggiations of Air Force One to the BBC Singers' crisp choruses, the lurid violence of "The Red Detachment of Women", the greasy banquettes of saxophone and clarinet, and the dreamscape of the final scene, with its smoke-ring solos for violin and cello, this was a remarkable showcase for the BBC Symphony Orchestra and its guest leader, Laura Samuel.
Nixon is surprisingly sentimental. Only the terror on the faces of the three secretaries (Stephanie Marshall, Louise Poole and Susan Platts) indicates how severely mistakes are punished under Mao. Brilliantly characterised by Robert Orth and Jessica Rivera, Nixon and Pat are softened by their mutual devotion. Kissinger (James Rutherford) becomes a bumbling tourist. Only Gerald Finley's Chou En-Lai examines his conscience, in the simplest and most important line of Alice Goodman's libretto: "How much of what we did was good?"
The Edinburgh International Festival closed with three new operas. Adapted from Ibsen, The Lady from the Sea looked more substantial than it sounded in Harry Fehr's handsome Scottish Opera production. Craig Armstrong's orchestration supplied an inviting wash of Baltic blues. The oppressive heat mentioned in Zoë Strachan's libretto did not make itself felt, and neurosis, self-abnegation, good cheer and resentment alike came wrapped in cellophane. Led by Claire Booth (Ellida) and Mark Milhofer (Wangel), a strong cast laboured to inject warmth into the air-conditioned word-setting.
Co-produced with Music Theatre Wales, David Harsent and Huw Watkins's In the Locked Room and Louise Welsh and Stuart MacRae's Ghost Patrol were more persuasive. In Harsent's caustic adaptation of Thomas Hardy's An Imaginative Woman, Ella (Ruby Hughes) becomes a solipsistic housewife, while her husband Stephen (Paul Curievici) is a thuggish trader. Watkins employs a Brittenesque palette of cool woodwind, scrambling strings and admonitory horn to describe the coastal setting. Largely imagined by Ella, the poet Pascoe (Hakan Vramsmo) is thinly drawn.
The contrast between Watkins's beautification of unheroic characters and the brutal soundworld with which MacRae surrounds ex-soldiers Alasdair (James McOran-Campbell) and Sam (Nicholas Sharratt) and their lover Vicki (Jane Harrington) in Ghost Patrol is striking. Flashbacks to an atrocity belch out in shards of electronica. At the core is Vicki's lament as inconsolable as the shreds of Lorca, Apollinaire, Küchelbecker and Rilke in Shostakovich's Symphony No 14, the last item in the Scottish Chamber Orchestra's concert with conductor Robin Ticciati. Here Anja Kampe was the Lorelei, Willard White the Bishop, while xylophone and celesta described a killing field of bleached bones – a pungent contrast to the verdant sweetness of Alina Pogostkina's performance of Tchaikovsky's Violin Concerto.
'In the Locked Room'/'Ghost Patrol', Linbury Studio, London (020-7304 4000) 27-29 Sept
Critic's Choice
British Youth Opera revives Judith Weir's A Night at the Chinese Opera at the Peacock Theatre, London Wed & Sat). London's Kings Place Festival mixes performances from the Orchestra of the Age of Enlightenment , London Sinfonietta, the Chilingirian Quartet, the Academy of St Martin in the Fields (Fri-Sun), while the Bournemouth Symphony Orchestra, with Kirill Karabits (above) plays Telemann, Bach and Mozart in Christchurch Priory (Sat).
Join our new commenting forum
Join thought-provoking conversations, follow other Independent readers and see their replies