Simon Bolivar Orchestra, Royal Festival Hall, review: Stirring sounds with a social conscience
There's no mistaking the energy, urgency or identity of the musicians
Alexandra Coghlan
Sunday 11 January 2015 16:29 Comments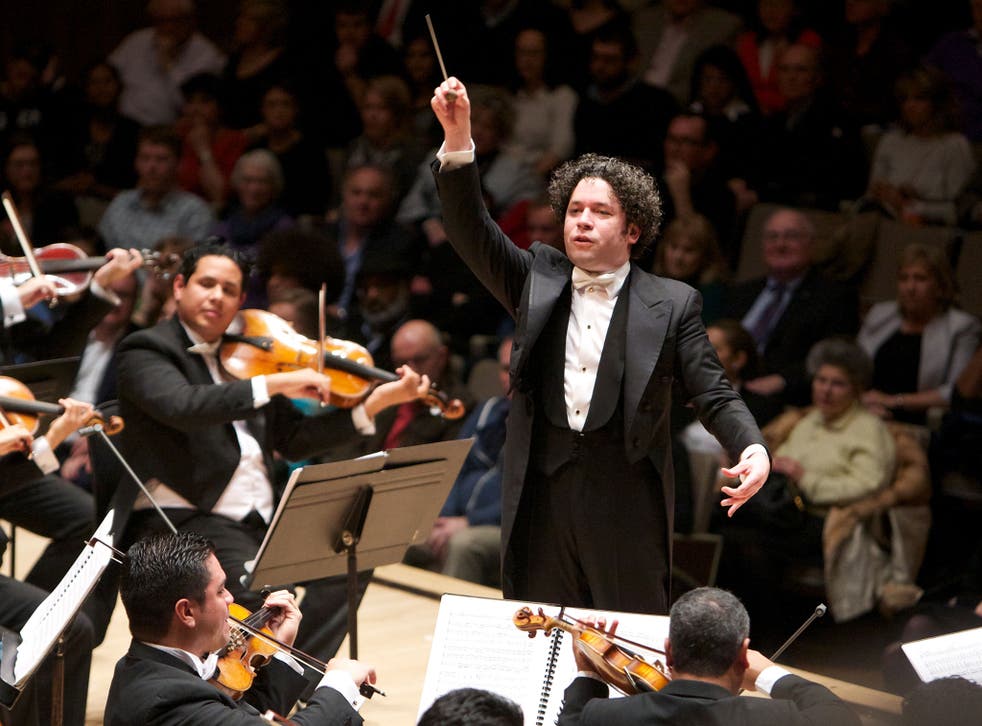 The brightly coloured tracksuits are gone, replaced by sober suits and ties, and they've traded in their Youth Orchestra title for the more mature Symphony Orchestra, but close your eyes and there's no mistaking the energy, urgency or identity of the musicians of Venezuela's Simón Bolívar Orchestra.
In concert, the group – part of the El Sistema programme that has become a model for music education projects in over 60 nations worldwide – sounds much as ever, but it's been a different story in the press. When Dr Geoff Baker, of the Royal Holloway College, published El Sistema: Orchestrating Venezuela's Youth last November, it launched a backlash against these international darlings, alleging corruption and exploitation, and accusing the global musical community of being taken in by good PR.
Whatever the truth of matters behind the scenes (neither Baker nor El Sistema have yet offered any figures or measurable statistics to resolve the debate), the onstage results are beyond doubt or question. El Sistema might stress that theirs is a social project not a musical one, but their young charges have graduated into a credible professional ensemble. Which isn't to say that they've lost their quirks. Under conductor Gustavo Dudamel – himself an El Sistema alumnus – they still display all their signature characteristics, both good and less so.
Four harps and 12 double basses set the tone for an ensemble that still trades on the power and massed force of a youth orchestra. For the excerpts from Wagner's Ring cycle that made up the second half of this concert this gave the music the physical presence to dominate an awkward acoustic. With no singers to worry about, the orchestra were the stars, and with Dudamel's encouragement they gave everything to an unequivocally, unapologetically maximalist take on some of the repertoire's biggest music.
Exceptional woodwind soloists shaded Forest Murmurs in delicate colours, while the brass burned acid-bright for Siegfried's Death and Funeral Music. Dudamel's great strength is the clarity of his textures, ensuring that – even at this scale – the inner lines and details of the score are not missed. Generosity is tempered with precision, a combination that finds natural balance in this repertoire.
The equation is harder to balance when it comes to Beethoven. In a reverse of traditional programming we opened with the Fifth Symphony – a hit of febrile insistence amplified by the large forces. The trade-off here was the loss of fragility, uncertainty. The third-movement Scherzo asks questions and mocks certainties as much as it makes statements, but in an orchestral sound so plush, so well upholstered it was hard to find anything but declarative affirmation.
Dudamel attempted nothing showy, no extremes of tempo or articulation, simply working to draw the best from his musicians. Still the result was more Simón Bolívar's Fifth Symphony than Beethoven's. It's a tendency that's both the orchestra's weakness and the reason for its success in our homogenised age of anonymous, identikit ensembles.
Register for free to continue reading
Registration is a free and easy way to support our truly independent journalism
By registering, you will also enjoy limited access to Premium articles, exclusive newsletters, commenting, and virtual events with our leading journalists
Already have an account? sign in
Join our new commenting forum
Join thought-provoking conversations, follow other Independent readers and see their replies