Xerxes, Britten Theatre, London The Fairy Queen, Britten Theatre, London Takács Quartet, Queen Elizabeth Hall, London
English Touring Opera's dazzling romance, set during the Second World War, is sexy and stylish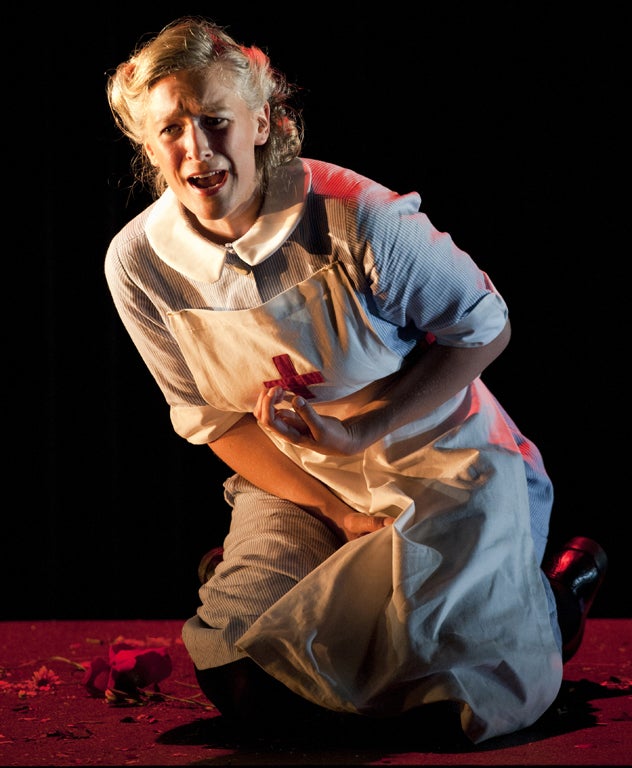 Two hundred and eighty-four years after Handel swore the Oaths of Allegiance and Supremacy, English Touring Opera has rubber-stamped the composer's British citizenship with James Conway's production of Xerxes.
Instead of a plane tree, we have a Spitfire. Instead of the Hellespont, the Channel. Conway is not the first director to draw on the Keep Calm and Carry On spirit of the Second World War. Last March, Harry Fehr set his Battle of Britain Orlando in the Now Panic and Freak Out wards of a military hospital. Call it trending if you like, an extension of the vogue for wartime propaganda on tea towels and mugs. But between the original Ministry of Information poster and its modern-day parody is the key to Handel's operas: the conflict between order and disorder, duty and caprice, state and self.
The poster theme continues in Sarah Bacon's designs, where searchlights strafe the gauze drop-cloth. Video projections transform the corrugated curve of a Nissen hut into an aircraft instrument panel as Arsamenes (Clint van der Linde), stripped of his rank and sent to clean the latrines, imagines a suicide mission in "Amor tiranno". Inflamed by lust, his brother Xerxes (Julia Riley) delivers "Crude furie" to the soundtrack of an enemy bombing raid. Romilda (Laura Mitchell) is a nurse, Ariodates (Andrew Slater) a Barnes Wallis-esque boffin. Nicholas Merryweather's Elviro disguises himself as a spiv, his overcoat lined with packets of blackmarket stockings, while Rachael Lloyd's Amastris assumes the uniform of a Polish pilot.
War is seldom so present in Xerxes. Here, the restoration of order is shaded with sorrow as the closing chorus is sung to a case of scarlet poppies. It's the only awkward note. Elsewhere, Conway responds eagerly to Handel's dazzling score, with a Freudian windsock to illustrate Xerxes' libido and a brilliantly choreographed bedtime cat-fight between Romilda and her ditsy sister, Atalanta (Paula Sides). With minimal tweaks, Nicholas Hytner's 1985 translation sounds peppy, smart and fresh, as does ETO's period ensemble, the Old Street Band. Vocally, the performances are highly expressive and stylish, with outstanding work from Riley, Sides and Mitchell and scintillating cadenzas, all seemingly from the same pen. Jonathan Peter Kenny's calligraphic conducting shows his background as a Handelian singer – all curlicues and sprezzatura, a frothy delight.
First staged by The Armonico Consort, Thomas Guthrie's ETO production of The Fairy Queen re-imagines Purcell's semi-opera as the waking dream of Richard Dadd, the Victorian artist who was hospitalised after stabbing his father, believing him to be the devil. Dadd's fairy paintings are referenced in the lunar disc that hangs over Roger Butlin's asylum ward set, and in the duet between Coridon and Mopsa, both inmates, with the latter styled after Crazy Jane. An air of mirthless lust hangs over the stage. Literally so in the case of the aerialists, whose movements are too strenuous to be erotic. The band plays well but the score is a mess of cuts and silences, and the great Chaconne is squandered on the curtain call. If I'd had a rotten tomato, I would have thrown it.
Played on consecutive evenings, with odd numbers on the first night and even numbers on the second, the Takács Quartet's survey of Bartók's string quartets was both an event in its own right and an adjunct to the Philharmonia's series, Infernal Dance: Inside the World of Béla Bartók. The quartets run through Bartók's music like veins, from the post-Romantic abstractions of the first to the cats-cradle chromaticism of the sixth. The trajectory was near-identical in both concerts. Intonation problems muddled Nos 1 and 2, tone and tuning coalesced in Nos 3 and 4, while the intensity of connection was almost incendiary in Nos 5 and 6. Mesto (sad) is the performance direction for each movement of the last quartet, written in Hungary but premiered in America, where Bartók died four months after the Second World War ended. Mesto indeed.
'Xerxes' / 'The Fairy Queen': West Road Concert Hall, Cambridge (0207-833 2555), Wed and Thu, then touring
Next Week:
Anna Picard sees Castor and Pollux resolve their mutual love for Telaira in Barrie Kosky's new ENO production
Classical Choice
Riccardo Chailly and the Leipzig Gewandhaus Orchestra sweep into London with a cycle of Beethoven symphonies and a series of UK premieres. Barbican Hall (from Tue). Violinist Nikolaj Znaider is guest conductor of the Royal Liverpool Philharmonic in Brahms's Symphony No 4, plus Schumann and Wagner, at the Philharmonic Hall, Liverpool (Wed and Thu).
Join our commenting forum
Join thought-provoking conversations, follow other Independent readers and see their replies