in focus
'You absolutely can't make money': can the Edinburgh Fringe survive?
The world's biggest arts festival is back this month, at a time when discussions about the cost of taking a show to the Fringe have never been louder. Isobel Lewis speaks to performers, producers, food stall owners and community organisers about the problems facing the festival and whether it can be saved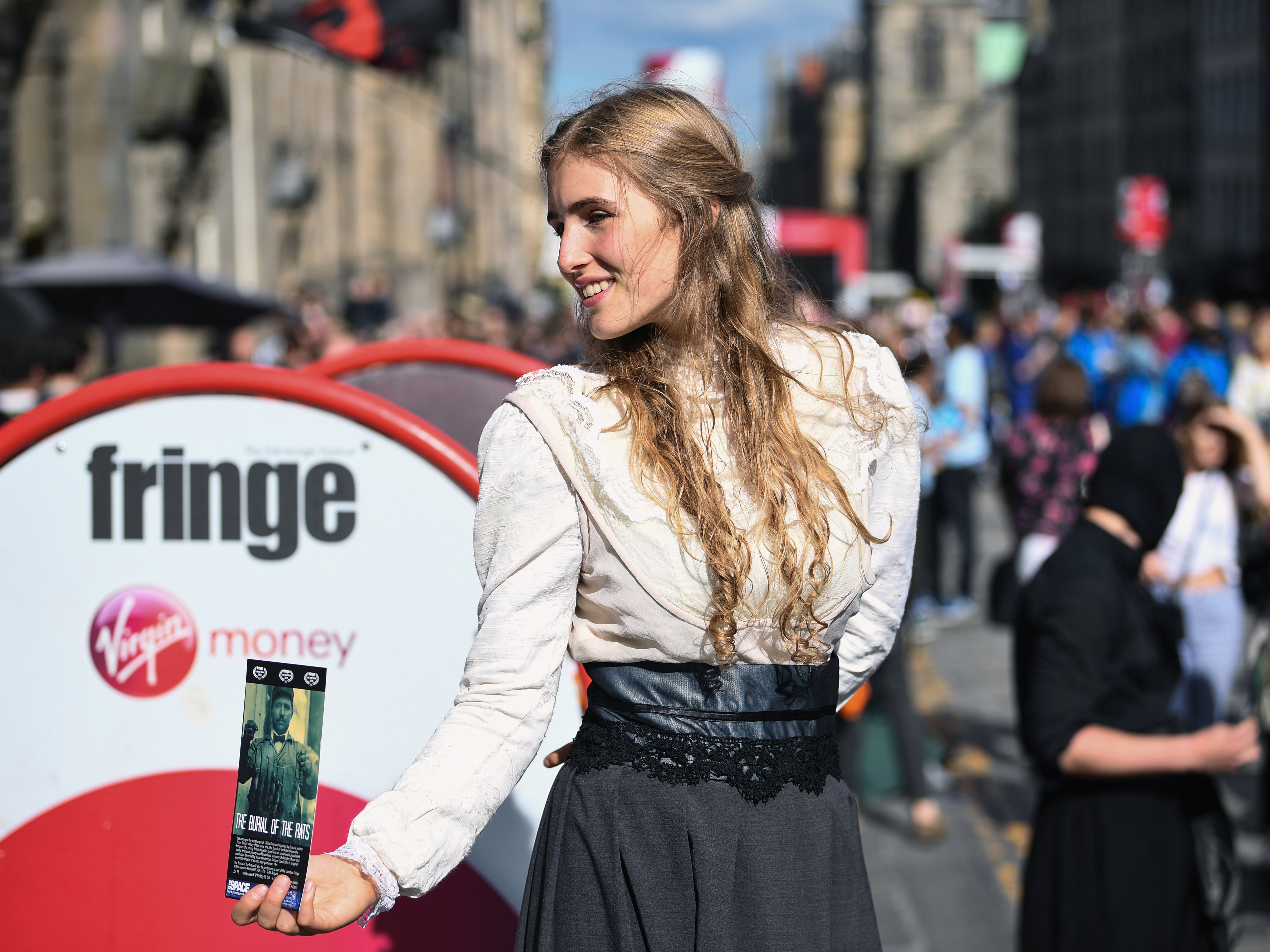 The Edinburgh Fringe returns this week, and with it, hundreds of hopeful stand-up comedians, dreaming of five-star reviews and sold-out runs. Like Glasgow-based comic Larry Dean, who picked up his third Best Show nomination at last year's Fringe with his confessional hour Fudnut and is back at the festival again this year. His work-in-progress show has, impressively, already sold out. It's a relief for any performer – but, he tells me, part of him is thinking: "I've managed to sell out my run and luckily, I'll break even."
His frank admission echoes that of rising comedic talent Leo Reich, who told me last year that – even with a show that nabbed him an Edinburgh Comedy Award nod and reams of glowing reviews – he just about made ends meet. In fact, the more performers I speak to, the more I've learnt this is the norm; that "breaking even" is the best you can hope for. Every summer for more than 75 years, the Scottish capital has been flooded with comedians and actors, dancers and circus performers. They arrive with hopes and dreams, aspirations of creating the next surprise hit of the Fringe. Sure, most of them leave with shin splints and a pounding hangover, but that's part of the fun; while the largest venues curate their line-ups, the Fringe has always been proud of being open to all. But in a landscape of rising costs, gentrification, and an industry still recovering from the pandemic, is the Fringe still, in the words of Scottish theatre critic Mark Fisher, "an egalitarian playing field", where "the amateur rubs alongside the professional rubs alongside the semi-professional"?
Although the 2022 Fringe felt like a joyful return after the difficulties of lockdown, the post-Covid landscape has tangibly changed. Ticket sales were down nearly 27 per cent from 2019, the reduced audience numbers having a huge ripple effect on the Fringe and Edinburgh at large. The Fringe is a complex ecosystem, one where workers, residents and performers should operate in a state of harmonious equilibrium. But as the festival returns this month, a perfect storm is brewing at the intersection where the cost of living crisis, housing market meltdown and remnants of lockdown all meet. The current financial situation is to the Fringe what the climate crisis is to our actual biosphere: disruptive, all-encompassing, and barrelling ahead at breakneck speed.
As the Fringe kicks off this year, there's a sense of trepidation among performers; a nervousness. On paper, the festival still presents itself as a bastion of creative opportunity. It's always been an undeniably costly exercise, but one seen as an investment in an artist's future. Back in 2013, Francesca Moody and her friends, including a then little-known actor called Phoebe Waller-Bridge, took that chance on the one-woman comedy play Fleabag. The accolades Fleabag would go on to achieve – a London transfer, award-winning TV show, world domination – weren't even within their comprehension. The small company had simply funded the show with a "beg, borrow, steal" model for about £10,000, an amount Moody describes as "shoestring" to fund the venue and advertising costs.
Moody now produces shows in the West End, but a love for the Fringe keeps her coming back to Edinburgh every August. This year, she's returning for an extended run of true-crime musical Kathy and Stella Solve a Murder, which originally debuted at the festival in 2022. "At the moment, [Francesca Moody Productions] still believe Edinburgh is a place where you can create heat around a show," she tells me. "But people also need to know why they're going to the Fringe, because otherwise you can get swept up in the madness and forget that, actually, you have some objectives around what you need to get out of the festival." Those objectives may be finding an agent, booking a tour, or a viral social media moment, because financial success is unlikely.
Fisher, who has been reviewing at the festival since the Eighties and in 2012 authored The Edinburgh Fringe Survival Guide: How to Make Your Show A Success, is in agreement. "If you're a professional [performer], you can justify spending a lot in August if you can offset that over a stretch of five years," he explains. "You say, 'Well, actually yes, there's a big loss of money in August, but it could pay off potentially in November, December, January' as your reputation is enhanced." He laughs. "Or you can just have a disaster. But that's the way you have to think about it."
The problem, it seems, is the tricksy nature of the Fringe. Theatre producer Nica Burns, who also produces the Edinburgh Comedy Awards, points out that a show can have a successful run, "but still lose money, and that hurts". Artists have always understood that their careers will need financial and time investment, but the more severe the financial situation, the harder risks become to take. It's a troublesome balance to strike: artists want to be able to work on love of the craft alone, but passion won't put food on the table. Neither, Moody says, will the Fringe. She is frank: "You absolutely can't make money, [but] commercially, it's really hard to make money anyway." The Fringe can declare itself to be open to all, but with an implicit expectation of losing money, only those in comfortable financial situations will be willing to take the risk.
Dean isn't the only big-name comic testing new material at the Fringe this year. John Robins, Rose Matafeo and Rhod Gilbert are among those returning with work-in-progress shows. With more at stake financially, doing an hour for an entire month seems like more of a risk. "Most comedians that I've chatted to are only doing a week or two weeks," Dean says, comparing it to the reduced capacity mid-Covid Fringe of 2021. Rather than putting all their eggs in Edinburgh's basket, comics such as Jordan Brookes and Helen Bauer are splitting their time between the Fringe and the inaugural Roundhouse Comedy Festival, taking place in London throughout August. It feels as though the comedy industry is no longer quite sure whether to bank on the Fringe or not.
Brookes, Matafeo and Robins are all previous winners of the reputation-making Edinburgh Comedy Award – something every stand-up in Edinburgh wants a shot at. Given the prestige associated with a nomination, it's understandable for comedians to want their show to be fully honed before facing the judges, hence the number of "work-in-progress" shows. Character comedian Lorna Rose Treen had always been given this advice, particularly regarding her debut hour (first-timers having only one shot at the Best Newcomer prize). After years of doing improv as a student, she'll finally be bringing her debut show, Skin Pigeon, to this year's festival.
But there's never a perfect time to make your debut, and Treen's comedy cohort nearly faced a whole new challenge in 2023. In May, it was announced that TV channel Dave had stepped aside as the Edinburgh Comedy Awards' title sponsor, meaning new avenues of funding were needed. "Budgets are tight everywhere, really tight," organiser Burns says of the inability to secure a title sponsor. "The bottom line is, you can't have a country closed down for nearly a year and a half … without having really difficult and damaging economic effects. It's not possible."
With this "symbolic" warning, it felt like the air had been sucked out of the room for stand-up comedy. "[The award is] 40 years old, and very much part of the fabric [of the Fringe]. We've been such a staple … and it was a shock," Burns says. After all, the award prides itself on making sure every single show in the Fringe programme is seen and considered, giving every comedian a shot, no matter their venue. It's a rigorous process I can attest to; as a judge last year, I watched up to eight stand-up shows a day. The news that the prize was under threat prompted an outpouring of support from the industry and the arrival of three "11th-hour" sponsors, with Dean theorising it may – conversely – have had a positive impact in giving the awards more publicity and showing that they "still mean a lot to comics".
The biggest issue facing the Fringe this year, however, is far harder to tackle. It pertains to the skyrocketing costs artists face unrelated to their show, particularly surrounding accommodation in Edinburgh. It's not a new phenomenon, but one that has rapidly worsened. "Every single year since I've started, every comedian has said, 'I wonder if the Fringe is not going to happen this year' because no comedian wants to go because of the accommodation, because it just keeps going up and up and up," Dean says. Moody's seen those costs increase exponentially too. "That's going to be one of the things that put a real nail in the coffin of the festival," she says.
In 2023, local media has warned that flats are being listed at around £10,000 for the month, with visiting artists still paying their own rising rents back in their home cities. Edinburgh, both during the Fringe and year-round, is a microcosm of Britain's broken housing system as a whole.
A fortnight before her departure for the Fringe, Funny Women award-winner Treen was told that her contract as a property guardian – the only way she has been able to afford to live in London – was coming to an end. "It's just absolutely my luck," she tells me, laughing incredulously over the phone while surrounded by boxes and sewing together a pigeon hat that she'll wear on stage. "Absolute nightmare." As a property guardian, she always knew she'd be given 28 days' notice to vacate her home, "but what's the likelihood that it was July 2023?"
London has long been held up as an example of the warped extremes of the UK housing market. But Edinburgh's problems are just as bad: in fact, the city had a higher rate of rental inflation from April 2022 to April 2023, the highest in the UK. The Scottish government has begun attempts to regulate the industry, most recently introducing a private sector rent freeze in September which later became a cap on rent. However, the huge growth of Airbnbs and other short-term lets in the city, along with the extortionate prices they charge, has made accommodation in the city unattainable both during the Fringe and year-round.
Come October, a number of measures to limit the number of short-term lets, including a national licensing scheme and city-wide short-term- control zone. Eilidh, of the Edinburgh-based tenant union Living Rent, tells me it's a much-needed change but one that needs to go further. She's running the union's campaign against short-term lets, and is keen to stress that residents renting out their spare rooms or homes while they're away are not the problem. What Living Rent is campaigning against are properties permanently used as short-term lets on sites such as Airbnb, with studies finding that such rentals not only reduce the number of properties on the housing markets but drive up rent in the surrounding areas.
Edinburgh short-term let landlords often argue that they're simply providing a service to artists visiting the Fringe and that council controls will limit the number of artists who can come to the festival. But as Eilidh points out, these properties are already inaccessible. "People who are in the creative industry aren't loaded. They can't afford the thousands of pounds that these Airbnb landlords are charging," she says. High prices impact everyone. Dean says this summer was the first year he's seriously considered commuting from Glasgow every day for his shows.
Speaking to these different interconnected members of the Fringe environment, I keep thinking about the ripple effect every change has. Just as the Fringe has huge, complex impacts on local businesses, so would a loss of custom if the festival shrinks. There's a saying among some of the city's small businesses: you can lose money 11 months a year because you know it'll be made back up in August.
Food stall owner Fernando runs Tupiniquim, one of the city's highest-rated and most popular catering outlets, selling gluten-free Brazilian crepes run from a disused police box near George Square. He's gearing up for this month, always the busiest time of year for his business. "Every year I tell myself, this year I'm going to enjoy the Fringe like never before, I'm going to go to see shows," he says. "But the problem is, it's so busy for us and the demand for the food is so great. It doesn't matter how well prepared, I always fall short on something."
When the Fringe returned last year, Fernando, like many small business owners, hoped custom would be back to pre-Covid levels. Instead, they massively fluctuated, their unpredictable nature meaning he "doesn't know what to expect this year". Lower ticket sales have unexpected knock-on effects too, ones which impact more than just artists. In recent years, the big Fringe venues – presumably in an attempt to bring in more revenue – have branched out to include more pop-up food stands and bars around the bustling areas of George Square and Bristo Square. Fernando tells me: "I've been talking to some folks around us and they say that because they have so many pop-up bars, the pubs can get quieter sometimes. When it's busy, everybody's busy. Saturday, Friday, if it's really busy, I mean, there is business for everyone. But the days which are quieter, are much quieter."
But despite the complexities of the Fringe, there's a general belief that things will naturally sort themselves out. "The Fringe has a fantastic way of finding its own equilibrium," Fisher says. "When people were saying, 'Oh, it's all getting too expensive'... at the same time that was happening, the Free Fringe emerged… 'There's too much comedy' – well, what about all this theatre? Whatever objections anybody had, [the festival] always seems to be big enough to be able to prove the opposite to be true." Dean, equally, is hopeful for a return to harmony. "I've learnt to not take rumours or changes to the festival that seriously because there have been changes and then usually, if they're bad changes, they get fixed eventually," he says, pointing to the outcry in 2022 over the decision not to run the Fringe mobile app, which enabled audiences to book tickets online and find shows based on location; it's been rectified for this year. "I think the accommodation thing, eventually it will sort itself out, hopefully," he adds.
Eilidh is positive too, although says it will take active intervention and campaigning to make positive changes that work for both local residents and the Fringe. "The fact that Edinburgh City Council hasn't thought to put measures on controlling rental prices of accommodation during the Fringe, or the Scottish government allowing Airbnbs to go unchecked for so long, has created this bubble where no one can afford to stay here in August", she tells me. Recent legislation in Amsterdam, which aims to encourage a better balance between quality of life for residents and visitors, is an example she cites as a way to create "a more sustainable tourism industry, one that also takes into consideration local needs as well".
No matter their place in the Fringe's ecosystem, everyone I speak to shares a passion for the festival, and is willing it to survive. The opportunity to perform, try and fail at the Fringe is one that should be available to artists of all levels; it's formative and invaluable and shapes performers. Treen was lucky, she tells me, to have had the opportunity to spend her years as a student studying in Edinburgh and performing at the Fringe. "The space to just fail and become comfortable with failing means that I'm much more comfortable taking risks now. I just felt like I could try stuff out really and not be judged for it." She laughs. "Well, I'll be judged for it in the moment, but then you can always come back tomorrow and try something else."
Join our commenting forum
Join thought-provoking conversations, follow other Independent readers and see their replies