Jimmy Carr's greatest hits tour: genius or con?
The stand-up's 2016-7 mega-tour will include his best jokes from the past 15 years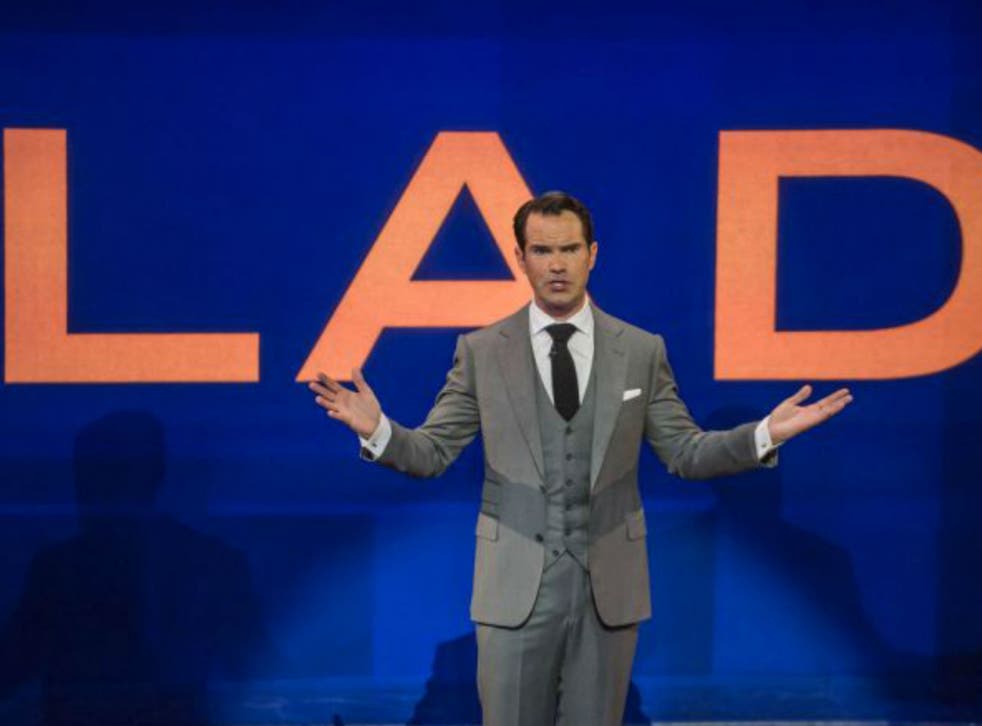 What's the difference between Bono and Michael McIntyre? They're both stadium-fillers, both at the top of their fields, both mega-rich and both on tour in the UK at the moment. The difference is that McIntyre is performing an hour and a half of brand new material, while Bono is performing some new material with a hefty helping of old favourites.
Nobody minds. There would be a riot if U2 took their bows without playing "Where the Streets Have No Name". Morever, even the biggest bands in the world can't avoid the stampede to the bar/ toilet when they announce a brand new song from the stage. The same is not true of comedians. Novelty rules, for obvious reasons. Comedy thrives on surprise; the best punchlines tend to lose their punch on repeating.
Or do they? Tickets go on sale tomorrow (Friday 30 October) for Jimmy Carr's mammoth 2016-17 tour, called 'The Best Of, Ultimate, Gold, Greatest Hits Tour.' The title sounds like a joke (Carr has form for this sort of thing: line up the titles of his eight live DVDs so far, and they make up a single sentence: Live. Stand Up. Comedian. In Concert. Telling Jokes. Making People Laugh. Being Funny. Laughing and Joking.) but it is less tongue-in-cheek than it appears. The new show, which will tour the country for almost two years, will feature "a selection of Jimmy's very best jokes" from the last 15 years of his career alongside new material.
It sounds a bit like a con or, worse, that Carr has run out of ideas. But if anyone can get away with plundering their back catalogue, Carr probably can. Not only is he one of the hardest-working stand-ups in the country - he has played nearly 2,000 shows to over two million people over the course of nine sell-out tours – but as anyone who has seen him live knows, the sheer number of one-liners and gags in a typical Carr show is overwhelming. You would have to be a mega-fan to remember them all.
Besides, people like hearing old jokes. Why else would anyone buy the DVD of a show they have already seen live? How else could Dave, and its endless re-runs of Mock the Week and 8 Out of 10 Cats, survive? For comedians of a certain status, a little "vintage" comedy is almost mandatory. Take Harry Enfield and Paul Whitehouse who are also on tour at the moment with their ironically named Legends! It brings back all of their old favourite characters – Loadsamoney, Smashie and Nicey et al. - and though the situations and lines have changed, the catchphrases have not.
If Harry and Paul had simply parroted the old television scripts, I doubt fans would have minded too much. Similarly if Monty Python hadn't done "The Lumberjack Song" or the "Dead Parrot" at their reunion last year, it's likely they too would have ceased to be, expired etc.
Going to see a sketch act is an act of nostalgia, with catchphrases and wigs acting as a comedy comfort blanket. Stand-up is a different beast but perhaps old routines can inspire the same slavish devotion as old sketches. To return to McIntyre, he opens his current Happy and Glorious arena show with a showreel of fans delivering some of his best-loved set-pieces – about the man drawer and so on – to the whooping delight of the audience.
The ultimate nostalgia test will come next year in America when Andy Kaufman and Red Foxx are brought back to life in the form of holograms, to perform some of their best-remembered routines. If it and Carr's tour turn out to be hits, then old jokes might well become the next big thing.
Join our new commenting forum
Join thought-provoking conversations, follow other Independent readers and see their replies