The rise of the nerds
Hard science + stand-up = pure laughter. Holly Williams meets the biggest brains in the comedy laboratory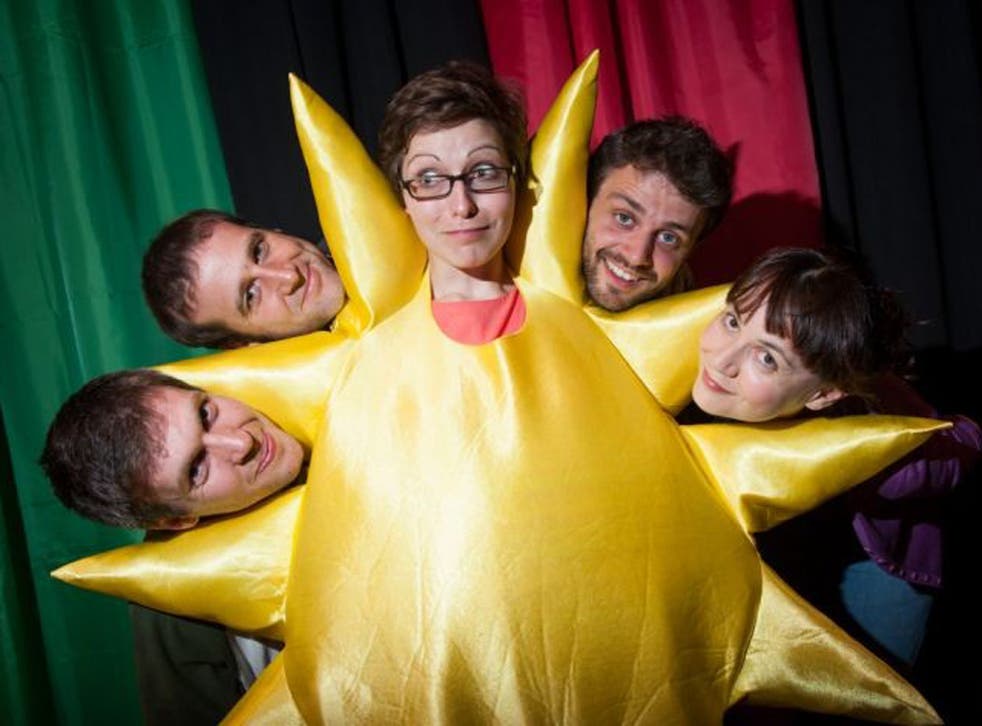 Hypothesis: science has become funny. The evidence? There are swathes of comedy shows at this year's Edinburgh Festival with a factual angle, while learn-as-you-laugh TV and radio shows continue to grow in popularity, from QI with Stephen Fry to The Infinite Monkey Cage with Brian Cox to Dara O'Briain's School of Hard Sums. The nerds are rising.
And not before time. School left many of us scared and scarred by equations and diagrams. But to write off science is to write off understanding how everything works. Science stand-up risks smug know-it-all-ness; in-jokes about neutrinos are a swift turn-off. But many on the sci-com scene really want to connect with a wide audience, desperate to share their love of brain-melting concepts by making us laugh. We speak to five star acts about why they've swapped microscopes for microphones …
Helen Keen
You may know her from Radio 4's It is Rocket Science!, based on a previous Edinburgh set on the invention of rockets, with jokes. This year's show, Robot Woman of Tomorrow, is, she says, "about technology, and wonderful sci-fi ideas of the future, and also more personal stuff about what science fiction has meant to me".
With her gorgeously goony enthusiasm for all things space age, Keen recognises that this blending of facts and funnies is "becoming more and more popular … but when I started doing it, in 2008, I wasn't really thinking 'Oh, this will be a niche' ".
Keen is on a mission to blend pop culture and science: "I grew up in a working-class family, we didn't have many books in the house, we didn't go to museums every Saturday, so a big way of finding things out for me was from pop culture."
Be warned: her show may spark an unexpected interest in mechanical ducks from the 1700s, or induce comic shudders by introducing you to Roxxxy, the futuristic sex robot – but there is a serious point, too.
"It's in so many people's interest for us to not have an educated, informed population. If, in a really tiny way, you can inspire people to go and find out about things, that's a really big deal."
Helen Keen's "Robot Woman of Tomorrow" is at Pleasance Courtyard, Edinburgh, till 26 Aug (helenkeen.com)
Festival of the Spoken Nerd
Putting on shows for the "insatiably sci-curious" is this trio of comedians with science and maths backgrounds: Helen Arney, Matt Parker and Steve Mould. They were all performing sci-stand-up alone when they realised they could have more fun together. FOTSN was born and, within a year, was selling out the Globe theatre.
"We do what we love doing, and we're continually surprised how big the audience is," says Arney. But it isn't only those partial to quadratic equations who come to hear R'*'B songs about biologically accurate animal mating habits ("do it like a hedgehog … carefully"), liquid fireworks, games of marshmallow Russian roulette (with mathematical explanations), or ice-cream being made with a fire extinguisher. "This stuff is too good to just let the nerds enjoy it," insists Arney. Mould points out that though "there's a very important social movement of sceptics having a dig at pseudo-science, we avoid that … we're celebrating the things we think are amazing". Arney adds that "everyone feels safe" with FOTSN – but Mould objects: "They're not safe. There's a lot of fire."
FOTSN's UK tour begins at the British Science Festival, Aberdeen, 4 Sep (fotsn.com); Helen Arney's "Voice of an Angel" is at Underbelly, Edinburgh, till 26 Aug (edfringe.com)
Robin Ince
Along with everyone's favourite astronomer, Professor Brian Cox, stand-up Robin Ince is widely credited with giving the comedy-science trend its initial rocket launch, with the Radio 4 show The Infinite Monkey Cage.
"Some scientific people will see it as light, but that doesn't mean it won't still involve people and excite them," says Ince. "There's a lot of anti-science out there, a lot of bullshit ... we try to examine things in a rational way. There's a serious intent, amid the nonsense.
"Television and pop culture had become increasingly banal," he suggests. "There was this presumption that people were idiots. I thought, 'No, I'm certain people have higher aspirations; if you offer them things, they will bite'. "
His stand-up might take a scientific theme, or he'll get scientists in to talk, too, and Ince considers himself to be "basically the low fool" – the comedy glue for the clever concepts. "Comedy is a potent form for exciting people about ideas. People go, 'Oh, you're preaching to the converted', but you find a lot of people have never heard of Richard Feynman or Carl Sagan or Alfred Russel Wallace. And then they want to go off and read them."
Robin Ince is at End of the Road Festival, Salisbury, 31 Aug to 2 Sep; "Happiness Through Science" tours this autumn (robinince.com)
Steve Cross
Responsible for hundreds of scientists becoming stand-up comics, Steve Cross runs Bright Club, where academics deliver eight-minute sets about their research – while making an audience laugh. The project started three years ago, when University College London, where Cross is head of public engagement, was looking for a way to connect with 18- to 40-year-olds, and hit on the idea of science stand-up.
The brave researchers get one hour's comedy training and their audience is, by design, a general comedy-club crowd. Cross gets in a professional stand-up to compère – among past MCs are Richard Herring, Isy Suttie and Josie Long. Such is the boom in science stand-up, the nights are being swamped by the professional crowd.
And so Science Showoff was born. "If the science nerd people want an event, I'll put on something perfect for them," says Cross. Anyone who works in science can get on stage: there's a lot of comedy, but it could be an experiment, a song, a mini lecture. And Cross is your comic compère for the evening: "I won't talk about quantum physics because that's what the acts are going to do – but I might take the piss out of Brian Cox's haircut."
Bright Club is at the Bloomsbury Theatre, 24 Oct (brightclub.org); "Science Showoff" is at the Wilmington Arms, London EC1, 4 Sep (scienceshowoff.org)
Simon Watt
You might recognise his face from Channel 4's Inside Nature's Giants series, but Simon Watt also does live shows. He acknowledges that great chunks of the Great British public have, for years, considered science "boring". His response? To "beg, borrow and steal techniques from the arts". And so, his show Dr Death, a "scientifically, historically accurate panto" provides a grizzly history of medicine through puppetry, animations and character. "It makes the facts that bit more digestible," he explains. It's aimed at kids, but another show, Sperm Warfare, is definitely for adults only.
"I remember Reginald B Hunter saying you shouldn't just be funny, you should be interesting. The information I was working with – on the reproductive race – was interesting anyway, so the jokes just wrote themselves. It naturally moves into differences between men and women, which is inherently humorous."
Watt does short comedy-club sets too, describing them as a good way of developing material. "In science, we have peer review; in performance, an audience."
And, he points out, with science you're unlikely to run out of material: "Research is never going to stop, so you've always got new material. The universe is an interesting place – and it's always going to be."
Simon Watt is at the Green Man Festival, Glanusk Park, Wales, this weekend. He compères the Ugly Animal Preservation Society, at The Vandella, London, 21 Oct (readysteadyscience.com)
Join our new commenting forum
Join thought-provoking conversations, follow other Independent readers and see their replies