Miranda Hart and Sarah Millican named highest-selling female comedians
Survey also reveals how much sex gags turn off Yorkshire audiences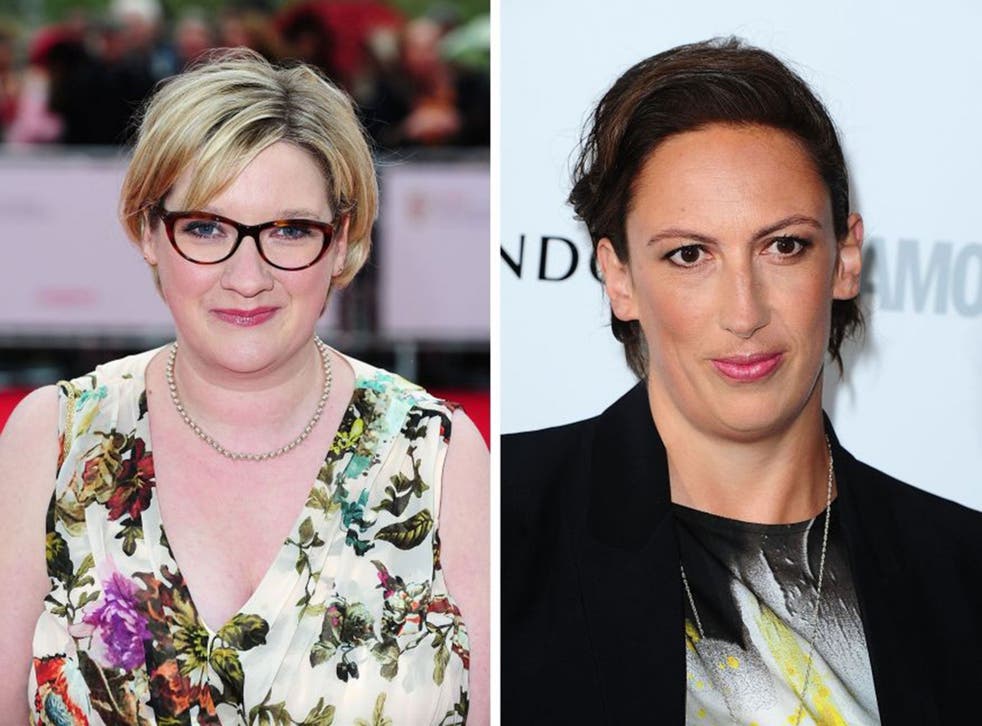 It takes a lot to shock Yorkshire folk, or so it has been assumed. But jokes about sex leave audiences in God's Own County stony-faced, the first national survey of Britain's comedic tastes has discovered.
The birthplace of X-rated comedian Roy 'Chubby' Brown has grown a little prudish, according to State of Play: Comedy UK, an analysis compiled by Ticketmaster from audience data, which found that female comics are enjoying an unprecedented surge in popularity.
All regions found sexual jokes acceptable, with the singular exception of Yorkshire, where sex jokes rated -5 on the humour index.
By contrast, comedy audiences in the South West can't get enough stand-up sex, with gags of a lewd nature gaining a positive 33 score. London and Wales are the next biggest markets for "blue" humour.
Despite welcoming hordes of comedy hopefuls at the Edinburgh Fringe Festival each year, Scots are very particular about what tickles their funny bone.
They are the least likely to find scatological, or toilet humour, compared to other parts of the United Kingdom. Scottish audiences do welcome comedy about national quirks, particularly if the English are the butt.
Northern Ireland and Yorkshire found jokes about education laugh-out loud whilst audiences in London and the East Midlands are more likely to welcome political humour.
The report, compiled from a weighted survey of comedy gig-goers combined with ticket sales, found significant gender differences. Women are more likely to find jokes about sex, body appearances, religion and toilet humour unacceptable.
Men find those topics more humorous and are less offended by jokes about race/colour or disability, although those areas are falling out of favour despite the popularity of boundary-pushing stand-ups such as Jimmy Carr and Frankie Boyle.
Men are more likely to believe they have a better sense of humour than their partners. The males surveyed cited reasons such as "My comedy taste is more academic/cerebral/clever than my wife" and "I'm weirder than her" to account for the difference.
The report found that female comedians are increasingly enjoying the spotlight. Events on sale for female comedians have soared by 1064 per cent since 2009 and Ticketmaster sales for female comedians having trebled since 2011.
Leading lights include Miranda Hart and Sarah Millican, who have topped the list of highest selling female comedians since 2009. Michael McIntyre is the top-selling male comic.
Comedy is enjoying a live boom, with Miranda Hart selling out five nights at the O2 Arena. Average ticket prices have rising to £27.20 for theatre shows and £35.30 for arena gigs. Some respondents are willing to pay £200 for a close-up view of their favourite comic but 22 per cent prefer seats at the back to avoid being picked on by the comic. One in six audience members (17 per cent) post instant reviews on social media.
Television exposure has turned the likes of Millican and Russell Howard into arena-filling comedy "superstars". More than half (51 per cent) say they wouldn't pay to see someone live, if they hadn't already seen them on television. Lee Evans was named the UK's favourite comedian overall.
Comedian Shappi Khorsandi said: "It's great to see the surge in female comedians, stamping out the prejudice. We have still further to go though – I'd like to see more female comics enjoying the dominance that men do on the bigger stages."
Bruce Dessau, the comedy writer, said: "This dramatic increase clearly demonstrates that there is a huge demand for funny women. Fortunately there is a rapidly growing number of gifted female comedians out there to meet the demand."
However Paul Daniels, the veteran magician and entertainer, said: "I think the sadness for the women comics, for me anyway – cause there is lots of them out there – is that they do seem to want to focus on women's' problems; I can't recall male comedians commenting on men's failing problems. But there are some really good women comics out there - I just think it's harder for them to crack into it."
More women are appearing on television panel shows after the BBC said all-male panels were now unacceptable. Marcus Brigstocke, the comic who appears on Radio 4's The Now Show, said: "The girls are definitely shining through but there is an issue though; this nonsense where somebody has said every girl on TV needs a girl on it.
"That's the wrong way round. It's not that every show needs a girl on it, it's more that every show needs to be capable of having many different styles of comedy including a woman - right? - and all the different styles that the women in comedy represent."
"it's not that they (TV panel shows) don't book women it's just that the show itself is too ugly, too mean, too testosterone led and too sharp elbows for lots of women, not all, but lots. I think it's a real problem. I would love to see it fixed from the other end. Produce better shows."
Join our new commenting forum
Join thought-provoking conversations, follow other Independent readers and see their replies