Paxo, Pleasance Courtyard, Edinburgh Festival review: Jeremy Paxman shows a mild-mannered side
Television's retired attack dog spins a silver wheel in theatrical production
Alice Jones
Tuesday 19 August 2014 09:33 Comments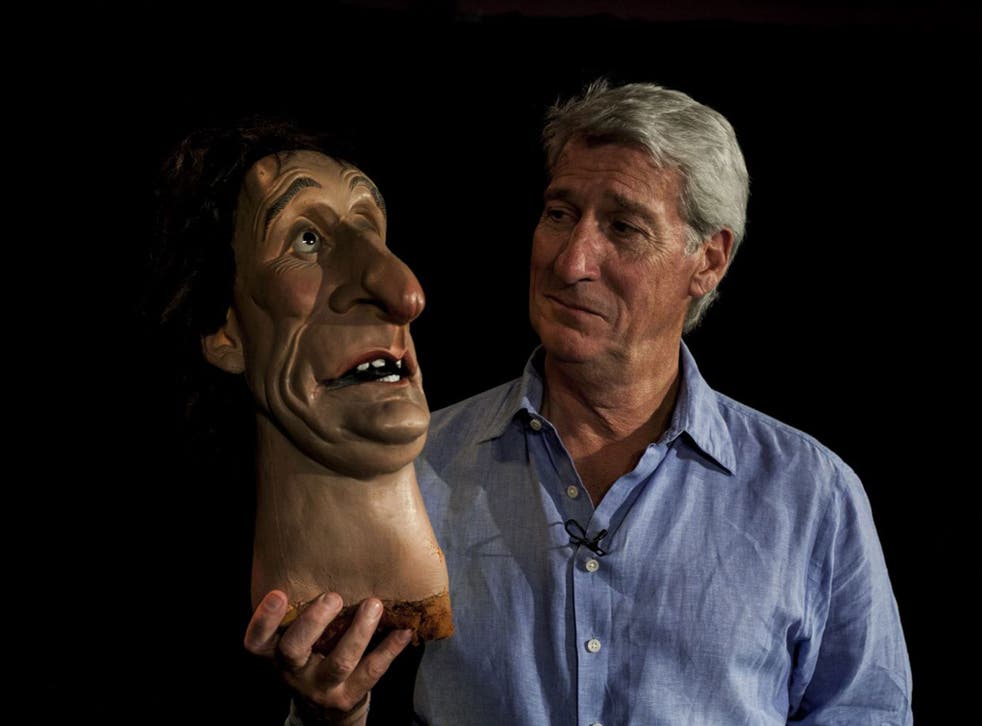 It has only been two months since Jeremy Paxman left Newsnight amid much speculation as to his next move. Not many would have predicted that it would involve an early evening spot in a cabaret bar at the Edinburgh Fringe's biggest comedy venue, a glittery silver curtain and routines introduced variously by The Voice of University Challenge, Roger Tilling, and Rihanna's "Rude Boy".
"Paxo" is not a stand-up show, but nor is it, as might have been expected, a straightforward hour of anecdotes and audience questions in the manner of a book festival talk. Rather, it is a proper theatrical production. Paxman has hired a director, Sarah Esdaile, and together they have come up with a part-improvised format - "A rocket ride away from any comfort zone… No cameras, no autocue, no script."
Essentially, television's retired attack dog spins a silver wheel adorned with his own hangdog face and an A to Z of topics, from Albania to Malarkey, Blair to Trout, Pogonophobia (fear of beards) to Y-Fronts. When the wheel stops, Paxman holds forth - a little uncomfortably, a little, believe or not, nervously, but with warmth, wit and insight.
Dressed down in chinos, a blue Oxford shirt and a light summer tan, he enters the stage to Tom Petty's "I won't back down" and begins with a few self-deprecating jokes about life after Newsnight. "I'm doing The Knowledge", he says. "So some of you can say, 'I had that Jeremy Paxman in the front of my cab the other day.'" Then it's on to the wheel. On opening night, the topics include "Humbug", in which he talks about the time Mohamed Al-Fayed tried to corrupt him with a Harrods Gold Card, and "Eunuchs", which becomes the jumping-off point for an anecdote about interviewing Indira Gandhi.
For "Gerontophobia", he shares his business idea to open Dignitas clinics disguised as teashops on every street corner ("There are simply too many old people, cluttering up everywhere"), while "Novice" offers an opportunity to replay his car-crash Newsnight interview with the junior Minister Chloe Smith. "It wasn't her fault", he says generously. "She was told to go out there when she wasn't ready." A section on "University Challenge" meanwhile reveals his affection for the students of today - even if most of them are "on the anorak-y side" - and a chance to hammer home his belief that "television does not need to give people pap."
A large number lot of topics also go tantalisingly undiscussed: Blair, the First World War and Y-fronts are among the casualties of the random format. There are bonus sections though, in which the audience and "soi-disant celebrities" get a chance to grill Paxman - on his tussle with Russell Brand, the management, or otherwise, of the BBC ("You probably want someone running it who doesn't know what they're talking about.") and what he is most ashamed of - "Performing here, probably."
He is not a natural performer, it's true. There are times during the hour when he has the intelligently rambling air of a headmaster pontificating at Speech Day. There's also a feeling that he might not fully be on board with the quirks that his showbiz format demands. "It's Celebrity Question Time!" he says wearily after one spin of the Paxo wheel. "Good-o."
While far from a personal hour, there are insights into the off-screen, mild-mannered, Paxman. He rhapsodises about fly-fishing and the peaceful proximity to nature it brings, he admits shamefacedly that he "can be quite strident sometimes" and his conclusion offers a surprisingly uplifting assessment of the human race, if a rather bleak one of journalism. He is undoubtedly far funnier on television, when he has an adversary to get his teeth into, but there's something beguiling, sweet even, about this glimpse of the attack dog's human face.
Register for free to continue reading
Registration is a free and easy way to support our truly independent journalism
By registering, you will also enjoy limited access to Premium articles, exclusive newsletters, commenting, and virtual events with our leading journalists
Already have an account? sign in
Join our new commenting forum
Join thought-provoking conversations, follow other Independent readers and see their replies