Abigail Breslin: Little Miss Sunshine grows up very quickly
Abigail Breslin made her name playing a quirky beauty pageant wannabe. Now she's starring in sci-fi films, kidnap dramas and family sagas with Meryl Streep. James Mottram meets her
Saturday 14 September 2013 00:28
comments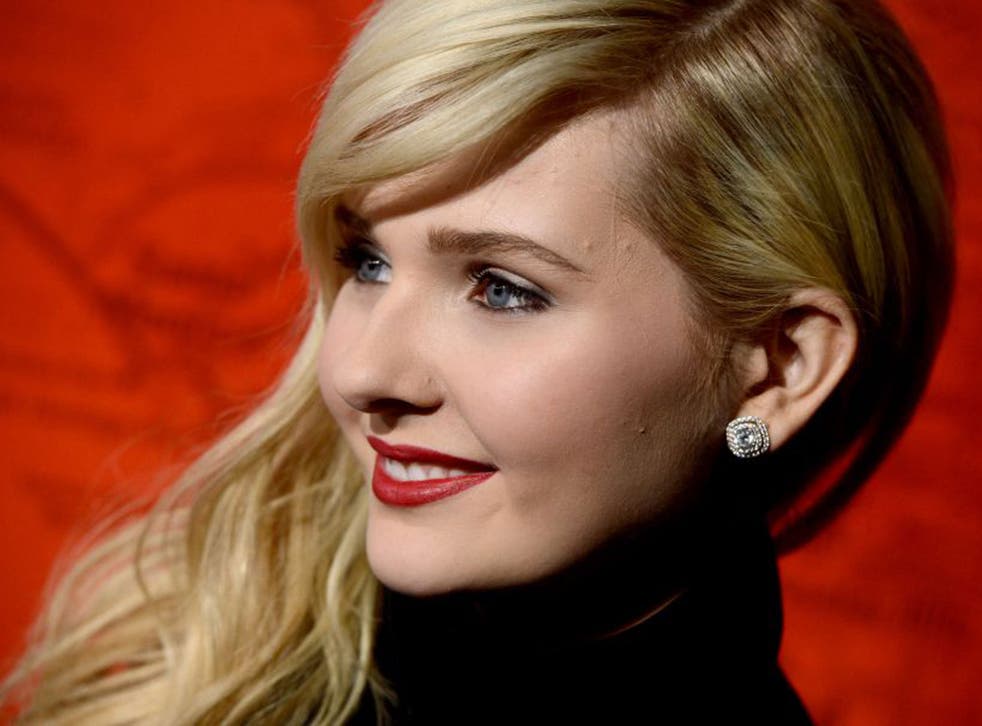 It seems like it was yesterday that a button-cute Abigail Breslin walked up the red carpet at the Oscars, decked in Harry Winston jewels. Nominated for her role as the pageant-loving Olive Hoover in 2006's Little Miss Sunshine, for the 17-year-old Breslin, it feels like a lifetime ago. "I'm always shocked that people still recognise me from that," she says, which is understandable. Her hair is blonder now, not the mousey brown pony-tail it was then, while her face has lost that babyish sheen.
There have been plenty of roles since – from genre hit Zombieland to the mawkish drama My Sister's Keeper, with Cameron Diaz – but it's Little Miss Sunshine that passers-by still stop her for. "It always means a lot to me when people talk about it," she explains. "I haven't seen it in a really long time, although I caught a moment of it, on TV once, a year ago. It was so weird for me; so many of the jokes in it had gone over my head when I was young that I now understand!"
With three films due in the next four months, Breslin is about to prove just how fast she has grown up. What's more, it's a hugely diverse body of work. To come is sci-fi blockbuster Ender's Game, based on the popular novels by the controversial author Orson Scott Card (whose views on homosexuality and same-sex marriage have drawn fire recently). This is followed by August: Osage County, an Oscar-baiting familial saga in which Breslin co-stars with Meryl Streep, Julia Roberts and Ewan McGregor.
Before either comes The Call, a terrifying thriller that blends elements of The Silence of the Lambs and Buried (in which Ryan Reynolds was trapped inside a coffin). Here it's Breslin who spends her time in a confined space, after her character Casey is kidnapped from the mall – by Michael Eklund's psychopath – and placed in the boot of his car, heading towards a grisly fate.
Shot mainly in an actual vehicle on the road, "a lot of it was real," she says. "Actually being in a trunk, pitch black, you can't see anything. It was scary!" With Casey managing to contact a 911 emergency operator (Halle Berry) in a desperate bid to survive, Breslin's not exaggerating when she calls it "a super-intense movie". So imagine how her family – mother Kim, father Michael, a computer programmer, and two older brothers, Spencer and Ryan – all felt. "They all had a hard time watching it. I remember the first time that I saw it, at a screening, and they came with me. And my whole family were there, watching, and they'd get up and walk out in parts."
As hard as it was for them to watch, for Breslin it was exhausting to shoot. "You're on such an adrenalin high after that kind of thing – it's a similar feeling you get when you get off a roller-coaster and you're jacked-up a little bit." Every night she would have to come home and unwind, watching shows like America's Next Top Model and What Not to Wear, anything to take her mind off it. "Then I'd go online and look at shoes and clothing and I'd Skype with my puppy and then I'd go to sleep, and I'd be OK."
For one who starred in her first commercial at the age of three, and made her feature debut, in M Night Shyamalan's Signs, three years later, the New York-born-and-raised actress isn't the precocious starlet you might expect. Just check out her Twitter account. "If you want to come to my Twitter page for serious insightful updates every minute on my career, you're not going to find it," she notes. "You'll find stuff about me and my friend having a Christmas night in July, and my dogs and my cats and why boys are so complicated."
She could also add the Twilight novels and films to that list of favourite things. "I read it when I was 12 and I was just so in love with Edward, I wanted him and Bella to be together. My cousin and I would read them all the time, and I would sob and get so invested into them, and I'd go to the midnight showings of the films. I loved that whole movie and story. I saw the first one nine times in theatres."
Now she has what might become her own Twilight in the shape of Ender's Game, though she's reluctant to say so – noting how "very different" this future-set tale of kids trained to fight alien creatures is. Still, it has the capacity to become a similar phenomenon, right? She shrugs. "I would never say 'This is the next Twilight.' That was so huge, so I don't think you'll top it."
Access unlimited streaming of movies and TV shows with Amazon Prime Video Sign up now for a 30-day free trial
Sign up
Cast as Valentine, Breslin does get scenes with Harrison Ford – though that was nowhere near as intimidating as working on August: Osage County, sharing screen-time with Streep, Roberts and McGregor. "I was completely terrified. I was shaking the first day. I remember the first scene I had with Meryl Streep, I had one line and I was just saying to myself: 'You can't mess up this one line. Just say the line, get it out.' Then I drop all these props, and I'm like: 'Oh my God, I'm wasting Meryl Streep's time!'"
It's already being touted as one of the big Oscar contenders – which will mean publicity tours, public appearances and awards shows. She admits this aspect "is a total pressure at times," but, living in New York rather than LA, has allowed her to keep a distance from the Hollywood circus. "You just have to think: 'There are more important things going on in the world than a movie.' So that's what I think about before I do a red carpet. You just have to keep a perspective." She really is a Little Miss Sunshine.
'The Call' opens on 17 September, 'Ender's Game' opens on 25 October, and 'August: Osage County' opens on 26 December
Join our new commenting forum
Join thought-provoking conversations, follow other Independent readers and see their replies