Amy Schumer and Trainwreck: Has Hollywood comedy really found feminism?
Female comics may be big box office, but there's a long way to go on the industry's path to enlightenment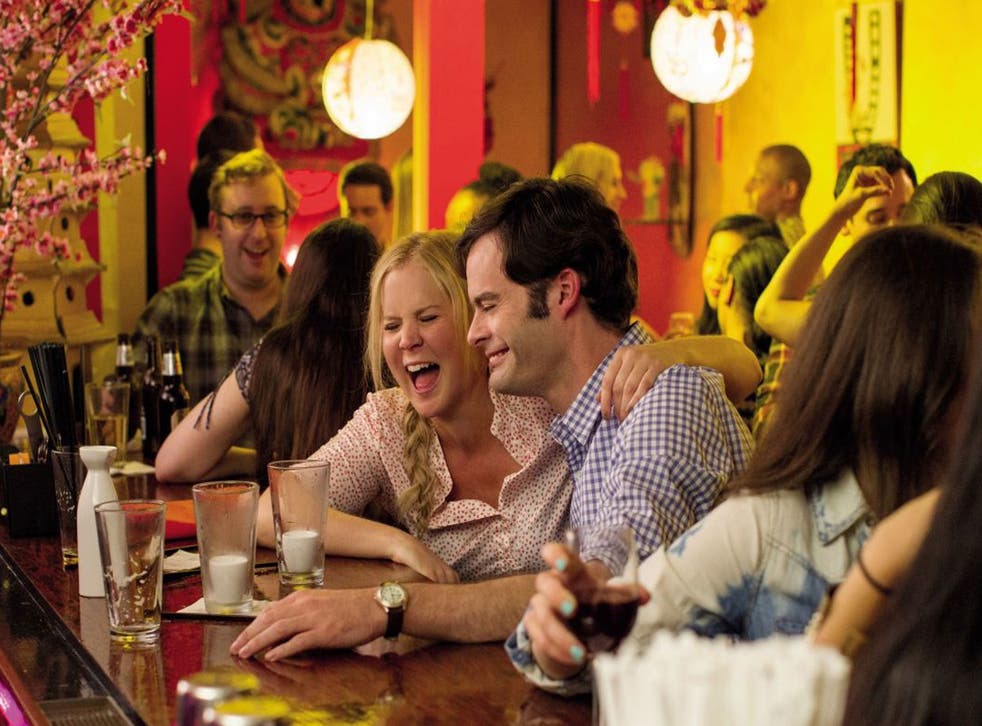 It wasn't long ago that every Hollywood comedy with a female lead – usually Kate Hudson or Jennifer Lopez – was fixated on shoes, men, and/or the perfect wedding venue, so it's a cause for celebration that in Hot Pursuit, which was released on Friday, Reese Witherspoon and Sofia Vergara play a police officer and a drug cartel informant respectively. Of course, it would have been an even bigger deal if Hot Pursuit had actually been funny, but on paper, at least, the film represents progress for women in big-screen comedy. And it's not the only one.
In May, Hollywood's most bankable comic actress Melissa McCarthy starred in Spy, a Bond-ish action caper, and she is currently shooting an all-female Ghostbusters reboot with the same director, Paul Feig. Also in May there was musical comedy Pitch Perfect 2, a smash hit that not only revolved around a female ensemble, but was directed by a woman (as Hot Pursuit was). And this Christmas, Tina Fey and Amy Poehler star in a raucous house-party comedy, Sisters. When Bridesmaids was a hit in 2011, there was talk of a new wave of comedies with women as the lead characters, as opposed to the lead characters' girlfriends. Now, it seems, that wave may finally have reached the shore.
The most interesting of the bunch is Trainwreck, which is sure to have an impact commensurate with its title. Written by, and starring, 34-year-old New York comedian Amy Schumer, the film may be a romantic comedy, but no one is going to mistake it for a J-Lo vehicle: its heroine is foul-mouthed, hard-drinking, coke-sniffing, promiscuous, and proud of it. And yet, even though she makes Bridget Jones look like Mary Poppins, the film took $30m (£19m) on its opening weekend in America, and Schumer is being touted as a major Hollywood star. That's quite something when you consider how much of her Comedy Central sketch show, Inside Amy Schumer, is devoted to attacks on Hollywood.
One of the best and most talked-about sketches from this year's series was entitled "Julia's Last Fuckable Day". The premise is that Schumer is out hiking when she spots Julia Louis-Dreyfus, Tina Fey and Patricia Arquette having a picnic. The occasion, they tell her, is Louis-Dreyfus's final afternoon as a potential Hollywood lust object: as of the following day, she will be officially too old. "You know how Sally Field was Tom Hanks's love interest in Punchline," explains Fey, "and then like 20 minutes later she was his mom in Forrest Gump?"
Another Schumer sketch that skewers Hollywood's gender double-standards with the same ruthless precision, "12 Angry Men", is a 19-minute black-and-white homage to the classic jury-room drama. But in this version, the jurors aren't debating whether someone is guilty of murder, but whether Schumer is attractive enough to have her own television show. Lena Dunham has called the sketch "the most important thing that's happened on TV in a long time".
Could similarly bold claims be made for Trainwreck? Well, not exactly. As tempting as it is to declare that we are living in a brave new age of feminist Hollywood comedy, it's worth asking how progressive each of these new female-fronted films really is. And while Trainwreck appears, at first glance, to be a daringly radical anti-romcom, it's worth asking why certain aspects of it are so traditional. For one thing, there's that title, Trainwreck, which seems awfully judgmental of a character based on Schumer's own stand-up persona. The character – also named Amy – may sleep around, and she may enjoy a wide range of intoxicants, but her leisure pursuits don't stop her holding down a job as a senior magazine journalist, owning a swanky Manhattan apartment, being immaculately dressed and made-up, or maintaining healthy relationships with her friends and family. In what sense is she a trainwreck? And would that label ever be attached to a male character with a comparable lifestyle?
It's also notable that Amy's hedonistic streak must be erased so she can end up with her Prince Charming, Bill Hader's clean-cut doctor. Transformed and reformed, she ultimately gives away all her alcohol and drug paraphernalia and confesses her envious admiration for the married-with-children sister she once mocked: "I act like everything in your life is so boring and stupid," she sniffles, "but its just because I can't have that." Yuck. For a film that spends so much time subverting romcom conventions, it's amazing how lovingly it ends up embracing them.
This backtracking may not be Schumer's fault. Trainwreck was directed by Judd Apatow, and most of his comedies begin as laidback advertisements for unconventional lifestyles before going on to reject them.
In Knocked Up, for instance, a man impregnates a woman during a one-night stand, so he has to move out of his bachelor pad, get a proper job, and settle down with the mother of his child. In Funny People, a movie star's problems stem from the fact that he missed his chance to marry Ms Right (played by Apatow's wife, of course). Even in Bridesmaids, which Apatow produced, Kristen Wiig's romantically cynical heroine eventually finds happiness by baking cupcakes and getting together with a caring policeman. In Apatow's films, conservatism always wins the day.
But if Apatow was behind the softening of Schumer's take-no-prisoners television comedy, she must have gone along – and that in itself is evidence that funny women in Hollywood still haven't broken the glass ceiling. Further evidence: the climactic scene in which Amy wins back her man by dressing up in a tight cheerleader's outfit. Schumer's sketch show may condemn the objectification of actresses, but she has capitalised on her own sex appeal: to the tutting disapproval of the producers of Star Wars, she has promoted Trainwreck by posing as a topless Princess Leia in the current issue of GQ. Yes, the pictures are amusing, and no, Schumer isn't a typical GQ pin-up. But you don't see Seth Rogen or Jonah Hill in equivalent photoshoots.
Which brings us back to Hot Pursuit.
One of the film's running jokes is that news reports keep over-estimating Vergara's age and under-estimating Witherspoon's height, but, let's be honest, nobody would ever see Vergara and Witherspoon and say: "Here come Grandma and Shorty." They're both classically beautiful; if they weren't, the film wouldn't be called Hot Pursuit. By the same token, Tina Fey, Kristen Wiig, Anna Kendrick and their ilk are all slender enough to be courted by glossy magazines. It's only Melissa McCarthy who doesn't have the fashion industry-approved silhouette, whereas for the men in the business, from Oliver Hardy to John Candy to Kevin James, size has never been an issue.
That said, it's still heartening that women are getting more central, more varied, and more pro-active comedy roles than they used to. But there's some way to go. In July, Michael Eisner, the former CEO of Disney, made headlines when he announced that "the hardest artist to find is a beautiful, funny woman". But in reality, it's hard to find a funny woman in Hollywood who can't also be marketed as beautiful.
'Trainwreck' is out 14 Aug; 'Hot Pursuit' is out now
Join our new commenting forum
Join thought-provoking conversations, follow other Independent readers and see their replies