Anna Karenina: From Russia with love
Keira Knightley is reunited with Atonement director Joe Wright for the latest adaptation of Anna Karenina. Geoffrey Macnab looks at the enduring appeal of Tolstoy's tragic heroine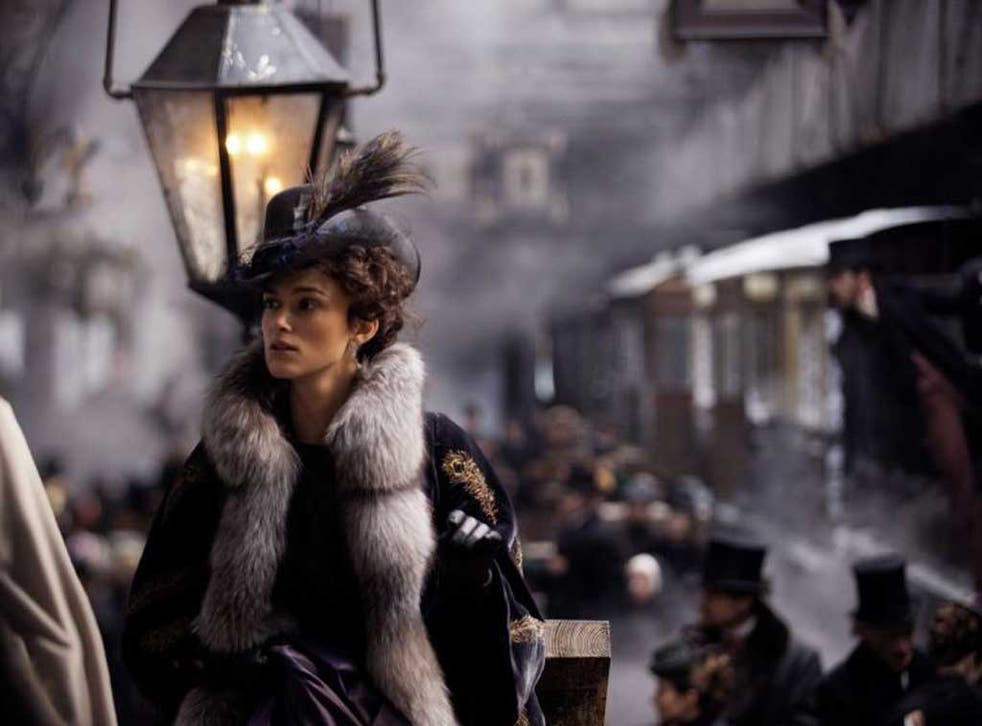 "My God, he hates her!" Keira Knightley observes of Tolstoy's attitude toward Anna Karenina. Rereading the book in preparation for playing Anna on screen in Joe Wright's new film, Knightley was struck by the sheer animosity that the Russian author had for the heroine of his novel.
Wright has taken a stylised approach to his material, setting the majority of the film in a theatre on the grounds that the Russian aristocrats "were living their lives as if they were on a stage". He has talked about the film as portraying love in all its manifestations. Knightley excels as the beautiful socialite whose destructive love affair with Count Vronsky leads eventually to her ruin and suicide. When we first see her, she is self-assured and seemingly worldly-wise. She advises her sister-in-law Dolly (Kelly Macdonald) to stay loyal to her husband Oblonsky in spite of his philandering ways and gives Dolly's younger sister advice about how to behave at the ball. Then Vronsky begins his aggressive courtship. Knightley expertly depicts the transformation in Anna's character: how she at first flirts with the cavalry officer and is flattered by his attention but then how she soon becomes utterly in thrall to him. She humiliates her earnest husband Karenin (Jude Law) and is turn spurned by him.
Sales of Anna Karenina have shot up in recent years after Oprah Winfrey chose the book as Oprah's Book Club summer selection in 2004 and published articles on its feminist subtext on her website. Oprah called it "one of the greatest love stories of our time" but Keira Knightley remains intensely suspicious of the novelist's attitude toward her heroine.
Tolstoy certainly doesn't give Anna an easy time of it. The book was partly inspired by a real-life incident in which a spurned woman had thrown herself underneath a train. Tolstoy had seen her mangled corpse. "Standing in a corner of the shed, he had observed every detail of the woman's body lying on the table, bloody and mutilated, with its skull crushed," Henri Troyat writes in his biography of Tolstoy. "How shameless, he thought, and yet how chaste. A dreadful lesson was brought home to him by that white, naked flesh, those dead breasts, those inert thighs that had felt and given pleasure. He tried to imagine the existence of this poor woman who had given all for love, only to meet with such a trite, ugly death."
Despite her chequered origins, actresses clamour to play Anna Karenina. Over the last century, there have been a dozen or more film adaptations of the book. Actresses from Greta Garbo and Vivien Leigh to Sophie Marceau as well as Knightley have appeared as the adulterous heroine on film. There have been TV versions too with Helen McCrory, Nicola Pagett and Claire Bloom all taking on the role.
Garbo played Anna twice, first in a 1927 silent movie called Love opposite her real-life lover John Gilbert. (The billing, predictably, read "Garbo and Gilbert in Love.") Then, at Garbo's own instigation, she reprised the role in Clarence Brown's lavish 1935 Anna Karenina, this time with Fredric March as Vronsky. Opinions are sharply divided about the film. Some see it as an exemplary vehicle for Garbo, showing off (as one critic put it), "that tragic, lonely and glamorous blend, which is the Garbo personality."
Others found it too stately and too bloodless. "Censorship would not permit warmth in the adultery," complained author David Thompson in his biography of the film's producer David O Selznick.
"You know that you and I are doomed to unimaginable despair or to bliss, unimaginable bliss," March's Vronsky tells Anna without a great deal of conviction as he gives her a half-hearted kiss. If there is little sense of sexual attraction between them, at least Basil Rathbone shows the raging jealousy and humiliation that her husband Karenin feels. Little Freddie Bartholomew is affecting too as her son Sergei, whom she is eventually prohibited from seeing. Garbo, meanwhile, looks at her most lambent as she suffers in a series of close-ups, adorned in the most extravagant costumes and hats that the MGM costume department could contrive. The film was a triumph for her if not for the Tolstoy novel that it skims through so superficially. The 800-page book is boiled down into 89 minutes of screen time, much of taken up with elaborate balls, feasts and scenes of the adulterous couple at the opera.
It's a moot point for some as to whether Tolstoy's intense and intricately detailed story lends itself to screen adaptation at all. Author David Thompson's observation, that "to judge by the movies of David Selznick, Rebecca must be a novel of more depth and intimacy than Anna Karenina", underlines a truism Hollywood is loath to accept. Great novels don't necessarily make great films.
Access unlimited streaming of movies and TV shows with Amazon Prime Video Sign up now for a 30-day free trial
Sign up
The lavish costume and production design that characterised the 1948 British-made version of Anna Karenina couldn't hide the lack of emotion at its core. The producer Alexander Korda recruited the biggest name collaborators available, among them designer Cecil Beaton, playwright Jean Anouilh and actress Vivien Leigh. There is a studied, detached quality about Leigh's Anna very different from her Scarlett O'Hara. Her performance is far subtler than that of Garbo's tragic heroine. She excels at showing Anna's restlessness and anxiety but she is also strangely aloof. "She wanted to show me the hard, driving nature of Anna's obsession," Kieron Moore (who played Vronsky) later commented of Leigh. It doesn't help that Ralph Richardson is in scene-stealing form as her cuckolded husband, cracking his fingers, peering through his pince-nez at Anna as she watches Vronsky in the horse race and becoming ever more pompous as his rage and jealousy grow.
A more pared-down but fiercer Anna Karenina was directed by Rudolph Cartier for the BBC in 1961 with Claire Bloom as the ill-starred heroine and Sean Connery as Count Vronsky. This was Connery in the year before he played James Bond for the first time. Speaking in that familiar Scottish burr, he brings a scowling intensity and a sense of danger to Vronsky that many of his predecessors in the role lacked, even if he does treat Anna in the same offhand way he would later behave toward Lois Maxwell's Moneypenny.
Bernard Rose's 1997 version of the film starred Sophie Marceau as Anna and Sean Bean, fresh from playing Mellors the gamekeeper in Lady Chatterley, as Vronsky. Unlike most of the other versions (excepting Soviet director Aleksandr Zarkhi's 1967 film starring Tatiana Samoilova) it was actually made in Russia. Yet again, critics complained about the lack of passion between the two leads. "A post-Soviet travelogue of pre-Soviet frippery," sneered The New York Times.
Now, the story of Anna and Vronsky is being told yet again, this time with a Tom Stoppard screenplay and the Atonement team of Keira Knightley and director Joe Wright. Aaron Taylor-Johnson, previously seen as John Lennon in Nowhere Boy, plays Vronsky. In spite of its stylised approach, the film doesn't prettify Anna's fate at all.
Given the storyline, no Anna Karenina will ever make a feel-good movie. When your leading character ends up crushed under a train – and everybody knows in advance that this is the fate awaiting her – you risk scaring off the romance fans. There is no sidestepping the themes of Tolstoy's novel either. It begins with the famous line about unhappy families being unhappy in their own way and proceeds to deal with infidelity, divorce, illness, social and sexual humiliation and, finally, suicide. If it's a love story, it is a viciously barbed one. Then again, it's obvious why so many actresses find the role of Anna irresistible. She's a full-blown tragic heroine, glamorous, sophisticated and doomed. She is not simply the object of desire but is allowed to express desire herself.
Almost 150 years after Tolstoy wrote his novel, she continues to divide opinion and resist easy categorisation. Tolstoy's own attitude toward her is still fiercely debated. No performance as Anna, not even one with the raw voltage that Knightley brings to the part, will ever be definitive. That is why whatever the response to the new film, it can safely be predicted that we won't have to wait too long until we see another Anna on screen.
'Anna Karenina' is released on 7 September
Join our new commenting forum
Join thought-provoking conversations, follow other Independent readers and see their replies