interview
Aubrey Plaza: 'I'm literally just trying to be normal. But I can't do it'
The Parks and Recreation star was 'a shell of a person' after filming her new film Black Bear. She tells Alexandra Pollard why she tends to gravitate towards suffering, despite a reputation for wackiness and sarcasm
Wednesday 21 April 2021 06:33 Comments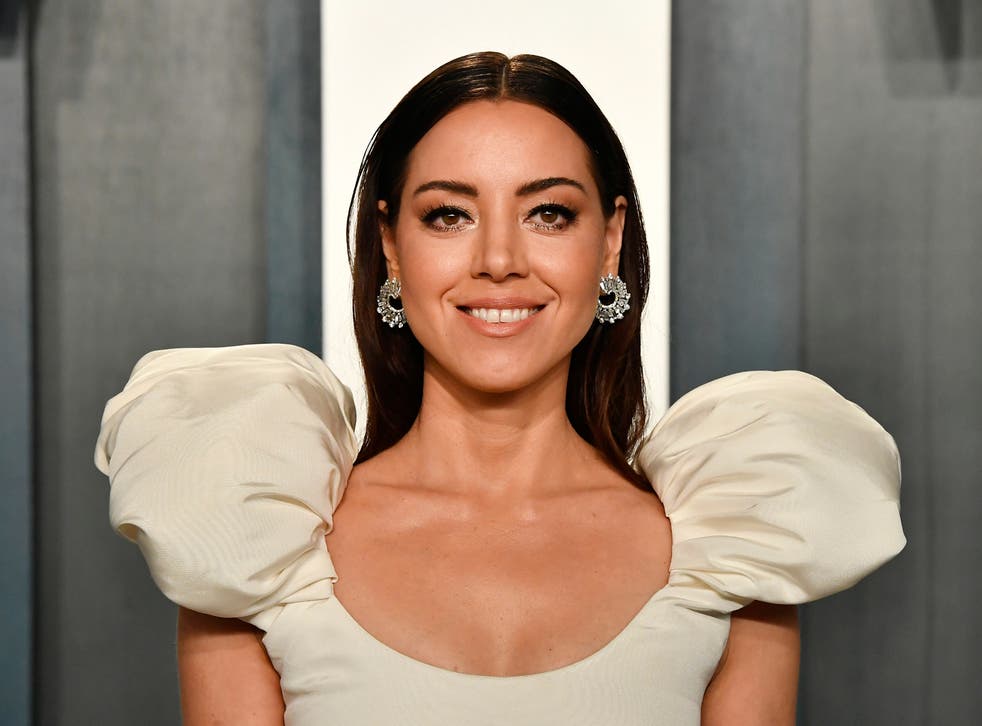 Aubrey Plaza knows people expect her to do "the Aubrey Plaza thing". Deadpan voice. Wide eyes. A mocking smile. All of it dripping with sarcasm. "It's a lifelong pickle that I've found myself in," says the star of Parks and Recreation over Zoom from her LA home. "I've had so many moments where I'll say something very sincerely and people will completely think that I'm taking the piss out of them."
I fall victim to that myself a few times. When Plaza blows her nose for a full 20 seconds at the start of our interview – "Don't listen to me! Oh my God that was gross" – I wonder if she's doing a bit. When a large vehicle starts loudly reversing outside her window and Plaza clutches her head and wails, "Why? Why is this happening?", I worry that she's genuinely having a breakdown. Even when she is serious and sincere – and she is for most of the conversation – it's hard not to feel the urge to laugh.
There are a few things to blame for that. We could point the finger at Parks and Recreation, the mockumentary sitcom in which she played misanthropic intern April Ludgate, a role written for her after the casting director told creator Mike Schur she'd just encountered "the weirdest girl I've ever met in my life". Or maybe the fault lies with Scott Pilgrim vs The World, the cult comic-book film where she played snarky mean girl Julie Powers. Or even the egregious Dirty Grandpa, in which she got the hots for Robert De Niro and invited him to "party some babies into us". To all those roles, she brought a sardonic charm and an unselfconsciousness that was almost unnerving – as if she was always on the cusp of doing something genuinely deranged.
Top 10 Unscripted Parks and Recreation Moments That Were Kept in the Show
And then there are those YouTube compilations. "Aubrey Plaza being legitimately crazy for 12 minutes" – 3.4 million views. "Aubrey Plaza has NO FILTER" – 8.5 million views. "Aubrey Plaza is really WEIRD and… AWKWARD. I love it!" – 17 million views. They mostly comprise talk show appearances, where she's making the middle-aged male hosts uncomfortable: pretending to be a cat and licking Stephen Colbert's face, or pointing out all the insect bites on her body, or responding to whether she's had a good summer with, "Yes, so many penises."
"I think it's hilarious that people know me from my talk show appearances and not my actual work," she says, in a voice that suggests she doesn't. "I just think that they're silly, and the format makes me uncomfortable on so many levels, so my way of dealing with it is to just play into that. But I think there is an element of me unconsciously giving people what they want. You're weird on talk shows and then people expect that again and then you get caught in this trap. It's funny because I'm very nervous before I go on. I don't have this elaborate performance ready; I'm literally just trying to be normal. But I can't do it."
It's just how she is. Born to a Puerto-Rican father and Irish mother and named after a soft-rock song by the band Bread, Plaza's always been the funniest person in the room – despite often acting like she's not in on her own joke. "I'm just always interested in the silliness and the weirdness and the uncanniness of life," explains the 36-year-old, whose style of comedy was recently likened to that of Bill Murray in an interview with The Telegraph. "I've always made a spectacle of myself in public. I've always humiliated myself in large groups of people."
Today, she's in a fairly empty spare room, dressed in a dark green jumper with big puffy sleeves. Her huge brown eyes, which on screen are usually either rolling into the back of her head or feigning innocence, are no less transfixing through a webcam. Hers is a face that lends itself to deadpan: even when it's completely expressionless, it is so full of life that you can read almost anything into it.
At high school, Plaza was always the one "wearing the costume, running around, getting everyone pepped up", she says. Her boyfriend at the time, actor and Broadway star John Gallagher Jr, later described her as "a female teenage small-town Andy Kaufman" – dry, surreal, utterly committed to the joke.
Lately, though, she has proven that this quality is versatile. She's starred in the brilliant social-media thriller Ingrid Goes West, the surprisingly inventive horror remake Child's Play, and the Christmas romcom Happiest Season (which we'll get to later). In the trippy Marvel series Legion, she goes for broke as the human persona of a disembodied mutant. All these roles asked for much more than eye-rolls and disdain.
Access unlimited streaming of movies and TV shows with Amazon Prime Video Sign up now for a 30-day free trial
Sign up
Now there's Black Bear. Set entirely in and around a remote lake house, the film begins as an indie mumblecore and then slams on the brakes, quite literally, and becomes a completely different film – a disquieting metatextual thriller that explores the blurred lines between performance and reality. In the first half, Plaza plays "a deconstruction of this persona that people project onto me", using her own reputation to wrongfoot the audience. In the second half, things get dark. Suddenly, she is an unstable actor being emotionally manipulated by her husband director (Christopher Abbott), who believes that pushing her to the edge will coax out a better performance. In between downing vodka, crying, and physically attacking her co-stars, she summons up the strength to shoot yet another take – no matter how distressing the process is.
"The film explores the idea of a director manipulating his actress for a performance, which does happen," says Plaza. "There's a romanticised history of mad genius male auteurs manipulating their actresses to get performances, and they're forgiven because of how talented they are and how brilliant the movies are. I hope those days are wearing thin because it's not necessary and it is complete bulls**t. There's no excuse for any kind of manipulation or abuse on set. That's just wrapped up in that director's ego."
If there's one central question at the heart of Black Bear, says Plaza, it's this: "At what cost do we make art and is it necessary to suffer for it?" Complicating things is the fact that Plaza's character believes, "in some kind of twisted way", that her suffering really is fuelling her performance. "It's so heartbreaking," says Plaza, "because I want to shake her and go, 'No, you don't need to suffer!' But it's this thing that has become normal. It's just a struggle that a lot of artists try and reckon with in their lives."
Is it something she's reckoned with? "Pffffff," she says. "I haven't… I mean I try…" She blows out more air. "I have a tendency to believe that the suffering is necessary," she admits, finally. "I have a hard time navigating the toxicity of those relationships when you're making art because I get very wrapped up in the mentality of, 'Whatever happens happens, as long as the movie's good.' And that's on me. I don't know where that's come from. At the end of the day, when I'm old and dying, none of this is gonna matter…" She stops herself again. "I don't have the answer. I think it's something I struggle with."
There is an irony and an inevitability, then, to the fact that Plaza suffered so much making a film about suffering for your art; that her character's nihilism spilled over into real life.  "I knew that if I decided to do this, that I was really gonna dive off the deep end," she says. It was almost entirely night shoots, and having to pretend to be catastrophically drunk, crying, and hurling herself at walls (and people) for days on end took a toll. "I knew there were things about this process that were going to be chaotic and hard and that there was going to be a certain amount of suffering involved. And I was totally right. It was probably worse than I thought. This movie more than any movie that I've done just left me kind of…" She takes a deep breath. "Depleted. I was just a shell of a person. But because I gravitate towards messy, gnarly, complicated, scary situations, it was just too much for me to pass up. I had to do it. I would never do it again. I'm not in a place in my life right now where I would wanna put myself in that position, but for some reason that summer I was like" – she does a cartoon click-and-point at the camera – "'I'm going in!'"
Six months later, Plaza was back on a film set shooting Happiest Season – an altogether less traumatic experience. The first major-studio Christmas romcom to centre a same-sex couple, it was a coming-out caper with moments of real emotional darkness. Kristen Stewart played Abby, a young woman who only finds out that her girlfriend Harper (Mackenzie Davis) is not out to her parents when she arrives to spend Christmas with the family. Plaza played Harper's high-school girlfriend Riley.
"A movie like this should have come out so long ago," says Plaza, who is in a relationship with the director Jeff Baena and has said in the past that she "falls in love with men and women". "Not to toot my own horn but I was calling my agency years ago and going, 'You know, what you should do is take a romcom script and just… make it two women. Don't make it about them being gay or coming out or anything, just a love story with two women.'" And what was the response? "It was ridiculous. It was, 'Haha, arghhh, I don't know!' Literally someone said to me, 'Well, imagine the poster and how confusing it would be for people.' And I would be like, 'Are you out of your f***ing mind?' Can you believe? It's wild. It is wild how completely ignorant this industry has been." Well done for trying, I say. "I wish I'd tried harder... But yeah, it is so about time for those stories to be told in a mainstream way."
For that reason, there was a lot riding on Happiest Season. Some people loved it. Others, troubled by a central relationship they saw as toxic, hated it. Almost everyone was rooting for Abby to leave Harper for Riley. Plaza smiles. "When Clea [DuVall, the director] asked me to do the film, I remember saying to her, 'Look, if I do this, I am going to come for Abby. I'm coming for her. The audience is gonna want me to be with her at the end, and that's what I'm gonna want. So just as long as you know that...' And she was kind of like, 'Yeah yeah yeah.' But then I couldn't believe the response when it was over. I was like, 'Oh my God, it's exactly what I said, but… crazier.'" It's a testament to Plaza's charm, I suppose. "Look, at the end of the day, you just can't deny me and Kristen's chemistry," she says, holding up her hands. "You just can't."
Naturally, next up is a Guy Ritchie action comedy. Plaza loved working on the film – not that anyone believed her. "I said to the writer halfway through the shoot, 'I love Jason Statham, I think he is the sweetest guy. I really like working with him.' And the writer went, 'Ha, well, I'm assuming you mean the opposite.' No! I was being sincere! He just thought I was joking." She's clearly not quite out of that Aubrey Plaza pickle yet.
Black Bear is released on digital on 23 April
Register for free to continue reading
Registration is a free and easy way to support our truly independent journalism
By registering, you will also enjoy limited access to Premium articles, exclusive newsletters, commenting, and virtual events with our leading journalists
Already have an account? sign in
Register for free to continue reading
Registration is a free and easy way to support our truly independent journalism
By registering, you will also enjoy limited access to Premium articles, exclusive newsletters, commenting, and virtual events with our leading journalists
Already have an account? sign in
Join our new commenting forum
Join thought-provoking conversations, follow other Independent readers and see their replies