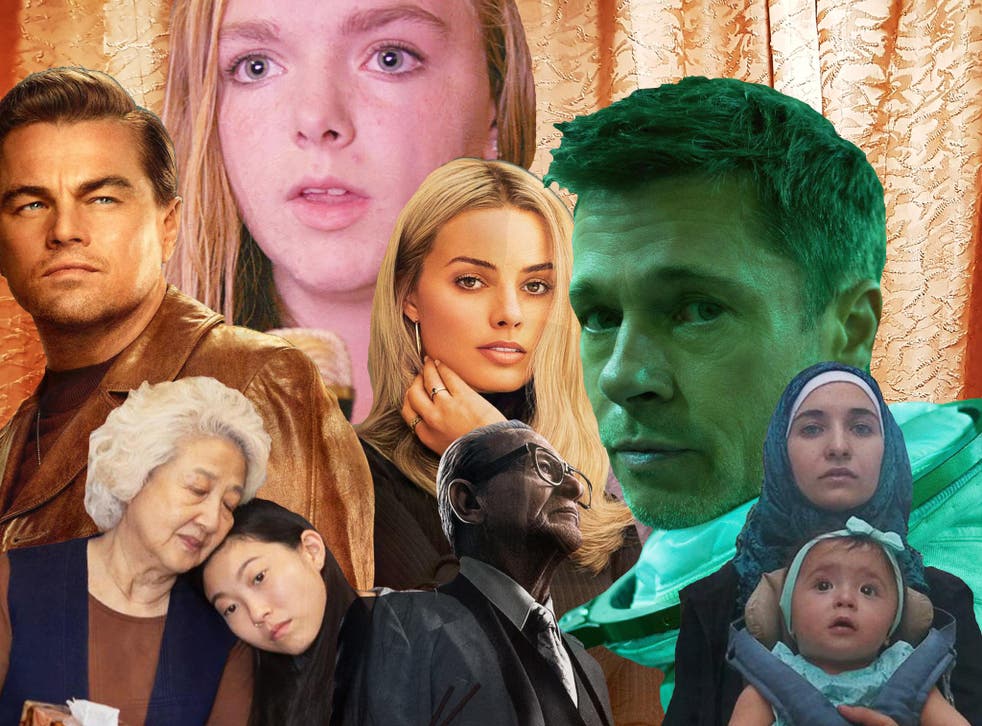 This was the year Adam Driver punched a wall. We fell in love with Chris Evans' knitted jumper, realised Jennifer Lopez was always brilliant, and didn't see The Goldfinch. Ted Bundy was too sexy, Anna Paquin was too quiet, and Gwyneth Paltrow had no idea what films she was in. Depending on their proximity to a specific set of concrete steps walked down by Joaquin Phoenix, residents of the Bronx grew enraged by swarms of annoying tourists and fanboys. Cats destroyed all of our brains.
The movies of 2019 brought the decade to a close with an abundance of high art and lowly trash – appropriate considering the world surrounding them. There were films that hurt us and healed us, films that were daring and dangerous, or richly, warmly safe.
Many were trailed by exhausting levels of discourse, the default response for anything big and widely seen in the Twitter age, whiny viral tweets morphing the likes of Captain Marvel, The Irishman and Booksmart into exhausting referendums on race, gender and the state of the industry. It was often a drag.
If anything, though, it was Cats that ended up serving as a joyful respite from it all. Cats was the movie that rescued us from more arguments about Star Wars and united us all in abject horror. Rather than fight one another, we were instead collectively appalled, our mouths agape at Rebel Wilson's fur-lined flexibility, or Jason Derulo's digitally erased bulge. It was hopefully a sign of things to come, and an indication that we can do better.
To commemorate the year that was, we've banged our heads together to produce the definitive list of the year's 20 best films based on UK release dates.
The best films of 2019

Show all 20
20. Minding the Gap
One of the year's biggest cinematic curveballs occurs at the midway point of this stirring documentary. Billed as a film about small-town US skate culture, Bing Liu's Minding the Gap grows into a haunting depiction of class and masculinity, and how once inseparable groups of friends tend to untangle and diverge as they come of age. Few of 2019's films cast quite as long a shadow. (Adam White)
19. The Farewell
The Farewell rips your heart out of your chest. Then it hands it back to you, wrapped gently in cotton wool. Director Lulu Wang loosely adapts a chapter in her own life, as we follow a young woman (Awkwafina) travelling back to China to say goodbye to her terminally ill grandmother. Delving into all the intricacies of immigrant identity and family politics, it's a comedy of warmth and bracing honesty. (Clarisse Loughrey)
18. Us
An opportunity for Jordan Peele to cement his status as one of horror's modern maestros, Us reels us in with old-fashioned thrills. Then it leaves us with the terrible dread of realising we've been looking into a mirror this whole time. Lupita Nyong'o delivers two of this year's best performances in one film, both as our hero and as her sinister doppelgänger – one of an army of "Tethereds" that emerge from underground seeking vengeance. (CL)
17. Pain & Glory
All of Pedro Almodóvar's films feel autobiographical in one way or another, but Pain & Glory couldn't be more lived-in if he stepped in front of the camera to introduce every scene. A lushly romantic ode to cinema, shared history and cruelly interrupted love, it features a career-best performance from Antonio Banderas – Zorro himself at his most tender and vulnerable.​ (AW)
Access unlimited streaming of movies and TV shows with Amazon Prime Video Sign up now for a 30-day free trial
Sign up
16. Vox Lux
Vox Lux is 2019's most damning filmic portrait of American culture. We begin with a teenage girl (Raffey Cassidy), who survives a school shooting and ends up a pop star. As an adult, she's played by a breezy, vicious Natalie Portman. Her strut is one part Sia, two parts Lady Gaga. It's an ugly, despairing film that comes gift-wrapped in sequins, presenting art as the cavernous pit we throw our traumas into. (CL)
15. Under the Silver Lake
A paranoid puzzle box of a mystery, Under the Silver Lake is far more interested in the directions down the rabbit hole than allowing star Andrew Garfield to crawl his way out of it. That's also the most pleasurable aspect of David Robert Mitchell's film, a sunny LA noir, which is sinister, hilarious and (potentially ruinously) male. It's probably 2019's most polarising film, adored and reviled in equal measure, but undeniably a work of striking creative autonomy.​ (AW)
14. High Life
High Life has its silly sub-Barbarella moments (Juliette Binoche testing out the spaceship's very own orgasmatron machine) and clearly wasn't made on a Hollywood budget. Nonetheless, veteran French auteur Claire Denis's first English language film is a typically provocative and subversive affair. Binoche plays Dr Dibs, a scientist on board a ship full of criminals, including a shaven-headed Robert Pattinson, who tries to harvest healthy foetuses. (Geoffrey Macnab)
13. Ad Astra
Ad Astra is a space movie with an Oedipal undertow. Brad Pitt gives a fine, understated performance as the introspective astronaut trying to save the world and find his father at the same time. Writer-director James Gray throws in references to Heart of Darkness and Apocalypse Now. This is a slow-moving but beguiling film with an unexpected emotional kick. (GM)
12. Happy as Lazzaro
A bee keeper's daughter, Italian director Alice Rohrwacher is one of European cinema's visionary young talents. Happy as Lazzaro, her best film yet, is a magical realist fable that combines hard-hitting social comment about the exploitation of rural workers with flights of astonishing lyricism. The film also has one of the best performances of the year from newcomer Adriano Tardiolo, an 18-year-old economics student who plays the holy innocent, Lazzaro, with an ingenuousness that rekindles memories of Peter Sellers in Being There. (GM)
11. Burning
Based on a Haruki Murakami's short story, Burning – from South Korean maestro Lee Chang-dong – is a meditation on dealing with isolation and the tricks being alone might play on your memory. Jong-su (Ah-in Yoo) is forced to play detective when Steven Yeun's affluent bachelor rolls into town – an event that coincides with the disappearance of a schoolfriend. Burning is a searing drama whose central unanswered mystery unnerves long after the credits role. (Jacob Stolworthy)
10. For Sama
News coverage has hardly been short of harrowing, violent footage of the Syrian Civil War. But too often missing are the human moments in between the bombings and the bloodshed. In Waad Al-Kateab's first person account of the uprising's aftermath, her camera's gaze never flinches from the horrors it sees – as she and her husband try to maintain a rebel hospital amid a reign of bombing from President al-Assad – but nor does it stop rolling while she falls in love, has a baby, and jokes around with her friends and neighbours. This is the story of ordinary people doing extraordinary things. It is an important, powerful, astonishing documentary. (Alexandra Pollard)
9. Can You Ever Forgive Me?
It feels almost blasphemous to be glad of Julianne Moore stepping down from a role, but Lee Israel – the cantankerous, lonely literary forger who found herself the target of an FBI investigation in the Nineties – feels like a part Melissa McCarthy was born to play. Nimbly directed by Marielle Heller (who was shunned by the Oscars in the Best Director category), Can You Ever Forgive Me? is a sharp, funny and deeply compassionate examination of loneliness and self-destruction. Richard E Grant and Dolly Wells give wonderful supporting performances, too. (AP)
8. Booksmart
Booksmart official trailer
As deeply indebted to the teen movie genre as it is formally and narratively rebellious, Booksmart grounds its traditional night-before-graduation plot (teenagers eager to crash a party) in touching character-driven drama. Beanie Feldstein and Kaitlyn Dever, both instant stars, convey the ever-shifting dynamics and heightened dramas of adolescent best-friendship perfectly. Behind the camera, meanwhile, actor-turned-director Olivia Wilde demonstrates a staggering amount of emotional empathy and technical mastery for someone so green.​ (AW)
7. The Irishman
Comparisons to Martin Scorsese's previous films (Goodfellas, Casino) are unfounded considering The Irishman is unlike any other gangster film you'll see. With his three-hour-30-minute-long opus, Scorsese places the harsh spotlight on mortality. Instead of tracking the rise of Frank Sheeran (Robert De Niro) from regular family man to seasoned hitman with glitzy panache, we see him shamefully confess his crimes as an elderly man ruminating on his past in a nursing home. The result is an unsettlingly moving character study unafraid to ask the big questions.​ (JS)
6. Once Upon a Time in Hollywood
With his ninth feature, Quentin Tarantino took a breath and crafted an unhurried, oddly heartwarming fable, one that came with a career-best performance from Brad Pitt. Its release rolled around with the usual smattering of discourse-steering controversy but, for all the complaints about the director's depiction of his film star subjects, including the scant usage of Margot Robbie as Sharon Tate, the fact remains that Once Upon a Time in Hollywood is one of the filmmaker's most accomplished films – a free'n'easy sun-soaked delve into Sixties Hollywood, whose much-discussed final 20 minutes provided topics of conversation all summer long. (JS)
5. Eighth Grade
For too many years the internet was exclusively evil in movies, something for tech boffins to hack, or used to steal Sandra Bullock's identity. Bo Burnham's Eighth Grade felt so comparatively real because it felt like the real internet, which has been as toxic and terrifying as it has been helpful to a generation of young people. Elsie Fisher, as a 13-year-old girl chronicling her confidence and anxieties in a vlog, is an adorable delight here, in a film that is devastatingly, heartbreakingly and endearingly human.​ (AW)
4. The Favourite
Yorgos Lanthimos's delightful, subversive vision has shaken the cobwebs out of costume drama. Set in the 18th century, The Favourite follows a trio of women – two cousins, Sarah (Rachel Weisz) and Abigail (Emma Stone), and the ruling Queen Anne (Olivia Colman) – as they vie for power over each other and England. Desire, savagery, and manipulative vulnerability all become weapons in the hands of those who have no choice but to fight dirty. But, then, Colman's childless, gout-ridden Queen Anne tenderly reveals her shattered soul – it's an Academy Award-winning performance that brings a slice of tragedy to an otherwise sublime farce. (CL)
3. If Beale Street Could Talk
The marriage of disparate talents united to ensure If Beale Street Could Talk is worthy of mention alongside Barry Jenkins' previous film, Moonlight – The Independent's film of the decade. With his film, Jenkins takes the words of James Baldwin and translates them into visual poetry. From Nicholas Britell's mesmerising score to Regina King's towering supporting performance (that Oscar was well deserved), the result is a creative tour de force. ​(JS)
2. Marriage Story
Here is a love story about divorce. Noah Baumbach writes and directs this aching, empathetic depiction of a couple whose marriage has fallen apart. As ruthless divorce lawyers driving a wedge between two people already hanging by a thread, Ray Liotta and Laura Dern are magnificent, while Scarlett Johansson gives her best performance in years as a woman trying to do the right thing without knowing what that is. But the real star is Adam Driver, who – hulking as he is – makes himself seem small and fragile. For his rendition of Sondheim's "Being Alive" alone, Marriage Story deserves all the awards coming its way. (AP)
1. Little Women
Greta Gerwig's adaptation of Louisa May Alcott's 1868 novel – the story of four Massachusetts sisters coming of age during the American Civil War – may be a period piece, but there is nothing staid or stuffy about it. The girls, played by Saoirse Ronan, Florence Pugh, Emma Watson and Eliza Scanlen, talk and clamber over one another, their hair messy, their dresses scorched, their ambitions unfettered. It is a lively, profound adaptation. Alexandre Desplat provides the exuberant score, and Yorick La Saux's cinematography is lush and textured. "I didn't want it to be beautiful at the expense of being real," said Gerwig. "But I did want it to feel like you wish you can jump inside and live in there or eat it. I remember trying to explain that to the gaffer, who was like, 'You want what?' I was like, 'I want them to want to eat it.'" And how delicious it is.
The film has been largely ignored in the awards race so far – according to producer Amy Pascal, that's because male voters are failing to show up to screenings. "I don't know what the hell it is," said Tracy Letts, who plays Jo's reluctant book editor Mr Dashwood. "But please tell me it's not because it's a movie about women." Certainly, this is an intrinsically female work of art – and all the better for it – but that it was unanimously voted our film of the year demonstrates its ability to touch just about any human heart.​ (AP)
Register for free to continue reading
Registration is a free and easy way to support our truly independent journalism
By registering, you will also enjoy limited access to Premium articles, exclusive newsletters, commenting, and virtual events with our leading journalists
Already have an account? sign in
Register for free to continue reading
Registration is a free and easy way to support our truly independent journalism
By registering, you will also enjoy limited access to Premium articles, exclusive newsletters, commenting, and virtual events with our leading journalists
Already have an account? sign in
Join our new commenting forum
Join thought-provoking conversations, follow other Independent readers and see their replies