The Saturday Interview
The Irishman: Robert De Niro, Al Pacino and Stephen Graham – 'Trump could start a war to get a third term'
The stars of Martin Scorsese's new mafia epic talk to Jacob Stolworthy about de-ageing, a potential Oscars' battle, and those 'Heat' prequel rumours, as De Niro denounces the president
Wednesday 27 November 2019 13:38 Comments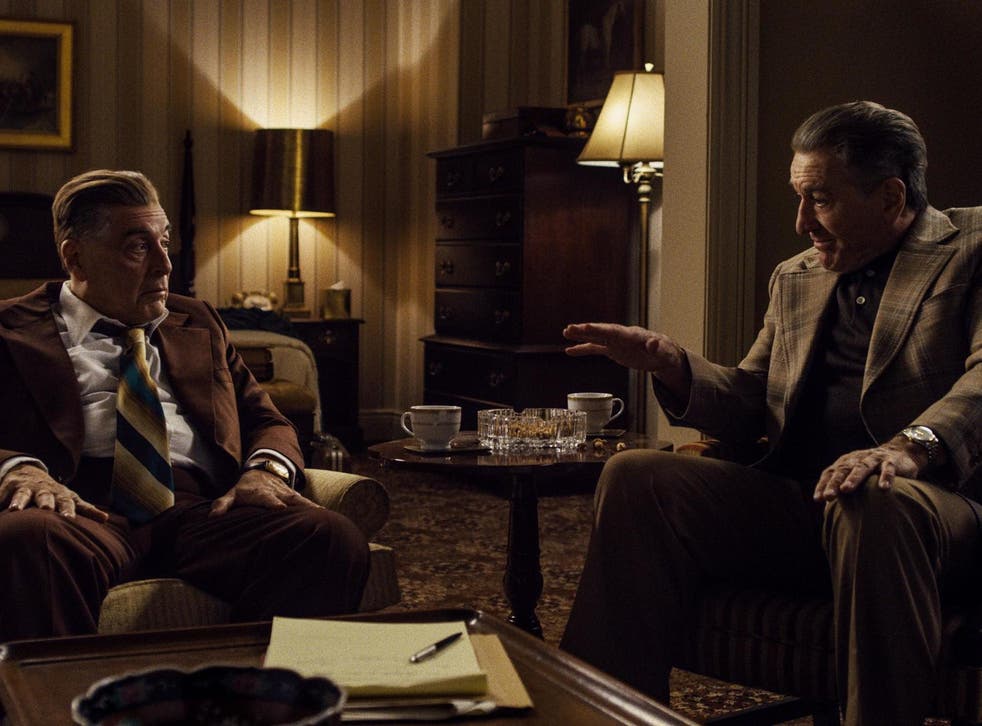 Hours before Stephen Graham was due to shoot his first scene with Robert De Niro and Al Pacino on Martin Scorsese's The Irishman, he phoned his wife for a pep talk.
"I called the missus and said, 'I don't know if I can do this. My bottle's gone,'" says the British actor, last seen in Channel 4's The Virtues, but already a veteran of Scorsese's Gangs of New York and Boardwalk Empire. "She went, 'Shut up and listen: you've earned the right to be there and you know what you're doing. Plus, Martin Scorsese has asked you back for the third time, so he must see something in you.' But my arse went."
It's easy to understand why. Netflix's The Irishman is a special kind of picture, uniting De Niro and Pacino in a Scorsese film for the first time. They've acted together before, of course, in Michael Mann's epic crime drama Heat, and were both in The Godfather Part II, though in different time frames of the story. The Irishman is De Niro's ninth collaboration with Scorsese, but Pacino's first. The lure of the director also enticed the famously enigmatic Joe Pesci out of semi-retirement. Even Harvey Keitel's thrown in for good measure. For Graham, who was born the year Marty and Bob first teamed up (Mean Streets in 1973), starring alongside these actors under this director was an experience that required a few self-inflicted pinches.
This was no doubt heightened by the seeming possibility that The Irishman would become nothing more than another of cinema's doomed projects. In fact, the film would never have been made without the advent of streaming. In 2013, Scorsese amassed takings of $392m for The Wolf of Wall Street, but three years later, proved his box office fallibility with historical drama Silence, which failed to recoup even half of its $50m budget. Paramount Pictures, hesitant to throw money at what bosses now considered a gamble, dropped out and Netflix, eyeing an open goal, swooped in.
The Irishman would ultimately cost $160m – three times more than Silence.
Staggeringly, the film's journey to screen started more than a decade ago. De Niro, who had signed on to play an ageing hitman in a planned Scorsese adaptation of Don Winslow's 2006 novel The Winter of Frankie Machine, read Charles Brandt's book I Heard You Paint Houses – published two years earlier – in preparation. What he discovered was a mob drama with a morbid twist: an apparently true confession told to Brandt by former Delaware Teamsters' union official and violent convicted criminal Frank "The Irishman" Sheeran. He claimed to have been a mafia hitman, personally responsible for some of the most infamous mob assassinations in American history, and an indirect participant in other historic events – delivering guns for use in the failed US invasion of Cuba and possibly the weapon used to kill President John F Kennedy.
Sheeran's story is told in flashback by Scorsese, as he confesses to the crimes he committed for former Teamsters' president Jimmy Hoffa (Pacino), and for mafia godfather Russell Bufalino (Pesci), while ruminating on his past in a nursing home. Think Goodfellas narrated by Ray Liotta's Henry Hill on his deathbed.
"I had to read the book for research," De Niro says, "and about a week or two later, I tell Marty, 'You gotta read it,' and he agreed this is what we should be doing. Naively, though we really knew it couldn't happen, we thought we could meld the two somehow. We tried to convince Paramount, but they were just two different beings. So, then Steve Zaillian came in [to write the script], and we had to wait for Marty to finish Hugo, and then Silence."
Years came and went, each one intensifying a glaring issue: the actors getting older. Scorsese was adamant from the off that his stars be able to play their characters at each stage of their lives (the story spans four decades) and felt the de-ageing technology required to do the job justice was just around the corner. The process may have been a new experience for the actors – while they haven't spoken out against Scorsese's disdain for Marvel films, they're yet to star in one – but, the "youthification" tech certainly had a fan in Al Pacino.
"Not for me," he replies when asked if the process was challenging. "It's odd because, when you're making a film, it's all about accepting whatever's going on. You'll do anything for the context of the film, whether you put a bonnet on or whatever. We had little dots on us, which I got to like after a while. Putting them on became a form of preparation. It was my makeup." De Niro calls the process "uncomplicated", adding: "They said, 'Be yourself, act yourself and we'll de-age you.' We didn't have to do anything."
Access unlimited streaming of movies and TV shows with Amazon Prime Video Sign up now for a 30-day free trial
Sign up
I ask if the pair would consider reprising their roles in an adaptation of the literary prequel to Heat that Mann is currently writing. (Pacino played relentless cop Vincent Hanna and De Niro the criminal mastermind Neil McCauley in the 1995 film.) Both smile at the prospect.
"You never know," De Niro says. Pacino – who turns 80 in April – is particularly excited by the idea: "You mean we can be even younger in the future? That I would do, for sure."
For many, The Irishman is Scorsese's return to what he does best: gangster epics. It's a film that feels separated from his Nineties classics Goodfellas (1990) and Casino (1995) by nothing but time. In The Independent's five-star review, critic Clarisse Loughrey describes it as a "throwback to the director's golden age" – and yet, the result is something Scorsese, De Niro and Pacino could have only made at this stage of their respective lives. The Irishman is not just about the vicissitudes of friendship – it's a meditation on ageing and death that stays with the viewer long after the closing credits. I wonder if De Niro, now 76, thought about his own mortality while filming the scenes in which he plays Sheeran in his twilight years, a wheelchair-bound nursing home resident?
"How could I not think about it? Any person who has any kind of awareness of themselves and their situation would."
It's perhaps this melancholic theme that separates The Irishman from classic films of the past, such as Pacino's The Godfather (1972), Serpico (1973) and Dog Day Afternoon (1975). The actor admits to watching recent releases and struggling to see any residual influence of these films. De Niro, though, feels the similarity comes from its depiction of violence – something he believes is depressingly prescient because of the US president, whom he believes is leading America towards war. In the past, the actor has been extremely vocal of his dislike for Donald Trump and today, he doesn't disappoint.
"Trump cares only about one thing: he wants to be the boss," De Niro says. "He will be the boss no matter what it takes. If he did win the next election, there's definitely more chance of him allowing us to get into a war, and if you're a president in a war, it's more likely a chance you would stay for a third term. Imagine him in a third term."
De Niro continues: "I'm so used to seeing different types of people from different cities and communities living together. That's the norm. When people start being divisive and pointing out the differences like there's something wrong with them – inferring that something should be done about it – that's the danger."
Pacino remains quiet on the subject of politics, permitting his co-star's tirade to run its course. Otherwise, he's the livelier of the two, jumping on questions about the past and taking time to deliver reflective answers, whether talking about the Seventies ("I don't remember them for a lot of reasons," he quips) or working with This Is England actor Graham, who plays Genovese crime family member Anthony Provenzano – "Tony Pro". Pacino is clearly someone who doesn't like photo albums to gather dust. The Irishman's press tour, he says, has made him nostalgic about his working relationship – and indeed friendship – with De Niro.
"I'm not sure if people know this, but Bob and I met when we were young actors in the Sixties and, throughout these years, we've come to know each other very well. At particular times in our lives, things were happening that were relatively unexpected, so we found ourselves getting together and sharing it. We found some comfort in that." He doesn't elaborate.
The actors who've won the most Oscars

Show all 44
How does he feel about a potential Oscars battle at the 2020 ceremony?
"A different category!" he shouts, his unmistakable Pacino rasp cutting through the air. "That would help us there." (Despite having a combined 15 nods to their name – including three wins – the pair have never been nominated for the same award.)
It would be recognition for Graham alongside these actors who inspired him that would go down most sweetly, though. His standout scene as Provenzano sees him enter a war of words with Pacino's volatile Hoffa after showing up 15 minutes late for a meeting. "I never waited for anyone who was late more than 10 minutes in my life," Hoffa growls, to which Graham, as Provenzano, replies: "I'd say 15 – you have to take traffic into account." "That's what I'm doing," Hoffa fires back. "I'm taking traffic into account – that's why it's 10." The interaction, which plays like a gangster version of Curb Your Enthusiasm, was mostly improvised.
Robert De Niro, Al Pacino and Joe Pesci star in The Irishman - clip
"In my head the whole time, I'm thinking: 'I'm in a scene with Robert De Niro, and he hasn't said a word,'" Graham recalls. "At one point, I just went [motioning to an imaginary De Niro], 'What do you think?' and he goes: 'How about 12 and a half minutes?' – and it's the best line! I was laughing so much inside."
He says the fear he felt about working with his screen heroes melted away after nailing this particular scene.
"I've worked with the odd idiot, which makes things difficult, but as huge iconic figures as Al and Bob are, the men I experienced as actors had no egos."
The Irishman is available to watch on Netflix now
Register for free to continue reading
Registration is a free and easy way to support our truly independent journalism
By registering, you will also enjoy limited access to Premium articles, exclusive newsletters, commenting, and virtual events with our leading journalists
Already have an account? sign in
Join our new commenting forum
Join thought-provoking conversations, follow other Independent readers and see their replies