Bryce Dallas Howard interview: 'Pete's Dragon' star on growing up with a famous dad and why she won't do 'dark' films
The actress, also known for Black Mirror and Jurassic World, talks to Gill Pringle about life as Ron Howard's daughter and why she'll always bring her children onto film sets
Gill Pringle
Thursday 04 August 2016 14:19 Comments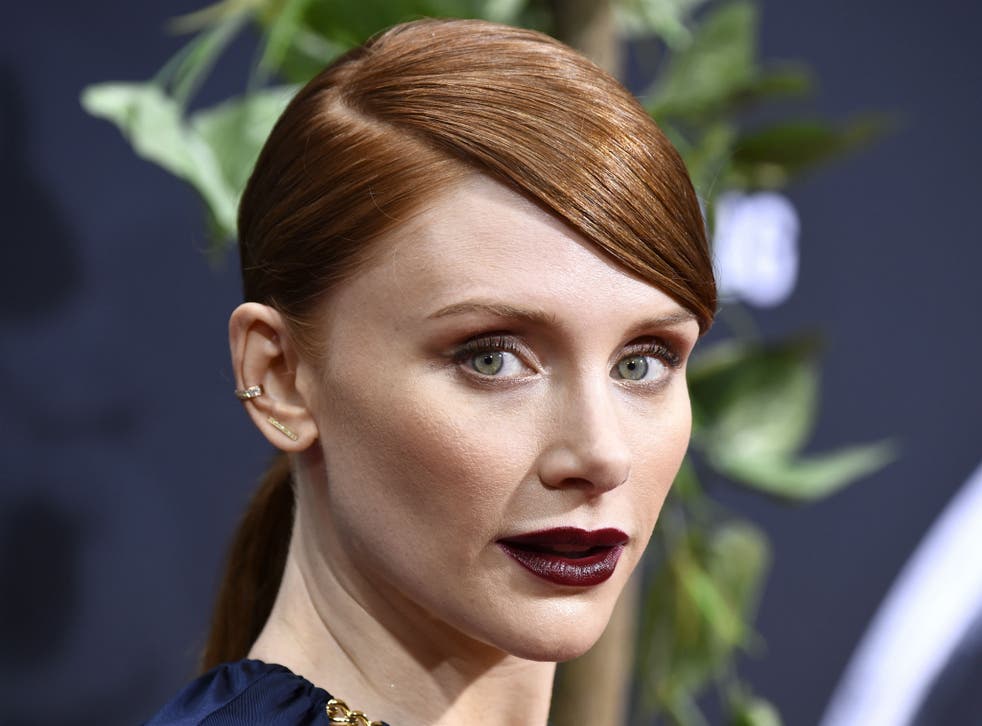 Jennifer Aniston, Kate Hudson and Angelina Jolie regularly grace the covers of glossy magazines around the globe. Yet, arguably, none of those actresses have appeared in as many high-grossing movies as Bryce Dallas Howard.
As the daughter of celebrated filmmaker Ron Howard, she has preferred to shy away from the spotlight, but one cannot attribute her success to nepotism unless you include her teenaged blink-and-you-miss-it unaccredited appearances in her father's movies; Apollo 13, A Beautiful Mind and How The Grinch Stole Christmas.
As a drama student at New York University, she even rejected her famous family name, dropping the "Howard" and enrolling as Bryce Dallas.
At 23-years-old, she made her break-out film debut in M Night Shyamalan's creepy mystery The Village, before landing her first role in a major movie franchise, starring as Spider-Man's love interest Gwen Stacey in Spider-Man 3. Further blockbuster franchises followed with roles in The Twilight Saga and Terminator Salvation, while also delivering an outstanding performance as The Help's hateful housewife Hilly Holbrook, recipient of the infamous poo pie.
Last year she appeared one of 2015's biggest-grossing movies, Jurassic World, and is preparing to reprise her role next year in an as-yet-untitled sequal.
"But when I first set out as an actor, I didn't want anyone to know who I was so I used the name Bryce Dallas until I realised it sounded a little like a porn star," laughs the 35-year-old actress when we meet in Las Vegas earlier this year, after she was anointed with an award for Excellence in Acting at CinemaCon.
"But then my parents had a talk with me and they were like, 'Just so we're clear. Are you ashamed?' and I was like 'Whoa', because that's the action of someone who is ashamed, when you drop your family name. And I told them, 'Oh no. I'm so proud of my family, so proud'."
Compelled to add the "Howard" back into her name, today she reflects, "Through the years, the only thing that gave me confidence is when the fears and insecurities have been crowded out by evidence that maybe I would still work regardless of my father.
"And I hate to say this, but I haven't worked with my father; he's never hired me for anything, so I don't feel like my first thing in coming out was due to him," reflects Howard. "My dad was shocked when M Night Shyamalan hired me for The Village. He was like 'What?!'"
Access unlimited streaming of movies and TV shows with Amazon Prime Video Sign up now for a 30-day free trial
Sign up
Despite her box-office success, the red-head has preferred solid work over flitting celebrity. "I'm hardly ever recognised at the grocery store," says Howard, who rarely ventures into a night club.
Set to feature in the British TV series Black Mirror, previously on Channel 4 but now exclusive to Netflix, she portrays a no-nonsense park ranger in her latest movie role in Disney's Pete's Dragon, first popularised as a 1977 animated family movie.
"I was brought up on Disney and loved the original animated version. I'm exactly the age that is the sweet spot for that film. What drew me most was the story and these children. I'm extremely protective of my own children and what I let them watch and, when I was reading it, I felt absolutely transported and my heart was moved and felt this was something I would be so proud to be a part of because I feel it's a wonderful story for children," says the actress who wed her college sweetheart, actor Seth Gabel, 10 years ago, with whom she has a nine-year-old son, Theo, and four-year-old daughter Beatrice.
"I can only speak to my own family, because you just never know of other kind of situations, but I think it's interesting because my kids definitely have an expansive imagination. We are overly attentive in ensuring that they don't get addicted to media, and they don't just only play video games; that there's still that sense of excitement to be outside, to spend time alone, to pretend. As adults, we are spending less and less time in that kind of situation, and as a result our kids are as well."
Pete's Dragon - Trailer 2

Struggling with postpartum depression after the birth of her son, she gave a public voice to other mothers battling depression. It is perhaps for that reason, she says today, that she prefers to avoid working in darker genres.
"For me, there always needs to be something positive at the end. I love all genres but the only ones that turn me off are those really dark films about miserable people living miserable lives in a miserable town in the USA. I would just feel sad during the whole movie. But if I think there's something redeeming or inspiring, or something that resonates on a deeper level – then I'll do it, no matter what the genre is."
I suggest that Black Mirror may well fit into that darker category, and she smiles, "[Director] Joe Wright began by telling me it was a drama but I argued, 'It's a comedy!' It was so awesome."
If she refuses to follow in her father's footsteps, then already she has begun making baby steps in that direction, directing several short movies. Certainly, she is open to working with her father in the future. "I recently had a chat with him and I said, 'You're a man of your age and I'm a woman of my age. The clock is ticking! Let's do this while we still have a lot of energy'.
"I pointed out to him that the average time it takes to develop something and for it to come to fruition in Hollywood is seven years. Those are the stats I threw at him so we'll see what comes of that."
Conceived in Dallas, Texas – hence her middle name – and born in Los Angeles, she is the eldest of four children born to former Happy Days star Ron Howard and writer Cheryl Alley. Determined to raise sensible children, her parents relocated to a farm in Greenwich, Connecticut, when she was five-years-old, encouraging her to play outside instead of watching TV – a move she today applauds although she's happy to raise her own growing family in Los Angeles.
Reflecting on what must have been a very difficult decision for her parents, she says. "Looking back, I can see how there are challenges for any working parent. My mom was a stay-at-home mom and that was really challenging too. I think it's hard to be a parent and it's complicated and there are a lot of difficult decisions that you make for your child and for yourself and for your family.
"Only now as an adult can I appreciate how courageous it was for my parents to move because they didn't know anybody there [in Connecticut], and also for my dad's career it must have been hard being away from LA. But we were always on movie sets. We were never apart. I was sheltered from the industry lifestyle but not from the experience of the set."
Together with her husband, she takes every experience as it comes. "We handle each job differently. Our kids go to an international school, and so they went to a version of this school when my husband was working in Vancouver, and another version of this school in Hawaii, New Orleans and New Zealand, and the curriculum is the same.
"So the kids come with us and go to school in that area, and there's an army of exceptional women who are, like, we're like sister wives, that's what we say! We just pack up and travel the world together, and it's really very cool."
Filming Pete's Dragon in New Zealand for six months, she says, "I realised this would be a wonderful experience for us as a family to share, and they went to school in New Zealand and we lived in a tiny house, all of us on top of each other. It reminded me of the experience I had with my dad, when we went to Dingle, Ireland, with all four kids sleeping in one bed. And there were sheep at our window, in the morning, waking us up, and we would open the window and be like 'Hi'!"
Taking her children to the Pete's Dragon set every day, she says, "There's nothing happening that I wouldn't feel comfortable for them to see. So I think they have a lot of wonderful memories and, having been a kid in that same situation, I know that's something that will last forever."
Pete's Dragon is released on 12 August
Register for free to continue reading
Registration is a free and easy way to support our truly independent journalism
By registering, you will also enjoy limited access to Premium articles, exclusive newsletters, commenting, and virtual events with our leading journalists
Already have an account? sign in
Join our new commenting forum
Join thought-provoking conversations, follow other Independent readers and see their replies