Chris Pratt: From Parks and Recreation to Guardians of the Galaxy
He was homeless in Hawaii when he got his big break. Now the comic actor Chris Pratt is embarking on another phase – as Hollywood's new favourite action star. He tells Kaleem Aftab about going from waiter to superhero
Kaleem Aftab
Wednesday 30 July 2014 17:49 Comments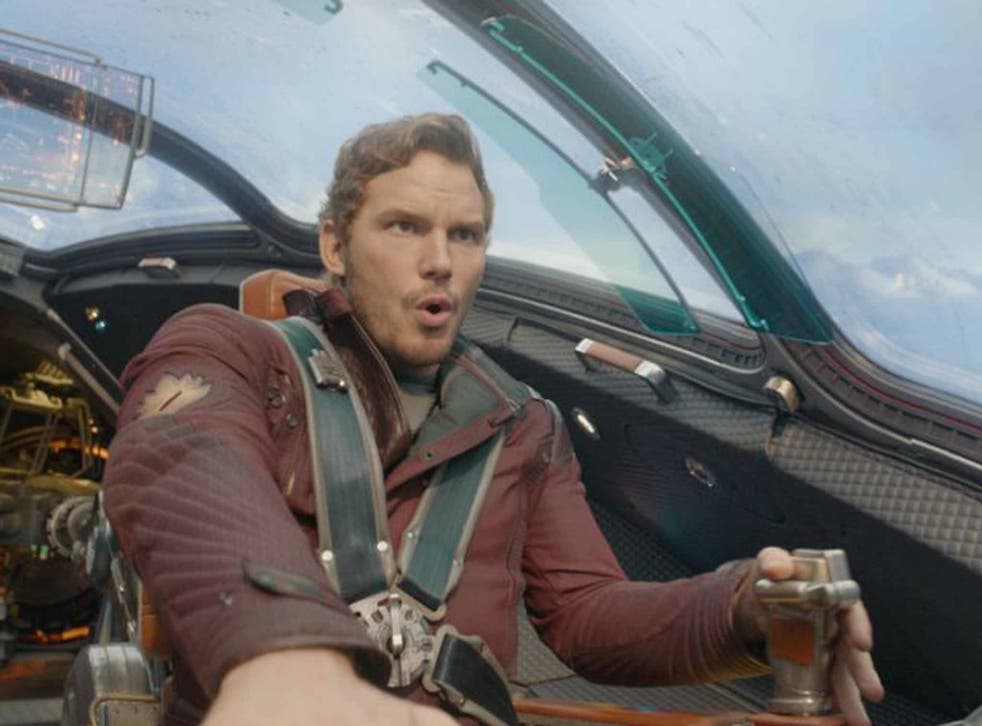 The main job Chris Pratt had when auditioning for Guardians of the Galaxy was convincing the film-makers that he could get into shape to play an intergalactic superhero. The 35-year-old star rose to prominence as the hilarious Andy Dwyer in the hit sitcom Parks and Recreation where his chubby frame reflected his easy-going character. But when I meet him in a London hotel he looks every inch the action hero, seated on a soft chair in the lotus position, his brown leather shoes discarded on the floor.
"I've been doing hot yoga. I love it," he explains. "You go in smelling like whisky and then it sweats off. It's the hardest thing for my body to do. That's why I've been doing it, I want to do the things that I suck at most and get better."
Does he think he could have got away without six months of training, four hours a day, and avoiding all unhealthy food? "No. No... You have to do what you can. If I was playing James Bond, I would learn how to do a British accent... Of all the preparation I did, you prep your voice, you prep your soul, and you prep your body and I focused most of my preparation on my body. That is the way that I read comic books as a kid, I almost didn't read the stories, I would just focus on the male and female pictures and I would just copy the covers, I was fascinated with the way that these characters looked. Just their bodies, not even their costumes or their guns or anything like that. It was the muscle, the structure, the proportions. I remember getting this Marvel how-to-draw kit and the aesthetics of their bodies was the thing that I was most captivated by. So it made sense that when I started doing this role that that was the thing that I was most concerned with. I need to look like a superhero."
Marvel's best superheroes

Show all 20
The smiling beast of a man in front of me is not unlike his Parks and Rec persona: funny, generous, the type of guy you want to go to the pub with. His rags-to-riches story is in the best Hollywood traditions. As a teenager he took a knife to his Reebok trainers to give his growing feet more room because he couldn't afford to replace them. Now he's the signatory of a multi-film deal with Marvel and one half of a Hollywood comedy power couple – his wife is Anna Faris of Scary Movie fame. As the stellar heart of Guardians of the Galaxy, he plays Peter Quill aka Star-Lord who is whisked from Earth in a spaceship aged nine and transformed into a gregarious, fun-loving space hero whose prize possession is a Walkman that plays Seventies disco and Eighties pop.
Born in Virginia, Minnesota, Pratt's mother worked on the checkout at Safeway, his father, now deceased, worked in construction. Growing up, the only times he felt flush were on the rare occasions that he won at bingo when he accompanied his mother to her favourite pastime. He reminisces about an occasion when he won $300 and spent the money on comics, including a copy of Guardians of the Galaxy.
Aged 17, he left college after one semester and worked selling coupons before he "retired" aged 19. By which he means that he took up his best friend's offer to buy him a one-way ticket to Maui, Hawaii. "It's a pretty awesome place to be homeless," he says, remembering his days sleeping in a van or in a tent on the beach. "It would be different if I lived on the streets of Chicago and ate garbage from a dumpster. We just drank and smoked weed and worked minimal hours, 15-20 hours per week, just enough to cover gas, food and fishing supplies. You know, it was charming time."
It was in 2000 while working at Maui's Bubba Gump Shrimp Company that Pratt found himself waiting on the table of actor-director Rae Dawn Chong, who had starred in Commando, one of Pratt's all-time favourite films. The wisecracking novice told Chong about his acting prowess (he had featured in high school plays) and, charmed, Chong offered him a role in a short movie she was directing, Cursed Part 3. And so, Pratt started to live out his dream.
"Originally the dream was to pay my bills doing nothing other than acting," he says. "I got there, but the dream is constantly evolving. Then my dream was to do roles that are more than just the bad guy, or the douche. Then it was to do sidekick roles; then comedy. Now it's like I've crossed over this line where I actually say no to stuff. I could never have fathomed that. Before I would have done commercials for herpes medication if you wanted me to. Gladly, just as long as I didn't have to wait tables again."
His initial successes were all on television – in Everwood and a part playing left-wing activist "Che" Cook in the fourth season of The O.C. He hit the jackpot when he was cast in a guest role on the first season of Parks and Recreation, playing the affable Andy Dwyer. Signed on for six episodes, his character grew and he was invited back as a regular.
Access unlimited streaming of movies and TV shows with Amazon Prime Video Sign up now for a 30-day free trial
Sign up
The seventh and final season is about to go into production. Pratt sees it as both the end of an era and a new beginning. "It's going to be sad. I can't even bring myself to think about it. There is a world of possibility out there and I guess all good things must come to an end. We are a good group of people, no one has turned into an a-hole." As for how the show intends to get around his newly buff physique, he says he will probably wear really loose clothes, and they'll try not to mention it.
His own future seems set as a leading man in action movies. At Comic-Con it was announced that a sequel to Guardians of the Galaxy will be released in 2017 and next year sees him star in Jurassic World, the highly anticipated reboot of Jurassic Park. "The character I play is sort of a mix between Jeff Goldblum and Sam Neill," he reveals. "He represents somebody who is weary of the human position in the natural order of things, has a lot of respect for it, and at the same time he is cool and sexy and heroic."
In future he'd like to write his own material and hopes that his older brother will also break into Hollywood. So they can be like the Wilson brothers. "Which one would I be?" He admits that his fame can be difficult for those around him: "It's an interesting situation because when you find a level of success sometimes it's the people that are closest to you it can be hard on. They're like, 'Dude, why did you trip and fall and land in an awesome acting career and I'm working 40 hours a week in a job that I don't necessarily love to barely keep my head above water?' It's not natural to have your peers and friends have an accelerated life plan."
Becoming Hollywood's hottest property has meant that he hasn't had a break for two years. "The plan come January when Parks and Rec wraps is that Anna is going to be working on her TV show, Mom, and I'm going to be playing the role of dad at home." Their child Jack was born in August 2012. He's mostly looking forward to playing with him in a swimming pool that he has barely had time to use. "It's going to be awesome," he grins.
'Guardians of the Galaxy' is out on 31 July
Register for free to continue reading
Registration is a free and easy way to support our truly independent journalism
By registering, you will also enjoy limited access to Premium articles, exclusive newsletters, commenting, and virtual events with our leading journalists
Already have an account? sign in
Join our new commenting forum
Join thought-provoking conversations, follow other Independent readers and see their replies