Christian Bale: The method man putting Batman behind him
He was never a fan of the comics in the first place – and now his superhero trilogy is complete, Christian Bale is moving on. He tells Geoffrey Macnab how he plans to escape the Dark Knight's shadow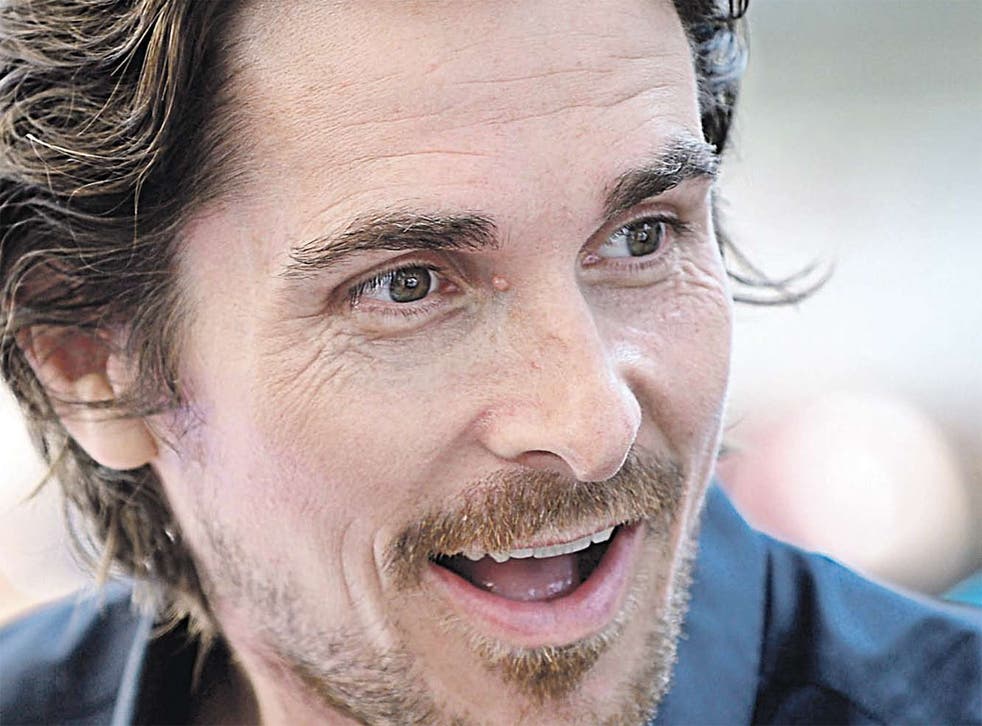 In the Dark Knight trilogy, which ends with The Dark Knight Rises, Christian Bale has achieved the unlikely feat of making an action hero in a 110-piece Batsuit made of polyester mesh and flexible urethane into something close to a tragic hero.
Bale has always made it clear that, no, he didn't come to Batman from the vantage point of the fan. "I was never a comic book fan as a kid," the actor admits. "I have absolute respect for the other movies and the people who enjoyed them... I never did."
Nonetheless, he prepared for the role with the same manic zeal as his other film roles.
Whether he's playing a pill-popping boxing trainer (The Fighter), an emaciated, guilt-ridden and insomniac (The Machinist) or a sleek killer (American Psycho), Bale tackles any role from the outside in. He sets out to capture the mannerisms and physical appearance of the character as a first step to revealing his motivations and behaviour. With a DC Comics figure like Batman, that's an unusual challenge. Director Christopher Nolan talks of Bale's "commitment to finding the truth of the character".
The Dark Knight Rises may be a superhero movie but it's every bit as demanding on Bale as the intense psychological dramas with which he has made his name. During the film, he undergoes multiple transformations. When we first see him as Bruce Wayne, eight years on from his tussles with the Joker and Harvey Dent, he's a reclusive hermit in the upper reaches of his mansion. He is stooped and walks with a stick. As superheroes go, he's not fit for purpose. Bale's challenge is to portray his re-emergence as Batman. At the same time, the tortured figure still haunted by the death of his parents is, on one level, a Cary Grant-like playboy, exchanging double entendres with Marion Cotillard and Anne Hathaway's sleek Cat Woman. He's also a civic figure: an eco-warrior who wants to bring clean energy to Gotham. While the stuntmen enthuse over the ease with which Bale picked up the moves for his epic tussles with Bane (Tom Hardy), directors are equally admiring about the nuance and inventiveness with which he tackles his characters.
As if to underline his versatility, Bale is soon to be seen in another major film far removed from Batman. Those used to seeing him tussle with Gotham City's most toxic villains are bound to be surprised by the role he plays in The Flowers Of War. He is cast as a hard-drinking American mortician called John Miller, who happens to be in Nanking in 1937 just as that Chinese city turns into a version of hell. The film makes very clear how cruelly the Japanese army behaved as it overran the city. Historian Iris Chang calculated that 350,000 non-combatants may have been massacred by the Japanese. "Chinese men were used for bayonet practice and in decapitation contests," Chang writes. "Many soldiers went beyond rape to disembowel women, slice off their breasts, nail them alive to walls. Fathers were forced to rape their daughters, and sons their mothers, as other family members watched. Not only did live burials, castration, the carving or organs and the roasting of people become routine, but more diabolical tortures were practised, such as hanging people by their tongues on iron hooks."
Now, Zhang Yimou, China's celebrated filmmaker, has directed his own movie about the events of 1937 in Nanking with Bale – on a sabbatical between Batman films – as his star. The film is being released in British cinemas a fortnight after The Dark Knight Rises.
Miller, the American in China, is utterly different from Bruce Wayne/Batman. That was partly what attracted Bale to the role. He relished the cultural clash and talks about how "enjoyable" the film was, even if he didn't always understand what his director was telling him. But there are some overlaps with Bruce Wayne. This is a redemption tale. The womanising slob we encounter early on discovers unlikely reserves of courage. He works with prostitutes to help protect the young girls at the convent where he has taken refuge.
In person, Bale is as restless and mercurial a figure as you'd expect from his performances. The actor researched the Rape Of Nanking with typical diligence. "That was my personal interest but you have to remember, for the character of John Miller, he had no idea of what he was getting into."
He went to huge lengths to work out why an American drifter would end up in Nanking just as the Japanese were invading. "And why does he require that raucousness, that clown-like behaviour? What is he hiding?" Bale began to think of Miller as a "refugee" from the Dust Bowl of America who must have headed to China to escape the Great Depression. Miller is a mortician. "For my personal interest, and for [broadening] the possibilities of what Yimou may use, I studied with a mortician and learned all about that," Bale says in passing, as if studying corpses is normal practice for any self-respecting screen actor. Miller is also a lapsed Catholic... so naturally that meant Bale did a crash course in Catholic prayers and "hung out with Catholic priests".
Access unlimited streaming of movies and TV shows with Amazon Prime Video Sign up now for a 30-day free trial
Sign up
The actor's portrayal of Miller is engaging and eccentric. He's a bearded and shambolic figure – a cross between German human-rights activist John Rabe and Lee Marvin in Paint Your Wagon. The film may be based on a tragic event in Chinese history but Bale relished the chance to play a character with little of that brooding quality he brings to Batman.
When he was filming Flowers of War in late 2011, Bale attempted to visit the blind human-rights activist Chen Guangcheng (then under house arrest) with a TV crew. He was roughed up by security guards and chased away.
It's Bale's misfortune that performances in superhero movies aren't taken seriously when it comes to major film awards. You're unlikely to pick up an Oscar or a Golden Globe for spending half a movie in a Batsuit. Then again, Bale has won plenty of plaudits for his performances in films like The Machinist and The Fighter. Arguably, his real achievement with the Dark Knight trilogy is to have made three Batman movies without compromising his integrity or dignity as an actor.
'The Dark Knight Rises' is on general release. 'The Flowers of War' is released on 3 August
Join our new commenting forum
Join thought-provoking conversations, follow other Independent readers and see their replies